Ed Miliband will try to rebuild bridges with bosses worried about his anti-business rhetoric today by warning that David Cameron would take Britain to the EU exit door.
Launching a 22-page "business manifesto", the Labour leader will put the emphasis on his party's pro-European credentials. Labour has not matched Mr Cameron's promise of  an in/out referendum by 2017, which has created uncertainty in the business world.
Company chiefs have expressed alarm about Mr Miliband's interventionist policies such as a 20-month energy price freeze and his desire to tackle "predators" while helping "producers". There are also concerns that a minority Labour government could be dependent on the Commons votes of the Scottish National Party, which business leaders regard as left-wing and has called for an "end to austerity".
Election 2015: Focus groups make unflattering comparisons
Election 2015: Focus groups make unflattering comparisons
1/4 David Cameron

The Prime Minister was likened to 'Wacky Races' villain Dick Dastardly

Getty Images

2/4 Ed Miliband

The Labour leader was compared to Mr Bean

PA; Getty Images

3/4 Nick Clegg

The Deputy PM reminded focus groups of Fred from Scooby Doo

Getty Images

4/4 Nigel Farage

The Ukip leader was described by floating voters as like Ray Winstone

Getty Images
Labour believes its best hope of neutralising criticism from business is to play its "Europe card". The party has taken out a full-page advert in today's Financial Times saying: "The biggest risk to British business is the threat of an EU exit." It includes previous public statements by six leading business figures who are not backing Labour but who have warned about the dangers of leaving the EU.
In a letter to The Independent, nine Labour peers with business experience warn that Mr Cameron's referendum plan has created "a huge degree of uncertainty". They say: "There is a compelling chorus of concern across business about the prospect of UK exit from the EU… To argue for EU membership does not mean arguing for the status quo. But it does mean staying in, and focusing on reforms to make the EU work better for growth, not least because working with our EU partners gives us access to other markets we couldn't get into or not so quickly."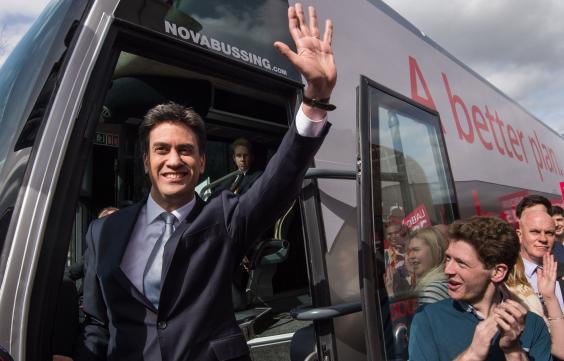 Labour officials admit that the party cannot win an "arms race" with the Conservatives on which has the most business supporters, but are keen to show that not everyone in industry and commerce is hostile to Labour. That would be a damaging impression that could sway some voters.
Labour's "business manifesto" promises to maintain the most competitive corporation tax rate in the G7, even though the party would reverse the 1 per cent cut due next month; to cut and then freeze business rates for more than 1.5 million small businesses; ensure firms get the finance they need to invest and grow by setting up a British Investment Bank; and tackle skills shortages.
Mr Miliband will say: "There could be nothing worse for our country or for our great exporting businesses than playing political games with our membership in Europe. David Cameron used to understand that.
"But in the past five years our place in the EU has become less and less secure. He used to say he would campaign to keep Britain in Europe. But now he won't rule out campaigning to leave."
The Labour leader will warn that Mr Cameron's announcement that he would stand down as prime minister by 2020 would ensure the referendum coincided with a race to succeed him as Tory leader.
"Candidates will be vying against each other for who can be the most extreme on Europe," he will say. "It is a recipe for two years of uncertainty in which inward investment will drain away, two years of chaos in which businesses will not be able to plan for the future, and two years of wasted opportunities for progress, for profit, for prosperity: a clear and present danger to British jobs, British business and British prosperity."
Mr Miliband will add: "It's simply the wrong direction for our country.  If you care about strong foundations, if you care about long-term stability, if you care about prosperity, then Britain must be a committed member of a reformed EU, not threatening to leave, not locked out of the room."
Pledging to reform Europe from the inside, he will say: "We'll show strong leadership to get the best for Britain. But we won't condemn this country to years of uncertainty, years of insecurity, by threatening our European future."
Reuse content