The election campaign is only a week old but we have already seen a defection after a Conservative parliamentary candidate jumped ship to Ukip this morning. 
Mike Whitehead, who was standing in the Hull West and Hessle seat for the Conservatives, is also an East Riding councillor.
He said he decided to leave the party because he was "disgusted" with the behaviour of the ruling Tory group in East Yorkshire and the "wilful refusal" of the Conservative central office to intervene. He insisted the "secretive" council needed to be "opened up" and be made more transparent.
Nigel Farage hailed the defection as "another hammer blow" to the Conservative party's hopes of making gains in the north of England.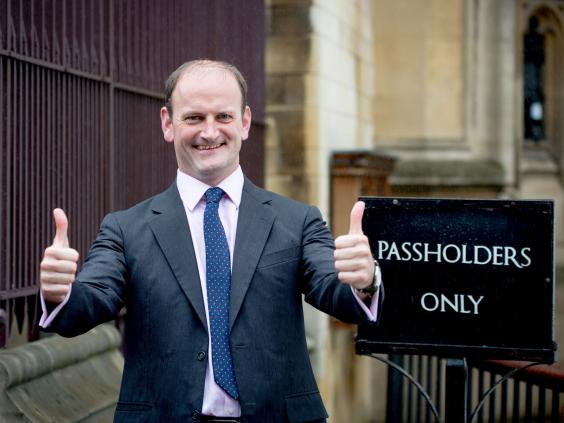 But the Tories hit back, releasing a statement claiming he was sacked from the party last week because he refused to support the local Conservative council candidate.
"We wrote to him last week to say that his position was untenable and he could not stand for us at the general election," the statement said.
"We were already selecting a new candidate for this constituency. This is typical Ukip - cynical, misleading and utterly calculating to try and score political points."
Mr Whitehead still featured as a Conservative candidate on the Hull Conservatives website until this morning however: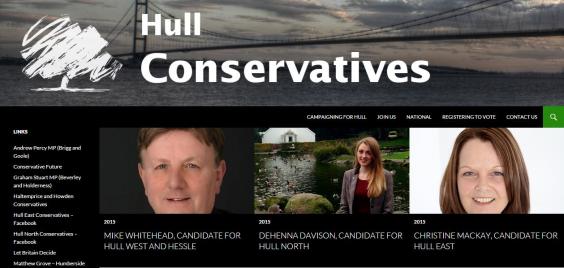 And he was also listed on the official national Conservative party website this morning. He has now been removed from both. A spokesman for the party said the delay in removing him from the websites was due to the Bank Holiday weekend.
The constituency is a safe seat held by Labour's former Cabinet minister Alan Johnson, who was approached by senior members of the Labour party last autumn about the prospect of taking over from Ed Miliband as leader.
Mr Johnson holds a 5,740 majority and the Tories finished behind the Liberal Democrats in third place in 2010. Labour has been bombarded for weeks with questions over a possible deal with the SNP in the event of a hung Parliament and this morning the party was pleased to focus the attention on the Conservative party's relationship with Ukip.
Shadow minister Jon Trickett claimed it showed the Tories "increasingly share the same people as well as the same policies".
"Both stand for increased health service privatisation, extreme spending plans which threaten the NHS and further tax breaks for those at the top," he said.
"David Cameron will not rule out working with UKIP, but this is clearly what his party wants. David Cameron must now come clean and tell us what his plans are to do a deal with Nigel Farage and UKIP."
Who's next? Conservative MPs who could defect to Ukip
Who's next? Conservative MPs who could defect to Ukip
1/8 Chris Kelly

Won Dudley South with majority of 3,856 in 2010 but is standing down next May. Has been wooed by Ukip, which is targeting his seat, but insists he will not join Nigel Farage's party. Has declined to say why he is leaving Parliament

Facebook

2/8 Mark Pritchard

Former secretary of the influential Tory 1992 Committee. MP for The Wrekin. Majority 9,450. Photographed with Nigel Farage at an event recently but said it was just a "friendly photo"

3/8 Philip Hollobone

MP for Kettering. Majority 9, 904. He said in 2013: "So many constituencies are now marginal because Ukip is now providing a fourth dynamic into what has previously been a three-party dynamic. I think we could end up with a situation where in selected seats, where the Conservative candidate or member of Parliament is in favour of leaving the EU, they would endorse him in those seats"

Rex

4/8 David Nuttall

MP for Bury North. Majority 2,243. Outspoken right-winger. Has said it would be "beneficial" if the Tories and Ukip could agree a "common programme" in order to unite the right in British politics

Twitter

5/8 Nadine Dorries

MP for Mid Bedfordshire. Majority 15,152. Lost Tory whip after appearing on ITV's "I'm a Celebrity…Get Me Out of Here," but later reinstated. Has said her constituents some constituents feel a "huge amount of empathy with Ukip". Hinted at standing on a joint ticket but denied she will defect

PA

6/8 Jacob Rees-Mogg

MP for Somerset North East. Majority 4,914. Independent-minded like Douglas Carswell. Has called for an electoral pact between Tories and Ukip. "There are many members of Ukip who are very close to the Conservative Party and there are many Conservatives to whom Ukip looks favourably," he said in May

David Hedges

7/8 Gordon Henderson

MP for Sittingbourne and Sheppey. Majority 12,383. Wants Britain to leave the EU and admits he has been "sounded out" by Ukip. But insists the party has "no principles," saying: "I'd sooner lose than be a turncoat"

8/8 Peter Bone

MP for Wellingborough. Majority 11,787. Independent-minded backbencher who hates the Coalition. Has said: "Somehow the Conservatives and Ukip have got to work together and have some sort of [electoral] pact or accord"

UPPA/Photoshot
Explaining his reasons for joining Ukip, Mr Whitehad said: "I believe as a member of UKIP, I will be able to speak up for the residents and represent their views on the Council. I also hope that with the election of other UKIP Councillors, I can help open this secretive Council up and make it more transparent and work better for the residents rather than to the benefit of the few.
Mr Farage said: "I am delighted to be welcoming Mike to the party at this exciting time. His move to UKIP just underlines that today, the real party of opposition to Labour in the North Is UKIP. It is another hammer blow to Tory pretensions in the north of England."
Reuse content