Genius. Where better for Nigel Farage to invoke the spirit of 1940 than at St Margaret's Bay, where he could gaze across the Channel, framed heroically against the White Cliffs of Dover, while scanning the horizon for the invading multitudes?
Ideal for a dramatic unveiling of Ukip's sub-Daliesque anti-immigration election poster, just down the beach from the handsome seafront home where first Nöel Coward, and then Ian Fleming lived before the country went to hell in a handcart. (Even if so near continental Europe that due to a border- insensitive cyber-quirk, you get a text message announcing: "Welcome to France.") 
This being the Tory end of the Dover constituency, Farage was in green Barbour, mustard cords, and brown brogues to clarify that "we are not being negative on this subject [immigration]."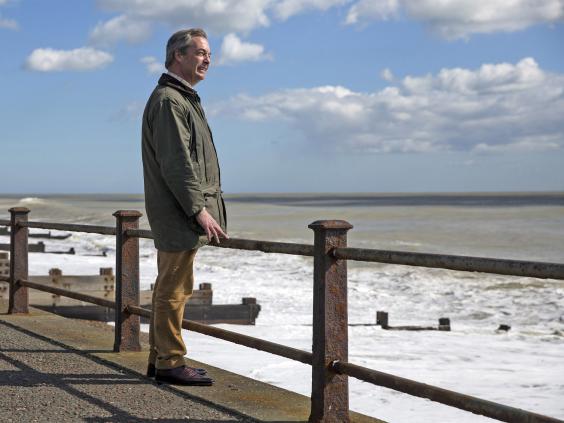 This was just after explaining that when David Cameron set his 2010 immigration target he was being "wilfully dishonest" ... and just before lamenting that the general election was "so negative and personal. I'm doing everything I can to refrain from personal attacks of any kind". His Cameron point had been "political", he later explained.
Ukip's own on-off immigration target seemed to be back as Farage explained that "about 30,000 a year is roughly what we had for 50 years from 1950". After such a "return to normality" – and controlling the "quantity and quality" of immigrants thanks to a Brexit, the issue would be defused.
Ukip gaffes and controversies
Ukip gaffes and controversies
1/18 European elections poster

Party's latest EU election posters branded 'racist' and compared to BNP campaigns

Rex

2/18 Farage 'car-crash' interview

Ukip spin doctor forced to intervene as Farage falters in disastrous radio interview

3/18 Neil Hamilton

Picture Exclusive: The year is 1998. The venue is a Springbok Club meeting. The flag is a symbol for white supremacists in South Africa. And the speaker is Ukip's deputy chairman, Neil Hamilton

4/18 Kerry Smith

Kerry Smith resigned as would-be MP for South Basildon and East Thurrock after it emerged he had mocked gay party members as "disgusting poofters", joked about shooting people from Chigwell in a "peasant hunt" and referred to someone with a Chinese name as a "Chinky bird"

PA

5/18 Natasha Bolter

Former Ukip member Natasha Bolter was suspected of not having the teaching qualifications she professed to, only days after it was revealed that claims of her having attended Oxford University were also false

PA

6/18 Ukip Calypso song

Mike Reid released a single in praise of UKIP trying to control the UK's borders, only to withdraw the single after being accused of racism for singing in a Jamaican accent

7/18 Janice Atkinson

Janice Atkinson, Ukip's South East chair, pictured by protesters while campaigning in Ashford, Kent with local party chair Norman Taylor

Facebook/Maria Pizzey

8/18 Ukip cancels Freephone

Ukip cancels Freephone number after protesters repeatedly called to push up costs

Getty Images

9/18 Farage 'car-crash' interview

Mr Farage appeared to be caught out on a number of issues, from Romanian neighbours to people speaking foreign languages on the train

10/18 Ukip employs illegal immigrants

Ukip criticised after European election candidate found employing illegal immigrants

AP

11/18 Magnus Nielsen

Ukip candidate: 'Take away the right to vote to improve election turnout'

Getty Images

12/18 Poster model

A "British builder" portrayed in a Ukip poster accusing EU workers of taking UK jobs turns out to be an Irish actor - aka a migrant worker

13/18 'Arrest protesters'

Ukip called for police to arrest protesters 'who call us fascists' ahead of showdown with anti-fascist groups in Brighton

14/18 London Live make-up

Ukip's Nigel Farage reportedly refused to go on London Live 'without professional make up-artist'

Reuters

15/18 Andre Lampitt

Ukip forced to suspend the "poster boy" of its European election broadcast, after it was revealed he had posted a series of vile racist comments on Twitter

16/18 Expenses

Nigel Farage says he is taking taking legal advice over "outrageous" allegations that he is responsible for more than £50,000 of "missing" EU funding that was paid directly into his personal bank account

17/18 Have I Got News For You

Nigel Farage appears in Have I Got News For You, spends the entire episode being ridiculed over expenses and party 'fruitcakes'

BBC

18/18 Anti-gay comments

Local branch chairman for Ukip defends a party's councillor candidate Douglas Denny who called gay people "abnormal" and said he wished "they stop trying to ram it down my throat", all while discussing whether the word "sodomite" should be used
Now he explained (non negatively of course), there was in "virtually every town in eastern England deep ... discomfort" at present immigration levels. And, yes, "you can come to Britain from anywhere in the world and be tested and get the drugs for Aids." At "about £25,000 per year, per person".
Then he went to the pub, The Coastguard, which advertises itself as "your home by the sea" where "we'd love to see you soon". Not too soon yesterday. Perhaps through no fault of its proprietor, the doors were barred for a while, to all but one or two privileged journalists, by a pair of the Ukip leader's well built bodyguards. While he (presumably) talked to actual voters.
To be fair to Farage, whatever else he'd been doing it hadn't, apparently, been necking pints because when we were finally admitted he was clutching a chaste cup of coffee. No, he was not on the wagon, he assured The Independent .... "In fact ..." he began, with an interested glance at the bar. Then, sadly, he was ushered out by his minders.
It would have been nice to see him canvassing support. "I don't make the rules," one of the heavies had explained before shutting the door.  "I'm just trying to abide by them." A novel application of the term  "public" house, though, and hardly one designed for full-on electoral transparency.
The Independent has got together with May2015.com to produce a poll of polls that produces the most up-to-date data in as close to real time as possible.
Click the buttons below to explore how the main parties' fortunes have changed:
All data, polls and graphics are courtesy of May2015.com. Click through for daily analysis, in-depth features and all the data you need. (All historical data used is provided by UK Polling Report)
Reuse content