Grant Shapps' campaign for re-election took a dramatic turn yesterday when it emerged he will be running against his business pseudonym, Michael Green, after a campaign by the online blog Political Scrapbook.
The mystery candidate, who has changed his name to Mr Shapps' former business pseudonym Michael Green via deed poll in order to stand, managed to gather the required number of signatures to run for MP in Welwyn Hatfield with 15 minutes before the deadline.
Mr Shapps was last month embarrassed after it emerged that he had been trading under his business pseudonym Michael Green for a year after being elected to parliament in 2005, despite repeated denials.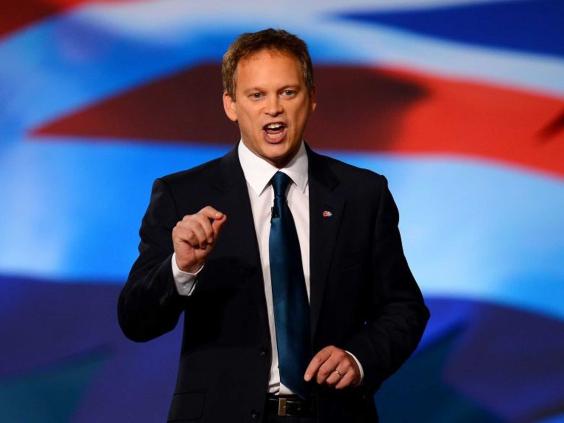 But Shapps, the Conservative party chairman, attacked the stunt, claiming that it was a "demonstration of Labour chaos". He also claimed that although Ed Miliband wanted a clean election battle, union bosses were preventing this from happening.
Laurence Durnan, editor of the Political Scrapbook and agent for Mr Green, told The Independent that the idea for the campaign had come from a reader on his website. "We had been doing quite a lot of stories on the side to do with the Michael Green pseudonym and there was a Facebook comment from a reader saying: 'I hope someone stands a Michael Green candidate against him in Welwyn Hatfield'.
"I thought that was a brilliant idea. I asked Michael if he would be interested and he thought it would be quite funny as well."
In order to run as a parliamentary prospective candidate Mr Green was required to be nominated by two referees, a proposer and a seconder, and also eight other people on the electoral roll, which was described by Mr Durnan as "the biggest hurdle".
"You have to get a deposit of £500 and the biggest hurdle is actually the signatures from people – they all have to be on the current electoral roll. That involved me standing in the middle of Welwyn Hatfield town centre looking like an idiot with a clipboard asking random members of the public if they would support the campaign.
Stood in Hatfield town centre (like a plonker) getting last minute signatures. Michael Green vs Shapps is ON! pic.twitter.com/lltFfS31BX

— Laurence Durnan (@PSbookEditor) April 9, 2015
"But, happily, we got a more left leaning area of the constituency… so we got a good reception. The first woman virtually grabbed the forms out of my hands at the mention that this was against Grant Shapps. We actually had the numbers we needed within an hour, which amazed me." Mr Durnan added.
The candidate's website, votemichaelgreen.com, offers potential backers the chance to donate to the effort to defeat Mr Shapps and sends donors a "Vote for Michael Green" t-shirt in return for a £30 donation.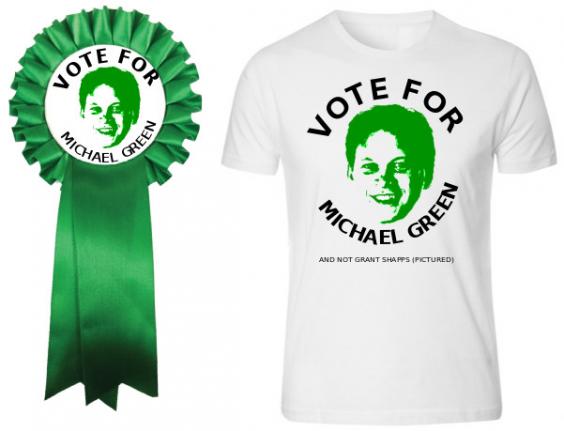 But Mr Shapps denounced the decision. He said: "With so many important local issues – from fighting the incinerator, to the future of our local hospital, it's extraordinary that a Union funded Labour website have parachuted in someone who will effectively stand against their own candidate.
"Ed Miliband claims he wants a clean fight, yet his own union bosses appear to be behind this rouse. It is another demonstration of Labour chaos.
"Meanwhile, I will do what I have always done in Welwyn Hatfield and work to bring the community together to get things done around here."
Mr Durnan was evasive when questioned over what Mr Green's policies would be, saying: "we will be running a playful campaign but obviously based on it being a device to satirise something. But it's a serious underlying point regarding Mr Shapps' honesty."
In a later interview, Mr Shapps told the BBC that he had "screwed up" the dates and admitted he did in fact have a second job acting as Michael Green in the summer of 2006.
The Independent has got together with May2015.com to produce a poll of polls that produces the most up-to-date data in as close to real time as possible.
Click the buttons below to explore how the main parties' fortunes have changed:
All data, polls and graphics are courtesy of May2015.com. Click through for daily analysis, in-depth features and all the data you need.  (All historical data used is provided by UK Polling Report)
Reuse content