Ed Miliband has put the survival of his party in Scotland centre-stage in Labour's election campaign by mounting a rescue mission to Edinburgh after new polls showed Labour's fortunes worsening north of the border.
With the SNP now standing in the way of Labour's chances of emerging as the largest party on May 7, both Mr Milband and the former shadow chancellor, Ed Balls warned supporters in Labour's heartlands planning to desert to Nicola Sturgeon's nationalists, that  the SNP's policy of wanting a fast-tracked exit from the UK's collective  tax system would be a "perfect storm" of cuts and falling revenue delivering only "extended austerity" north of the border.
Although Labour are seeing a mini-bounce in UK polls, the party's dire ratings in Scotland have left Mr Miliband with little choice but to multiply his campaign efforts in territory that once voted Labour as a reflex.
In pictures: Top 12 wacky candidates seeking your vote in 2015
In pictures: Top 12 wacky candidates seeking your vote in 2015
1/12 Charlotte Rose, Brighton Pavilion

Sex worker Charlotte Rose stood in last year's Rochester and Strood by-election on a platform of legalising brothels (she came 11th) and says the issue is "important for democracy"

Image taken from Twitter

2/12 Solomon Curtis, Wealden

The youngest candidate to emerge so far is Labour activist Solomon Curtis. Just 18, the young chap has a Tory majority of 17,000 to overturn to become the youngest MP ever

3/12 Doris Osen, Ilford North

The oldest candidate to declare, Doris Osen, 84, of Epic – Elderly Persons' Independent Party – spent £1,000 on 30,000 fliers to voters

4/12 Dave Wasgij, Preston

Standing to give "piece a chance", comedian Dave Wasgij has been captured by the jigsaw lobby and is promising free puzzles for OAPs

5/12 Joe Stead, Calder Valley

Protest singer Joe Stead will provide colour at the count. He says war can be prevented through music alone

6/12 Arthur Uther Pendragon, Salisbury

He's stood for Parliament in five elections and believes he's the reincarnation of the King Arthur. Apparently, the stones say this is finally his year

Matt Cardy/Getty Images

7/12 Greg Clough, Islington

An Australian married to a Greek, Ukip's Greg Clough wants to stop immigrants using "our" NHS

8/12 Colin Bex, Eastleigh

Colin Bex's mission is self-government for the ancient lands of Wessex

9/12 Dave Bishop, seat TBC

Standing alternately as Elvis Loves Pets, The Church of the Militant Elvis, Lord Biro and the Bus Pass Elvis, Dave Bishop (below) has stood since 1997. Among his policy ideas are "free neutering for cats and Boris Johnson"

10/12 Mark Flanagan, Leeds North West

Mark Flanagan is giving voters the option of voting for "none of the above" and thereby rejecting every other candidate

11/12 Al Murray, South Thanet

Presumably wants a boost in sales for his next comedy DVD

PA

12/12 Robert Boaler, South Thanet

Robert Boaler for the Al-Zebabist Nation of Ooog party, wants to build a "great wall of Thanet" to save the town from nearby elite in Broadstairs
His schedule of campaign visits to Scotland has been upgraded.  He promised the audience in Edinburgh, against a backdrop of the capital's castle, that he would be back.
Speaking alongside Mr Balls, and Labour's Scottish leader, Jim Murphy, the Labour leader said that with 37 days of campaigning left, the SNP's economic plans were "unraveling".
The identified "black hole" in Scotland's finances, that would come from full fiscal control being devolved,  has been estimated by the independent Institute for Fiscal Studies (IFS) to be £7.6 billion.
Mr Miliband said this would translate into a "devastating" 12 per cent cut in all Scottish spending, including pensions and benefits.
He said the SNP's  claim to be an anti-austerity party were "false" because their policy would "actually extend austerity".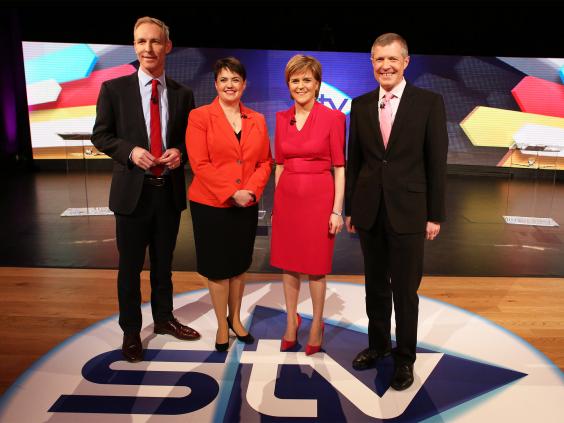 Ms Sturgeon called Labour's analysis "wrong" and accused them of repeating the same "smears and fears" that were used against the case for independence during last year's referendum. She said the only cuts on the horizon were Tory ones "that Labour are backing."
Mr Balls said that if David Cameron won a second term, they would delight in seeing the SNP advance their austerity regime. Urging Ms Sturgeon to "come clean" about what full fiscal autonomy would mean, Mr Miliband said " I will never sell Britain short by abandoning the pooling and sharing of resources because this benefits all part of the country."
Although Mr Murphy's performances against the SNP leader in the two televised debates earlier this week was widely praised from with his own party ranks, polls still point to Labour in Scotland being left with just a handful of seats.
With the Conservatives having nothing to lose in Scotland, Mr Miliband's heightened focus on the SNP has its risks.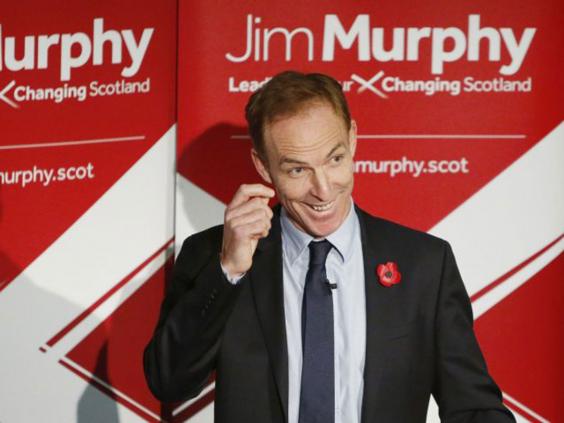 Michael Fallon, the defence secretary, who mounted highly personal attacks on Mr Miliband over Trident's renewal, turned on him again over his visit to Scotland. "This shows that the SNP are already pulling Labour's strings. Nicola Sturgeon makes a statement, and the Labour leader rushes to Edinburgh to respond. If it's like this now, imagine what it would be like with the SNP propping up Ed Miliband in Downing Street," he said.
Before turning his attention to the Scottish battleground, Mr Miliband described the Tory campaign as a descent into "desperation and panic", accusing his rivals of deploying abuse and making unfunded, undeliverable promises.
The Labour trio in Edinburgh all attacked the SNP policy of full fiscal autonomy (FFA)  as a "bombshell for Scotland."
Labour research said FFA would translate into Scottish pensioners, who currently received their state income from the UK pension system, being left £940 a year worse off.
The gap between the pension-level population in Scotland, 19.8 percent, and the rest of the UK figure, of 19.2 percent, would, according to Labour's figures, double by 2032 – costing every working age person in Scotland £410 a year.
Although the SNP insist fiscal control would be used to grow the Scottish economy, Mr Balls said Scotland would need to double its growth rate to 5.3 percent to fill the IFS's predicted hole.
That growth level, he said, was double the IMF's predicted rate for advanced economies and higher than the growth rate for emerging market and developing economies.
Mr Miliband again ruled out any "coalition" deal with the SNP, describing the gulf between the two parties as "wide".
---
The Independent has got together with May2015.com to produce a poll of polls that produces the most up-to-date data in as close to real time as is possible.
Click the buttons below to explore how the main parties' fortunes have changed:
All data, polls and graphics are courtesy of May2015.com. Click through for daily analysis, in-depth features and all the data you need. (All historical data used is provided by UK Polling Report)
Reuse content