The Green Party manifesto will include a commitment to raise the top rate of income tax to 60 per cent to act as a "disincentive to paying excessive salaries", The Independent on Sunday can reveal.
The move, which the party says will raise around £2bn a year, will be announced on Tuesday and comes after the leader of the Greens, Natalie Bennett, told The Independent on Sunday that the party is still hoping to win as many as 12 seats and she will remain leader of the party regardless of its performance at the polls.
When asked if she would keep her job even if the party failed to win any of its dozen target seats, Ms Bennett responded: "I was elected for two years last September and that's what I'm planning to serve. I was elected unopposed then and I'm planning to serve the [full] term."
She insisted that "attacks" by the right-wing press and "certain elements" of the BBC in recent weeks were a sign that her party was having a "measure of success" on the campaign trail.
In pictures: Experts' predictions for the General Election - 11/04/15
In pictures: Experts' predictions for the General Election - 11/04/15
1/10 Andrew Hawkins (ComRes)

"Events last week have reinforced my prediction that the Tories will be the largest party. Ukip's slow puncture may help the Tories most, and Nicola Sturgeon may well fulfil her wish to keep David Cameron in No 10 by reducing Labour's Scottish MPs to numbers that could fit in a stretch limo."

Andrew Hawkins

2/10 Joe Twyman (YouGov)

"The national picture remains largely unchanged, but YouGov's Scotland polling shows the SNP at an all-time high. Only 44 per cent of Labour supporters felt Jim Murphy performed best in the first Scottish leaders' debate."

3/10 Ben Page (Ipsos MORI)

"I need to see a more decisive shift in the polls to think that Labour have definitely moved ahead of the Conservatives. There has been more good news for Labour than the Conservatives, with Ed Miliband's personal ratings improving. Still, a hung parliament remains the most likely option."

4/10 Rick Nye (Populus)

"No change."

5/10 Nick Moon (GfK)

"I haven't changed my broad view that the Tories will be the largest party, but Labour is likely to form a minority government. Last week's projection (Con 280, Lab 273) looks pretty likely to me. The risk for Labour was that, as decision time looms, voters might take ahold of nurse, but that may be mitigated by Miliband's showing in the debates."

6/10 Damian Lyons Lowe (Survation)

"Unchanged, except for an SNP uptick at Labour's expense. The SNP's surge in Survation's polling continues unabated. Nicola Sturgeon scored well in our debate polling."

7/10 Michelle Harrison (TNS)

"Despite all the sound, fury and bluster, there has been no game-changer. If anything, it's become even tougher for the major parties, with signs of a softening in Conservative support and continued evidence that the SNP will inflict major damage on Labour."

8/10 James Endersby (Opinium Research)

"Our latest polling figures, published today, show movement back towards the Conservatives (a two-point Tory lead). My prediction last week of a shaky sway back in favour of the Tories on election day holds fast; and with a hung parliament, who on earth knows who'll be able to form a government?"

9/10 Martin Boon (ICM)

"At the equivalent point before the 2010 election, our poll suggested 37 per cent for the Tories and 31 per cent for Labour, which more or less nailed the actual result. I think that campaigns mostly reinforce perceptions rather than change minds."

10/10 Lord Ashcroft (Lord Ashcroft Polls)

He refuses to make predictions. "My polls are snapshots, not predictions."

Rex
The Green Party leader was speaking in the Norwich South constituency where she was supporting local candidate Lesley Grahame, a district nurse who hopes to take the seat from the Liberal Democrats.
Ms Bennett used the event to make a call for "social and environmental justice" and announced that the party's membership had climbed to 59,000. "Our new members are attracted by a message of hope and real change," she said. "They are people who are looking at the business-as-usual parties and seeing something that's utterly uninspiring."
Along with Bristol West and Brighton Pavilion, where former party leader Caroline Lucas was elected as the first Green MP in 2010, Norwich South is a key seat for the party. However, there is little sign that the much-heralded "Green surge" has been translated into public support nationally. The party is sitting at around 4 per cent in most opinion polls after Ms Bennett endured a string of bruising interviews, including her now infamous "brain fade" on LBC in February.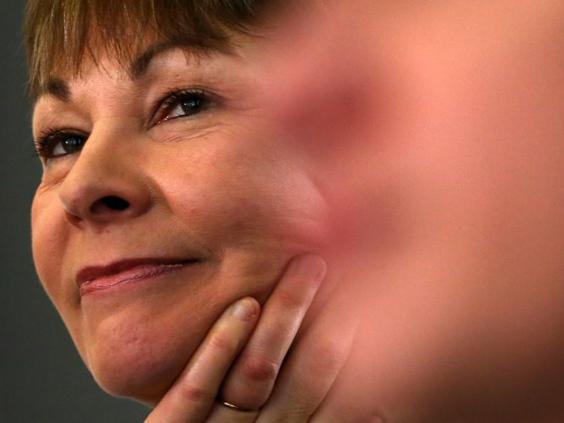 Speaking on Friday, Ms Bennett's voice faltered when pressed about the hostility of some media to her leadership. She rallied quickly and said: "I am going great, I really am. Because it means they think I'm significant enough to attack. I am judging my performance by the voters, not by the Daily Mail or The Daily Telegraph. They used to ignore us, as they regarded us as not worth attacking. That's no longer the case."
Her comments came in the week that Radio 4's John Humphrys got her name wrong on air, confusing her with Caroline Lucas at the end of a combative interview. "You can draw your own particular conclusions about that particular journalist," Ms Bennett said. "There is a question of professionalism there, isn't there?"
Ms Bennett faces an almost impossible task to win the safe Labour seat of Holborn and St Pancras where she is up against Sir Keir Starmer. She lost her deposit when she stood there in 2010; this time around, she is unlikely to be out of pocket.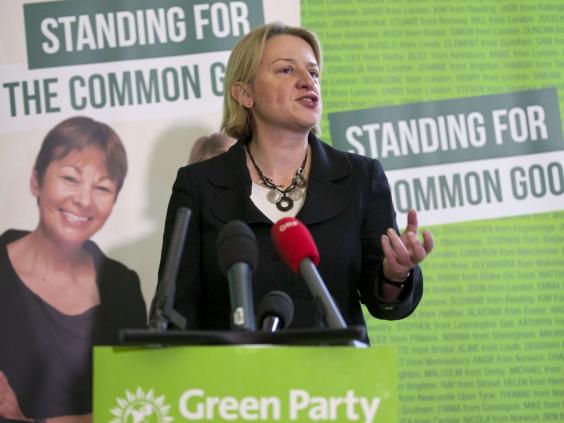 "Each seat is individual. If you look at Holborn and St Pancras, the Lib Dems got 29 per cent of the vote [in 2010] after spending a very large amount of money and facing Frank Dobson, the [Labour] MP for 30-odd years. That's not the case now. There is a lot of shifting of the plates going on," she said.
It is clear that the campaign has taken its toll on Ms Bennett, but she says she "definitely has a thicker skin" now than a year ago.
Despite the media attacks on her personality, and dire poll ratings, she remains hopeful of a breakthrough nationally, and points to the success online of the party's election broadcast, which featured a boy band of party leaders wedded to austerity.
She said: "We are focused on 12 seats, but that's with politics staying very much as they are now. There is still the chance, the time, for things to break wide open before the election. At some point, British politics is going to break wide open, if that's this election or not, who knows. I think there's such dissatisfaction with the current state of politics out there."
---
The Independent has got together with May2015.com to produce a poll of polls that produces the most up-to-date data in as close to real time as is possible.
Click the buttons below to explore how the main parties' fortunes have changed:
All data, polls and graphics are courtesy of May2015.com. Click through for daily analysis, in-depth features and all the data you need. (All historical data used is provided by UK Polling Report)
Reuse content