The Independent on Sunday asked the bosses of the 10 top polling companies for their predictions.
On average, they thought the race tightened slightly last week, with the Conservatives losing ground. We combined their predictions, where they made any, to project the House of Commons that will be elected on 7 May: Conservative 277 (-3 from last week), Labour 274 (+1), SNP 45 (no change), Liberal Democrat 26 (+1), Ukip 5 (+1), Plaid Cymru 3, Green 1, Respect 1 (all unchanged).
That would mean a hung parliament, with David Cameron six short of being able to stay on as PM.
In pictures: Experts' predictions for the General Election - 04/04/15
In pictures: Experts' predictions for the General Election - 04/04/15
1/10 Andrew Hawkins (ComRes)

"My position has moved: no party can win a majority now. I have also shifted in favour of the Conservatives winning more seats than Labour. That, however, assumes that the current Tory momentum is maintained and that they don't do anything daft or careless between now and polling day. But the underlying pattern is distinctly in their favour." (In January he predicted Labour would be the largest party, possibly with a small majority.)

Andrew Hawkins

2/10 Joe Twyman (YouGov)

"Probably: a 'well hung parliament'. Possibly: Conservatives winning most votes and seats, thanks, in part, to SNP gains at Labour's expense. Speculation: Conservatives unable to form another coalition, not having enough seats with just the Lib Dems, but Labour better placed with SNP and Lib Dems – albeit informally." (In January Twyman said: "Gun to my head? Labour minority government.")

3/10 Ben Page (Ipsos MORI)

"Stuck in 'too close to call' mode still, made harder by the way votes translate into seats in Parliament. If the parties remain neck and neck, Labour might just end up with more seats, but not a majority. We still have weeks of campaign to go and no clear picture for the marginals, where the polling that is being done suggests a lot of local variations that have plenty of potential to surprise us in May." (Last time Page said it was a "mug's game" to make predictions four months before an election.)

4/10 Rick Nye (Populus)

"Since January, the Conservatives have clearly improved on the polls relative to Labour to the point where I'd expect the Conservatives to win the most seats as well as the most votes 7 May. What's less clear is whether the Conservatives would be able to form a government. (In January Nye expected a hung parliament in which Labour would win most seats but not necessarily most votes.)

5/10 Nick Moon (GfK)

"Something would need to change dramatically for there to be any chance of a one-party majority government. My guess: the Tories will be largest party, but some way short of forming even a two-party coalition. A Labour minority government seems most likely, but I won't be putting money on it." (Prediction unchanged since January.)

6/10 Damian Lyons Lowe (Survation)

"On Survation's public polling, Ed Miliband remains the person most likely to form the next government. However, he's far from the workable majority figure required [321]. Friday 8 May will remain a day of deals and discussions with other parties to form the next government." (In January he expected Labour to be the largest party in a hung parliament, by 40-50 seats over the Conservatives.)

7/10 Michelle Harrison (TNS)

"It's less a case of who wins but who can scrape over the line. Labour polls better on the NHS; the Tories poll better on the economy. Can any claim additional territory from the other over the remaining weeks? Probably not. But our polls show that the public thinks the Tories will be the largest party. In the absence of a firm lead, I'll go with the wisdom of crowds."

8/10 James Endersby (Opinium Research)

"Despite the recent weekly statistical ties, we've witnessed the faint whispers of movement in the air and a slow, unsteady and shaky sway towards the Tories. How this shift plays out over the coming weeks obviously depends on a huge number of factors. My call, if this holds fast and momentum gathers: Conservatives 288, Labour 267, SNP 45, Lib Dems 24, Plaid Cymru 3, Ukip 3, Greens 2." (In January he put Labour on 320 seats.)

9/10 Martin Boon (ICM)

"I'm tempted to say: how should I know? I'm just a pollster. But I feel that Miliband may just have raised himself from the grave, so I'll add a couple to where I had them before. Everyone else largely becalmed although, I see the Greens disappearing from view and Ukip sliding a touch. Tories 34 per cent, Lab 32 per cent, Lib Dems 14 per cent, Ukip 12 per cent. I don't trust any academic model that translates vote shares into seats, so a seat projection from this is a pure and simple guess, which is Labour to be touching 300 seats with the Tories just behind." (In January Boon predicted Labour on 290 seats.)

10/10 Lord Ashcroft (Lord Ashcroft Polls)

He refuses to make predictions. "My polls are snapshots, not predictions."

Rex
Martin Boon ICM
"At the equivalent point before the 2010 election, our poll suggested 37 per cent for the Tories and 31 per cent for Labour, which more or less nailed the actual result. I think that campaigns mostly reinforce perceptions rather than change minds."
James Endersby, Opinium "Our latest polling figures show movement back towards the Conservatives (a two-point Tory lead). My prediction last week of a shaky sway back in favour of the Tories on election day holds fast; and with a hung parliament, who on earth knows who'll be able to form a government?"
Michelle Harrison TNS
"Despite all the sound, fury and bluster, there has been no game-changer. If anything, it's become even tougher for the major parties, with signs of a softening in Conservative support and continued evidence that the SNP will inflict major damage on Labour."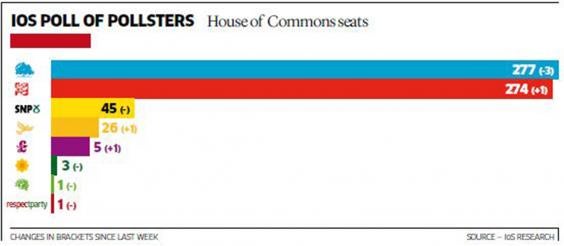 Andrew Hawkins ComRes
"Events last week have reinforced my prediction that the Tories will be the largest party. Ukip's slow puncture may help the Tories most, and Nicola Sturgeon may well fulfil her wish to keep David Cameron in No 10 by reducing Labour's Scottish MPs to numbers that could fit in a stretch limo."
Damian Lyons Lowe Survation "Unchanged, except for an SNP uptick at Labour's expense. The SNP's surge in Survation's polling continues unabated. Nicola Sturgeon scored well in our debate polling."
Nick Moon GfK
"I haven't changed my broad view that the Tories will be the largest party, but Labour is likely to form a minority government. Last week's projection (Con 280, Lab 273) looks pretty likely to me. The risk for Labour was that, as decision time looms, voters might take ahold of nurse, but that may be mitigated by Miliband's showing in the debates."
Rick Nye Populus
"No change."
Ben Page Ipsos MORI
"I need to see a more decisive shift in the polls to think that Labour have definitely moved ahead of the Conservatives. There has been more good news for Labour than the Conservatives, with Ed Miliband's personal ratings improving. Still, a hung parliament remains the most likely option."
Joe Twyman YouGov
"The national picture remains largely unchanged, but YouGov's Scotland polling shows the SNP at an all-time high. Only 44 per cent of Labour supporters felt Jim Murphy performed best in the first Scottish leaders' debate."
---
The Independent has got together with May2015.com to produce a poll of polls that produces the most up-to-date data in as close to real time as is possible.
Click the buttons below to explore how the main parties' fortunes have changed:
All data, polls and graphics are courtesy of May2015.com. Click through for daily analysis, in-depth features and all the data you need. (All historical data used is provided by UK Polling Report)
Reuse content