O tempora! O mores! Oh fickle fate. There was a time, not so long ago, when everyone agreed with Nick. Now, on a glorious April morning, the sun shone on the terraced houses of Nick Clegg's Sheffield Hallam constituency, just as it had in those heady days of the 2010 spring. Only this time it seemed to be shining for the bright-eyed young challenger, Labour's Oliver Coppard.
No sooner had he arrived, than a smiling supporter was assuring him of her vote. A couple in a passing car wound down the window. "Get Clegg out!" they chanted.
"I feel like it's going fairly well," said Mr Coppard. Fairly well? This was Clegg's back yard: his constituency office was just 750 yards away. This was Ecclesall, a ward with the full hat-trick of three Liberal Democrat councillors – no Labour, no Conservatives. And yet people were emerging to wish Mr Coppard good luck. Others, without a Labour poster in the window, stopped Mr Coppard to ask for one. And the papers bore tidings of a new poll, by Lord Ashcroft, which, like three previous surveys, put Mr Coppard ahead, this time by two points. "There is no decapitation strategy," insisted the softly spoken contender. "It is about getting a good MP for Sheffield Hallam."
But decapitation this may prove to be. Come 7 May, the deputy prime minister and Lib Dem leader may find himself minus his seat. Mr Clegg has a majority of 15,284. Mr Coppard, the manager of a local authority's "eco-vision" project, reckons he needs a swing of 18.6 per cent. But Mr Clegg was in Salford when we visited, preparing for his televised debate, and in Cheshire a day later. While the deputy prime minister was away, the contender was breaking in new shoes – having worn holes in the old ones pounding the streets of Sheffield Hallam since his selection in June 2013. "I'm not here for the practice," he said, "I'm standing because I can win."
Election Analysis: The Key Voters
Election Analysis: The Key Voters
1/6 Settled Silvers

These are the comfortably-off over-60s, still in work or drawing a decent pension – or both – who are enjoying their entitlements such as the Winter Fuel Allowance, free bus passes and free TV licence. They are worried about immigration and Europe. Both the Conservatives – who are pledging to keep benefits for wealthier pensioners – and Ukip want their votes

Micha Theiner

2/6 Squeezed Semis

Slightly older than the Harassed Hipsters, they are the second key group for Labour's family-focused election strategy. They are married couples on low to middle incomes who own unpretentious semi-detached homes in suburban areas. In 2001, these were the Pebbledash People sought by the Conservatives. Now the pebbledash is gone and a modest conservatory has been built at the back

Micha Theiner

3/6 Aldi Woman

In 1997 and 2001 she was Worcester Woman – a middle-class Middle Englander shopping at Marks & Spencer and Waitrose. Today, the age of austerity means she still goes to Waitrose for her basic food shop but cannily switches to Aldi for her luxury bargains such as Parma ham and prosecco. Identified by Caroline Flint, she is a key target of both Labour and the Conservatives

Micha Theiner

4/6 Glass Ceiling Woman

In her thirties or forties, she has an established career under her belt, perhaps in the "marzipan layer" – one position below the still male-dominated senior executive level. She is now, according to Nick Clegg, forced into making the "heart-breaking choice" between staying at home to bring up her children and going to work and forking out for high-cost, round-the-clock childcare

5/6 Harassed Hipsters

One of the two key groups identified by Labour as crucial to hand Ed Miliband the keys to Downing Street. Well-paid professional couples, often with children, they live in diverse urban and metropolitan areas rather than the suburbs. More comfortably off than most swing voters, they are time poor – struggling to balance raising a young family with busy work schedules

Micha Theiner

6/6 Neo-Greens

These are mainly first-time voters, though some are in their twenties – students and digital-age generation renters helping to fuel the "Green Surge". Idealists, but with no tribal loyalty to any party, they are anti-austerity, middle class, living in urban areas. Despite studying at university or recently graduated, they are struggling to find decent jobs and want cheaper housing and a higher minimum wage

Micha Theiner
A local lad, unlike his Buckinghamshire-born rival Mr Clegg, Mr Coppard, 33, hardly lacked doorstep charm. Even those who started off slightly cross with him finished by promising their vote. Heather Simkins, 78, upbraided him for a campaign letter calling her "Heather" instead of "Mrs Simkins". Mr Coppard apologised for the error, and had her vote within five minutes. Mrs Simkins, a retired secretary, had backed Clegg in 2010.
"He was young and fresh then, with new ideas," she recalled. Now she was voting to get Clegg out.
"He wasn't fighting for people in Sheffield. And that turn-around on tuition fees: I can't forgive him that. I've got grandchildren going through university."
As we criss-crossed the constituency, there seemed at least 10 Labour posters for every Liberal Democrat one. Given that the pro-Clegg placards read "Liberal Democrats winning here", it was unfortunate that they seemed to be so few and far between.
But Mr Clegg's agent, Andy Sangar, was chipper. "There is a good story in Sheffield Hallam," he insisted. "The campaign is going very well and we are very confident."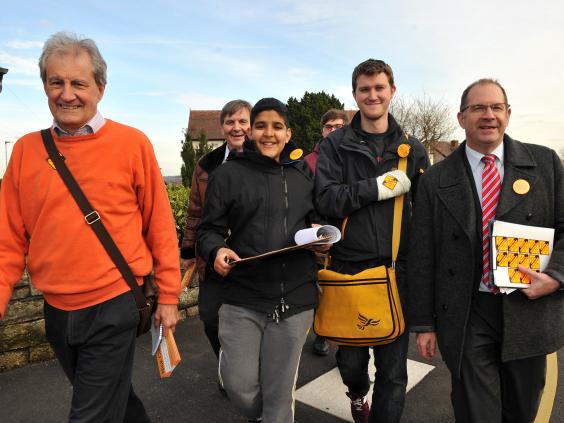 Lord Ashcroft's pollsters had asked only about parties, not named candidates, thus missing Mr Clegg's "very strong personal vote", he claimed. And look at past performance – 16 local elections in Sheffield Hallam since 2010, with 14 Lib Dem victories. Mr Sangar said he spoke to Mr Clegg all the time. The deputy PM was, he said, due to visit this weekend, with Mr Clegg telling reporters beforehand: "If I explain what we had to do [in coalition] and that if we didn't, more people would have lost their jobs in the public sector, I think people will stick with the Liberal Democrats."
"He's not at all worried!" declared Mr Sangar. Back on the streets, one of his team cautioned against getting too carried away by "what we had seen with the Labour lot". "I strongly suspect there are other parts of the constituency that Labour simply don't visit," he said.
Funnily enough, they had taken us to another part of Ecclesall which just happened to be round the corner from Mr Clegg's old constituency home. The former Sheffield City Council leader, Paul Scriven, led the door-knocking in the sure and certain hope that the polls reflected a "parallel universe", divorced from the reality on the doorsteps. "People are quite warm about Nick," he said.
Quite warm seemed about right – occasionally dipping to lukewarm, never noticeably rising to red hot Cleggmania. "I don't want him to lose his seat," said Elaine Read, a 58-year-old housewife. "He was part of the community when he lived round the corner. He seems a good guy."
Her son Samuel, 19, was not so keen. "I'm paying £6,000 a year more because of him," said the student. "I'll probably vote Green."
A few doors down, Jacqui Picker, 83, a retired teacher, was wavering. It was between the Lib Dems and the Tories, she said: "But I don't think the Conservatives have got much of a hope here, have they?"
That was music to one Lib Dem canvasser's ears. "That's fairly typical," he said. "Some people vote Nick to keep Labour out."
Perhaps it will happen. Perhaps enough Tories will turn Lib Dem. Perhaps that "very strong personal vote" could see Mr Clegg through. After all, Ann Kingdom still has her 'I agree with Nick' bag. "Some people are agreeing with Nick," said the 64-year-old campaigner, "And many – if they think about it – appreciate he had to go into coalition with the Conservatives. It's going to be hard-fought, but I think we will win."
The Independent has got together with May2015.com to produce a poll of polls that produces the most up-to-date data in as close to real time as possible.
Profile: Sheffield Hallam
Conservative from 1885 until 1997, apart from a Liberal interlude between 1916  and 1918.
Won by the Liberal  Democrats in 1997;  Nick Clegg MP since 2005
Has never had a Labour MP since the constituency was created in 1885.
The wealthiest area in England outside London and the South-east, according to a 2004 survey looking at the proportion of population earning more than £60,000 a year.
An estimated 24 per cent of Sheffield Hallam voters are public sector workers; 17 per cent are students.
Click the buttons below to explore how the main parties' fortunes have changed:
All data, polls and graphics are courtesy of May2015.com. Click through for daily analysis, in-depth features and all the data you need. (All historical data used is provided by UK Polling Report)
Reuse content