Like hundreds of schools across the country on 7 May, Featherbank Primary in Horsforth, West Yorkshire, will become a polling station on election day. But this one is different. Forty years ago, Ed Miliband was a pupil at the school, while his father, Ralph Miliband, was professor of politics at Leeds University. In the hall where the young Ed queued for his school dinner, people will line up to cast their vote. In this crucial swing-seat battleground between the Conservatives and Labour, voters queuing for Featherbank's polling booths will decide whether this former pupil should be the next prime minister.
Mr Miliband visited the school in 2011 to open a new building. His red handprint on a classroom wall records his visit. But has he made a mark on the young families of Horsforth, at the more prosperous edges of this seat just outside Leeds? The Conservatives won Pudsey with a majority of 1,659 in 2010, after Labour held the seat since 1997. The constituency changes hands in line with the government. So anyone wanting to predict the outcome of 7 May would want to hear what the citizens of Pudsey think.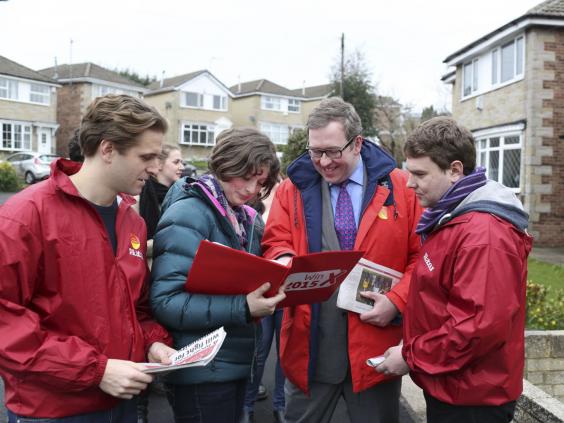 On the last day of term, children spill out of Featherbank's classrooms wearing handmade Easter bonnets, a cloud of yellow tissue paper and cotton wool, in a rush to the school gate. Parents collecting their children seem to know how heavily the outcome of the general election rests on their shoulders. Many are genuinely undecided.
One mother says she will take time to listen to what the parties have to say before making up her mind just hours before polling day.
Another parent, Nicola Devey, 40, a teacher, is a Labour Party member and voted for Mr Miliband as leader. But she says: "I am pretty fed up with politics. I won't be watching the debates. They are not discussing real issues – they should be talking about education and the NHS." Of Mr Miliband, she says: "I think he gets a bad press. I don't think he helps himself. I do feel quite sorry for him. But we should focus on whether he is going to be a good PM – and I think he will be."
One mother of two boys, who voted Conservative in 2010, electing Stuart Andrew as MP, cannot decide between the Tories and Ukip: "I am after a fresh change; we need something a bit different. I worry about immigration – we are only a small island. We can only take so many."
Julia Grantham, 34, a mother of two and a former nurse, plans to vote for the Green Party or Labour: "Any party that will keep the Tories or Ukip out. As a stay-at-home mum I have noticed things changing – libraries have been closing down, things for the community are disappearing."
In pictures: Experts' predictions for the General Election - 04/04/15
In pictures: Experts' predictions for the General Election - 04/04/15
1/10 Andrew Hawkins (ComRes)

"My position has moved: no party can win a majority now. I have also shifted in favour of the Conservatives winning more seats than Labour. That, however, assumes that the current Tory momentum is maintained and that they don't do anything daft or careless between now and polling day. But the underlying pattern is distinctly in their favour." (In January he predicted Labour would be the largest party, possibly with a small majority.)

Andrew Hawkins

2/10 Joe Twyman (YouGov)

"Probably: a 'well hung parliament'. Possibly: Conservatives winning most votes and seats, thanks, in part, to SNP gains at Labour's expense. Speculation: Conservatives unable to form another coalition, not having enough seats with just the Lib Dems, but Labour better placed with SNP and Lib Dems – albeit informally." (In January Twyman said: "Gun to my head? Labour minority government.")

3/10 Ben Page (Ipsos MORI)

"Stuck in 'too close to call' mode still, made harder by the way votes translate into seats in Parliament. If the parties remain neck and neck, Labour might just end up with more seats, but not a majority. We still have weeks of campaign to go and no clear picture for the marginals, where the polling that is being done suggests a lot of local variations that have plenty of potential to surprise us in May." (Last time Page said it was a "mug's game" to make predictions four months before an election.)

4/10 Rick Nye (Populus)

"Since January, the Conservatives have clearly improved on the polls relative to Labour to the point where I'd expect the Conservatives to win the most seats as well as the most votes 7 May. What's less clear is whether the Conservatives would be able to form a government. (In January Nye expected a hung parliament in which Labour would win most seats but not necessarily most votes.)

5/10 Nick Moon (GfK)

"Something would need to change dramatically for there to be any chance of a one-party majority government. My guess: the Tories will be largest party, but some way short of forming even a two-party coalition. A Labour minority government seems most likely, but I won't be putting money on it." (Prediction unchanged since January.)

6/10 Damian Lyons Lowe (Survation)

"On Survation's public polling, Ed Miliband remains the person most likely to form the next government. However, he's far from the workable majority figure required [321]. Friday 8 May will remain a day of deals and discussions with other parties to form the next government." (In January he expected Labour to be the largest party in a hung parliament, by 40-50 seats over the Conservatives.)

7/10 Michelle Harrison (TNS)

"It's less a case of who wins but who can scrape over the line. Labour polls better on the NHS; the Tories poll better on the economy. Can any claim additional territory from the other over the remaining weeks? Probably not. But our polls show that the public thinks the Tories will be the largest party. In the absence of a firm lead, I'll go with the wisdom of crowds."

8/10 James Endersby (Opinium Research)

"Despite the recent weekly statistical ties, we've witnessed the faint whispers of movement in the air and a slow, unsteady and shaky sway towards the Tories. How this shift plays out over the coming weeks obviously depends on a huge number of factors. My call, if this holds fast and momentum gathers: Conservatives 288, Labour 267, SNP 45, Lib Dems 24, Plaid Cymru 3, Ukip 3, Greens 2." (In January he put Labour on 320 seats.)

9/10 Martin Boon (ICM)

"I'm tempted to say: how should I know? I'm just a pollster. But I feel that Miliband may just have raised himself from the grave, so I'll add a couple to where I had them before. Everyone else largely becalmed although, I see the Greens disappearing from view and Ukip sliding a touch. Tories 34 per cent, Lab 32 per cent, Lib Dems 14 per cent, Ukip 12 per cent. I don't trust any academic model that translates vote shares into seats, so a seat projection from this is a pure and simple guess, which is Labour to be touching 300 seats with the Tories just behind." (In January Boon predicted Labour on 290 seats.)

10/10 Lord Ashcroft (Lord Ashcroft Polls)

He refuses to make predictions. "My polls are snapshots, not predictions."

Rex
Is Mr Miliband the right man to be prime minister? "I would rather see him win over David Cameron. Some people might say if he is capable of doing what he did to his own brother what is he capable of doing to the country? But if he is going to do more for this country than David Cameron, then that is the important thing."
It is young families who are key to the result on 7 May, Stuart Andrew insists. "It is noticeable that many people haven't yet made their minds up, it is all to play for. It will continue to be a closely fought election and very close at the end. This is about who they want as prime minister. I know I have a bit of work to do," he says.
In 2010, Cleggmania had an impact in this seat, where the Lib Dems boosted their vote from around 7,000 to more than 10,000. They still came third but the shift was enough to deny Labour victory. This time, their vote is expected to fall away and Labour's candidate, Jamie Hanley, is among the 30 recipients of £10,000 "stop the Tories" cash from the former Lib Dem peer Baron Oakeshott. Then there is the possibility that Ukip, which did well in Pudsey in last year's local and European elections, will leach votes from both the Tories and Labour. 
Over a cup of tea in a café in Farsley, in a building where his late grandmother worked as a weaver when it was a cotton mill, Mr Hanley says: "Every single person who votes in this constituency is going to make a difference to the outcome, not just who is MP but who is prime minister. This is a seat we need to win to get rid of David Cameron. So many people we meet on the doorstep are really struggling on low pay. I met a woman the other day who was working at a vet's doing four hours a day – but it's a split shift of two hours, a long gap, and then two hours, on the minimum wage. She lives six miles away from her work."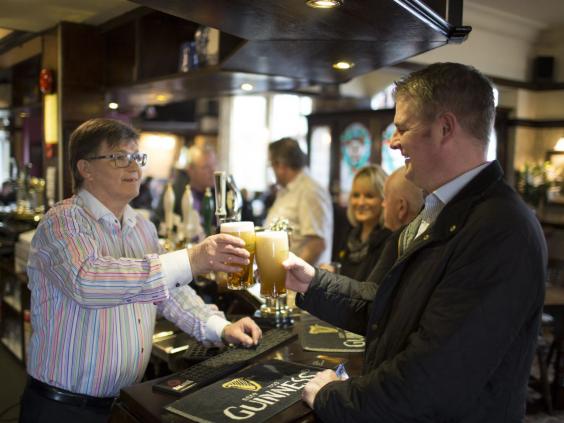 Down the road in Dawson's Corner, Farsley, Glyn Thorpe, 64, says his wife, Lakhbir, "just doesn't like Miliband". Mr Thorpe has never voted for anyone in his life but, after talking to Mr Hanley for a few minutes he says: "I will vote for you because it is the first time I have seen someone's face. It is good to see somebody. You look like a nice fella."
Not everyone in this neighbourhood is so enthusiastic. A 77-year-old man tells Mr Hanley: "Why should I vote? Voting just seems to be about getting you fellas into big-money jobs and you forget about us people."
Mr Hanley replies: "I know that politics and politicians have got to do a lot to win trust. It is really important that it is local people serving their area."
The pensioner shoots back, turning New Labour's 1997 slogan on its head: "I wish I could agree with it, but things don't get any better."
The Independent has got together with May2015.com to produce a poll of polls that produces the most up-to-date data in as close to real time as possible.
Click the buttons below to explore how the main parties' fortunes have changed:
All data, polls and graphics are courtesy of May2015.com. Click through for daily analysis, in-depth features and all the data you need. (All historical data used is provided by UK Polling Report)
Reuse content