One thing will remain the same after the general election whoever wins – the Commons will still be full of privately educated MPs, many of them with an Oxbridge background, according to new research published today.
A study of prospective parliamentary candidates (PPCs) in winnable seats reveals 31 per cent of them to have been privately educated – compared with a figure of just 7 per cent of the country as a whole.
The number of Labour candidates in winnable seats among the new intake who are privately educated – 19 per cent – is almost double the number of privately educated Labour MPs, at 10 per cent.
"This research shows that the next House of Commons is unlikely to reflect any more social diversity than the current crop of MPs," said Sir Peter Lampl, chairman of the Sutton Trust, the charity which campaigns for equal access to education.
The study, carried out by Dr Robert de Vries, a research fellow in sociology and social policy at the University of Oxford, also showed 55 per cent went to elite Russell Group universities (compared to 11 per cent of the country) and 19 per cent to Oxbridge (as opposed to less than 1 per cent nationally).
Figures for this parliament show 33 per cent to have been privately educated – and that includes 52 per cent of Conservative MPs (now down to 49 per cent).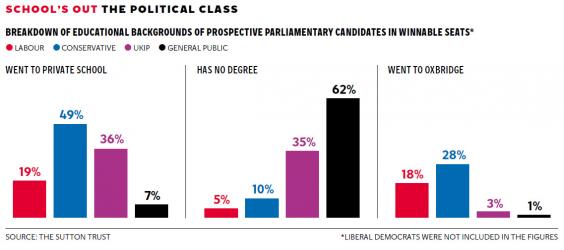 The only party to buck the trend was Ukip which had only one candidate from Oxbridge – and 35 per cent of its candidates not going to university.
The Liberal Democrats did not feature in the statistics because they had fewer PPCs in winnable constituencies.
The report said: "If the majority of MPs all share the same experience of education at an elite university, this considerably narrows the diversity of perspectives within government. This is particularly applicable to the high proportion of Oxbridge alumni. Oxford and Cambridge accept relatively few students from disadvantaged backgrounds."
The employment record of the candidates showed 40 per cent had been in political careers (up to almost half with Labour). The most popular professions were consultancy (often in media relations), law and journalism.
The report acknowledges that "it is... reasonable to expect political leaders to be more highly educated than the average".
Corridors of power: where they studied
Corridors of power: where they studied
1/7 David Cameron

Eton College, Berkshire Brasenose College, Oxford

Russell Cheyne - WPA Pool | Getty Images

2/7 Nick Clegg

Westminster School, London Robinson College, Cambridge

Getty Images

3/7 William Hague

Wath-on-Dearne comp, Yorks Magdalen College, Oxford

Getty Images

4/7 George Osborne

St Paul's School, London Magdalen College, Oxford

Getty Images

5/7 Ed Miliband

Haverstock comp, London Corpus Christi College, Oxford

Getty Images

6/7 Harriet Harman

St Paul's Girls' School University of York

PA

7/7 Ed Balls

Nottingham High School Keble College, Oxford

Getty Images
It adds: "However, there is undoubtedly value in Parliament being able to draw on a wide body of life experience.
"Many commentators have raised concerns about the rise of the 'political class', politicians whose path to Parliament runs through only think-tanks and work as a researcher for an MP or a peer.
"Our analysis shows that this route is prevalent amongst current PPCs, particularly Labour candidates."
The report concludes: "Taken together, these results suggest that social mobility into the highest echelons of government has not improved.
"As is the case with the current parliament, the selection of the public's future representatives in government is strongly tilted towards a narrow slice of privately educated elite university graduates."
A Conservative Party spokesman said: "Conservative candidates are picked on merit and we have a diverse and excellent range of candidates drawn from all walks."
A source added: "Attacking people for the school their parents chose to send them to is the politics of the gutter."
The party added that – since the survey's deadline – it had appointed five more candidates in seats where the sitting MP was retiring and these had included a number of non-Oxbridge candidates.
A Labour party spokeswoman added: "Labour has taken the lead in tackling under-representation and increasing diversity in politics. We have a great story to tell in seats across the country, especially in our key seats where more than 50 per cent of our candidates are women.
"Our candidates are drawn from a diverse range of backgrounds, with more female and ethnic minority MPs, MEPs and local councillors than any other party.
"Of course, we know there is always more to do."
The figures show 31 per cent overall went to private schools – 19 per cent of Labour candidates, 49 per cent of Conservatives and, despite the low number going to university, 36 per cent of Ukip candidates.
Overall 10 per cent did not have degrees – including 5 per cent from Labour, 10 per cent from Conservatives and 35 per cent from Ukip.
On Oxbridge, 19 per cent overall attended one of the two universities, 18 per cent from Labour, 28 per cent from the Conservatives and just 3 per cent from Ukip.