There has been a huge last minute spike in young people registering to vote as the deadline to sign up in time for the general election looms.
47,300 people under the age of 24 registered to vote on 19 April alone – around 16 times the number of people of pension age (2,893) registering on the same day.
The 25 to 34 young adult age group also saw strong growth with 39,300 people signing up in a single day.
The two age groups saw unusually high growth compared to other age groups, which were relatively stable.
Young people drove a surge in applications on the Sunday when 124,000 people registered.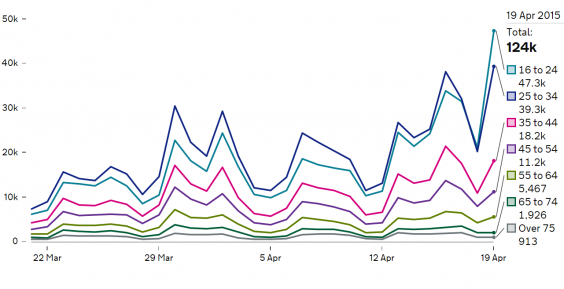 Voters not on the electoral register by the end of Monday 20 April will not be able to vote in the general election, which is on 7 May.
The registrations are a record for the new online system only surpassed on National Voter Registration Day, 5 February.
With another round of registrations today it is too early to tell whether the shift to young people closing the registration gap between the old and the young.
Older people do not need to register vote as often as young people as they do not tend to move house as much as the young.
While it is to be expected that more young people would register to vote than older people, the ratio of young people to older people has been significantly steeper than normal in recent weeks – suggesting youth voter registration efforts have been having some effect.
On 5 February Facebook prompted all of its UK users to register to vote, which is thought to have partly driven the huge spike in applications on the day.
The Electoral Commission says there have been 1,838,218 online applications to register to vote and that of that, 569,771 online applications have come from 16 – 24 year olds.
Jenny Watson, the Commission's chair, said: "This is your last chance to register to vote if you want to make your voice heard on 7 May. It takes just a few minutes to apply to register online, so do it now.
"We don't want anyone to miss out, but if you miss the deadline on 20 April and then try to vote you will be turned away from the polling station on election day. Make sure this doesn't happen to you."
If you have not yet registered to vote you can do so HERE.