Douglas Carswell has refused to be drawn into the row over Nigel Farage's comments about HIV treatment during the leaders' debate.
The Ukip MP was questioned about his leader's incorrect assertion last night that 60 per cent of diagnoses in the UK were for foreigners and that "British families" should be put first in the NHS.
The statement prompted an angry backlash on Twitter and swift reprimand from Leanne Wood, the leader of Plaid Cymru, who attacked Mr Farage for "dangerous scaremongering", while Ed Miliband tweeted he "should be ashamed".
When Mr Carswell was questioned on whether he agreed with Mr Farage's apparent suggestion that foreigners with Aids should not be treated by the NHS, he said it was "sensible and reasonable to say our health service should not be an international health service".
After a Telegraph reporter pursued the issue, he accused them of "putting a slightly slanted question that will mean I have to answer it in a way that means I'm at odds with my party leader".
"I'm not going to play that game," he told the newspaper. "I think it's personally reasonable to want our national health service to be a national health service and not an international health service."
Mr Carswell, who defected from the Conservative party last year and was re-elected into his old Clacton seat under Ukip's banner, is the son of a prominent HIV researcher.
Dr Wilson Carswell OBE worked as a doctor in Uganda, where he met the late president Idi Amin in hospital on several occasions.
He was part of the inspiration for the character of Dr Nicolas Garrigan in Giles Foden's book The Last King of Scotland, which was later turned into an Oscar-winning film with James McAvoy playing the doctor.
Dr Carswell was the first person to diagnose Aids in Ugandan patients and carried out influential work on the illness, later advising South Africa and other countries on public health.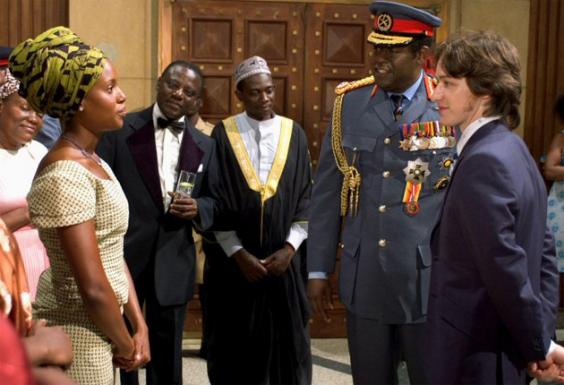 His son lived in Uganda with the rest of the family until he moved to Britain for university in his late teens.
Mr Carswell was previously questioned on Mr Farage's HIV comments last year, when he claimed the Ukip leader's call to ban people with HIV from entering the UK wasn't "serious".
When asked what kind of people should be allowed to enter Britain, Mr Farage said: "People who do not have HIV, to be frank. That's a good start. And people with a skill."
Mr Carswell initially said he "agreed with everything" his leader said but appearing later on a television programme, he claimed: "No one is seriously suggesting we should screen people for HIV coming in."
Mr Farage came back to the issue yesterday evening as the panel of seven party leaders discussed the NHS.
"There are 7,000 diagnoses in this country every year for people who are HIV positive, but 60 per cent of them are not for British nationals," he said.
"You can come into Britain, from anywhere in the world, and get diagnosed with HIV, and get the anti-retroviral drugs which cost up to £25,000 per year per patient.
"I know there are horrible things happening in many parts of the world, but we need to put the system there for British families who have paid into it for decades."
TV leaders' debate 2015
TV leaders' debate 2015
1/8 The leaders' debate 2015

Green Party leader Natalie Bennett, Liberal Democrat leader Nick Clegg, Ukip leader Nigel Farage, Labour leader Ed Miliband, Plaid Cymru leader Leanne Wood, First Minister Nicola Sturgeon and Prime Minister David Cameron during the 7-way debate

PA

2/8 David Cameron

David Cameron: "People who come here and work hard help make this a great country, but we do need immigration that's controlled and fair."

Getty Images Europe

3/8 Ed Miliband

Ed Miliband says that work 'doesn't pay' in Britain and says Labour would change that. He says David Cameron is talking rubbish.

Ken McKay/ITV/PA

4/8 Nick Clegg

Nick Clegg says there's "good immigration and bad immigration". "I want Britain to be open for business but not open to abuse".

Getty Images Europe

5/8 Nigel Farage

"Sixty per cent of [people with HIV] are not British nationals... I know there are some horrible things happening in many parts of the world, but what we need to do is put the NHS there for British families," says Nigel Farage

Ken McKay/ITV/PA

6/8 Nicola Sturgeon

Nicola Sturgeon says the PM is acting like a "petulant schoolchild threatening to leave".

Ken McKay/ITV/PA

7/8 Leanne Wood

Leanne Wood has a proposal: "I recognise there are many problems with the EU but Wales benefits from being a member".

Ken McKay/ITV/PA

8/8 Natalie Bennett

Natalie Bennett: "UN has asked us to take in Syrian refugees, we've taken in 143 Syrians, we should do more and our fair share"

ITV
The Ukip leader's comments were partially blamed for his drop from winning position in opinion polls half way through the debate to third, on average, by the end.
According to the latest figures held by Public Health England, 6,000 people were diagnosed with HIV in the UK in 2013 and 54 per cent of those were foreign nationals, although the country of birth was not known for about a sixth of patients.
The proportion of foreigners being treated for HIV on the NHS has actually been declining for more than a decade, as has the overall number of new diagnoses in Britain.
The Independent has got together with May2015.com to produce a poll of polls that produces the most up-to-date data in as close to real time as possible.
Click the buttons below to explore how the main parties' fortunes have changed:
All data, polls and graphics are courtesy of May2015.com. Click through for daily analysis, in-depth features and all the data you need. (All historical data used is provided by UK Polling Report)
Reuse content