Nigel Farage has defended Ukip after a string of scandals and a drop in the polls by accusing the BBC of "scaremongering" on migration and "clear and evident bias" against his party.
Tonight's TV debate could be a make-or-break moment for Ukip, whose popularity has continued to fall from its strong position at the start of the year.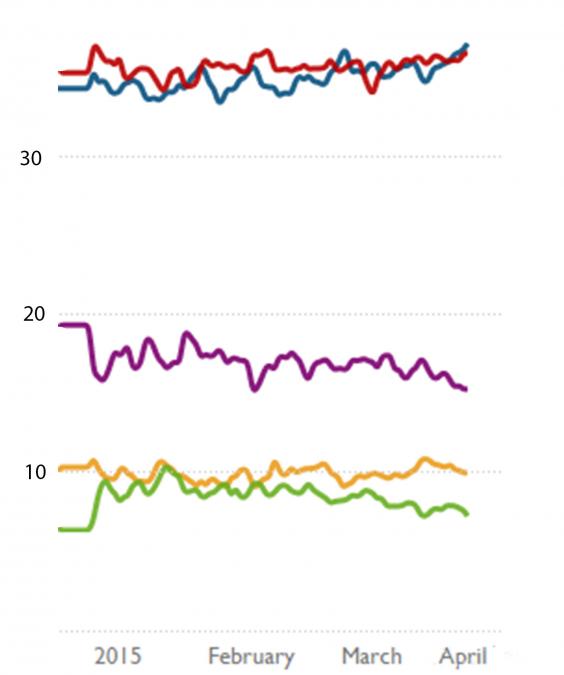 Appearing on BBC Radio 4's Today programme, Mr Farage pushed Ukip's focus on immigration and said that while a cap was "mathematically impossible", he wanted to see net migration down to 50,000 a year.
But told that under Ukip's plans skilled workers like carpenters, plasterers and electricians would still be able to stay in the country, he said they were "in many cases undercutting British workers, not always up to the same levels of quality".
And asked to clarify his desire to live in a community where children play football in the streets together in the evening and where society is at ease with itself, Mr Farage said: "Just travel up the eastern spine of England. Go to Peterborough, go to Boston, go and see the fact that we don't have integration under what's happened. "Unsurprisingly, in some ways what's happened with very large numbers of people coming is you get quarters and districts of towns and cities that get taken over by one particular group."
During the interview, posts on Mr Farage's Twitter account issued a series of complaints accusing the BBC of "wilfully misinterpreting comments" and "scaremongering".
Clear that BBC journos wilfully misinterpreting comments about children playing together. I guess they're pro segregation now? #r4today

— Nigel Farage (@Nigel_Farage) April 2, 2015
So the BBC admits it doesn't think that other parties have bad eggs in their ranks. Clear and evident bias #r4today

— Nigel Farage (@Nigel_Farage) April 2, 2015
Scaremongering by BBC on migration: "Would you be prepared to be poorer?" Flawed logic. As if we've all got richer since 2004 mass migration

— Nigel Farage (@Nigel_Farage) April 2, 2015
The only people who'd be "poorer" as per the BBC's logic is big corporate bosses who love the EU for its cheap migrant labour.

— Nigel Farage (@Nigel_Farage) April 2, 2015
Mr Farage also appeared on Sky News, where he criticised the format for tonight's crucial seven-way TV debate as David Cameron's "wish".
He said: "I'm feeling pretty good and I'm pleased at least there is a debate.
"I'm sorry there are so many people on the panel, but this was the Prime Minister's wish.
"But it's happening, we've got a chance to have a proper discussion this evening, and I hope the truth comes out on some issues," he said.
ITV Leaders' Debate: Who's in it?
ITV Leaders' Debate: Who's in it?
1/6 ITV Leaders' Debate

Tory Leader David Cameron will take the podium (appropriately) on the far right

PA

2/6 ITV Leaders' Debate

Labour leader Ed Miliband will stand on the centre-right podium

Getty Images

3/6 ITV Leaders' Debate

Ukip leader Nigel Farage will take the centre-left podium

Getty Images

4/6 ITV Leaders' Debate

SNP leader Nicola Sturgeon will stand at the podium second furthest on the right

AFP/Getty Images

5/6 ITV Leaders' Debate

Appropriately enough Green Party leader Natalie Bennett will take the furthest-left podium

JUSTIN TALLIS/AFP/Getty Images

6/6 ITV Leaders' Debate

Plaid Cymru leader Leanne Wood will stand on the centre-right podium
The Ukip leader said he would use the debates to keep the spotlight on immigration, saying: "Particularly, I shall be arguing and asking the Prime Minister and others, will they please admit that, as members of the EU, we cannot have an immigration policy of any kind at all.
"If you look at what voters are concerned about, clearly the economy, the NHS and immigration dominate people's discussions about this election, with immigration perhaps being top of the list. The first thing we have to do is have an honest debate about it."
Reuse content