Nicola Sturgeon last night denied telling the French ambassador she wanted the Tories to win the election in May in preference to Labour.
The Scottish National Party (SNP) leader has previously said she wants to "lock the Tories out of Government" but was accused last night of secretly wanting a Conservative victory.
The Daily Telegraph made the claim after, it said, seeing a government memo detailing a conversation in February between Ms Sturgeon and Sylvie Bermann, the French Ambassador to the UK.
During their conversation the First Minister was said to have told the ambassador she didn't want a formal coalition with Labour and would "rather see" David Cameron continue as Prime Minister.
Hoping for a Tory victory would contradict Ms Sturgeon's vision of working with Labour in Westminster as a progressive alliance to bring an end to austerity.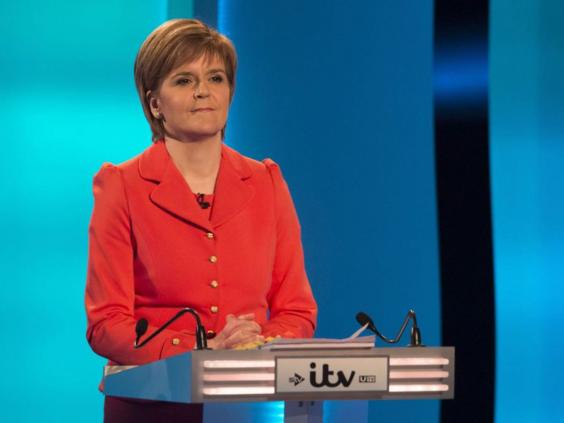 However, it could be argued that with the Tories back in power the SNP would benefit because it would likely further alienate voters in Scotland. It would also protect the SNP from the problem of being closely associated, as the Liberal Democrats are experiencing, with controversial government decisions.
Conversations between visiting ambassadors and leaders of the devolved governments in Scotland, Wales and Northern Ireland are, as a diplomatic courtesy, conveyed to the Foreign Office. They are, however, usually kept confidential.
According to the newspaper, the memo detailing the conversation was written by a senior British civil servant and stated:  "Discussion appears to have focused mainly on the political situation, with the FM [First Minister] stating that she wouldn't want a formal coalition with Labour; that the SNP would almost certainly have a large number of seats... that she'd rather see David Cameron remain as PM (and didn't see Ed Miliband as PM material)."
Ms Sturgeon "categorically" denied the newspaper's account while an SNP spokesman described it as a "belated April Fool".
.@simon_telegraph your story is categorically, 100%, untrue...which I'd have told you if you'd asked me at any point today

— Nicola Sturgeon (@NicolaSturgeon) April 3, 2015
The Independent was unable last night to verify whether the memo was genuine or a fake.
As early editions of the paper became available the First Minister tweeted a denial to Simon Johnson, the Daily Telegraph's Scottish Political Editor.
"Your story is categorically, 100%, untrue...which I'd have told you if you'd asked me at any point today," she said.
A spokesman for the SNP was equally dismissive: "As the First Minister has said, this story - which is based on a UK Government document - is categorically, 100 per cent untrue.
"It must be a belated April Fool. As Nicola has said on numerous occasions, she wants to see the back of a Tory government which is decisively rejected by the people of Scotland and unlike Labour, the SNP is the only party that had promised to lock David Cameron out of Downing Street."
However, Labour seized upon the row with former minister Ben Bradshaw tweeting, "Betrayal," while Scottish Labour leader Jim Murphy said: "This is a devastating revelation that exposes the uncomfortable truth behind the SNP's General Election campaign.
The six-party election: key figures
The six-party election: key figures
1/12 Conservatives

2/12 Lynton Crosby (Con)

Chief election strategist

Rex

3/12 Labour

4/12 Lucy Powell (Lab)

Vice chair of general election campaign

5/12 Liberal Democrats

6/12 Paddy Ashdown (Lib Dem)

Campaign director

Getty

7/12 Ukip

8/12 Suzanne Evans (Ukip)

Deputy chairman

9/12 Greens

10/12 Chris Luffingham (Green)

Campaigns director

11/12 Scottish National Party

12/12 Angus Robertson (SNP)

General election director

PA
"For months Nicola Sturgeon has been telling Scots she wants rid of David Cameron yet behind closed doors with foreign governments she admits she wants a Tory Government.
"We've been here before with the SNP. It's deja vu all over again - the SNP say one thing in public but another private.
"If Scotland votes SNP in May then Nicola Sturgeon will get her wish - the Tories will be the largest party across the UK and David Cameron will return to Downing Street. Only a vote for Labour will deliver a Labour government."
A spokesman for the French ambassador said the First Minister did not express a preference between labour and the Tories, nor between Mr Miliband or Mr Cameron.
Cyril Blondel, spokesman for Ms Bermann, denied that the First Minister had expressed a preference between Labour or the Conservatives.
"While the ambassador and the First Minister, some time ago, discussed the political situation, Ms Sturgeon did not touch on her personal political preferences with regards the future Prime Minister," he said.
Reuse content