David Cameron vetoed Nick Clegg taking part in one of the TV election leaders' debates, it emerged last night, as the months of wrangling and farce over the format came to an end with a final deal between political parties and broadcasters.
According to sources close to the negotiations, the broadcasters agreed to a Conservative demand that the Lib Dem leader should not participate in a BBC programme on 16 April featuring Ed Miliband and other opposition leaders. Yet in a victory for the Deputy Prime Minister, he will take part in a three-way contest between Mr Cameron and Mr Miliband on 30 April – originally set up as a two-way battle between the Tory and Labour leaders – exactly one week before polling day. However, the three will not debate with each other but will appear separately on the programme.
The final agreement on four election programmes was published yesterday afternoon, after the Prime Minister earlier this month rejected the broadcaster's original proposal of two debates featuring all seven leaders and a final contest of Mr Cameron and Mr Miliband.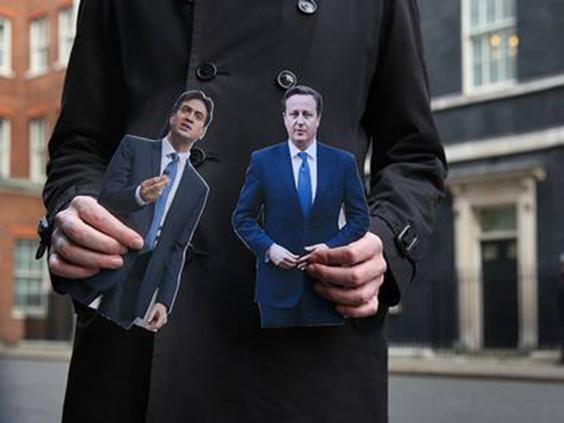 The new deal means that the Prime Minister has won the battle of the "empty chair", because he will now not be the only leader not taking part. It is understood that the Conservatives refused to strike a deal over the BBC programme on 16 April unless Mr Clegg was excluded. The Lib Dems said last night that Mr Clegg was happy to take part in any programme, but the final decision was up to the broadcasters.
The schedule of programmes is as follows: (1) 26 March – a live question-and-answer show on Channel 4 and Sky News with Mr Cameron and Mr Miliband, presented by Jeremy Paxman and Kay Burley, when the two leaders will take questions separately but not debate with each other; (2) 2 April – a debate with seven party leaders, including the PM, to be broadcast on ITV and chaired by Julie Etchingham; (3) 16 April – a debate between opposition party leaders hosted by the BBC, with David Dimbleby moderating; (4) 30 April – a BBC  Question Time special with Mr Cameron, Mr Miliband and Mr Clegg, presented by Dimbleby. The party leaders will take questions from the audience but not debate with each other.
Mr Cameron has refused all along to debate with Mr Miliband directly, leading to accusations of "cowardice" from Labour.
Experts' predictions for the general election
Experts' predictions for the general election
1/10 Andrew Hawkins (ComRes)

Just as the polls in 2010 pointed to no overall majority for any party, the overwhelming evidence points to Labour either being the largest party or getting a small majority, probably below 20. The Lib Dems and SNP should each win between 25 and 35 seats, with single-figure wins for both Ukip and the Greens.

2/10 Joe Twyman (YouGov)

I predict it will be close. I predict a few tremors, though earthquakes are unlikely. I predict the eventual winner may not be the direct result of public opinion, but instead the outcome of political negotiations. It's too early to predict numbers given all the uncertainties surrounding (among other things) Ukip, the SNP and the Lib Dems. It is possible that it will be close between Conservative and Labour in terms of both votes and seats. The Lib Dems might retain 20-30 seats and the balance of power, despite small gains for the SNP, and at most half a dozen Ukip seats. Gun to my head? Labour minority government.

Rex

3/10 Ben Page (Ipsos MORI)

A mug's game for this election months away, but my predictions in order of likelihood: most likely a hung parliament or coalition of some kind, closely followed by either a small Labour majority or an equally small Conservative majority. Given how close the parties are, the unknown performance of Ukip in key marginals, the effect of incumbency on Lib Dem losses, the final size of SNP surge and so on, to be more precise is simply foolish! Professor Tetlock, who found that forecasts by experts were only slightly better than throwing dice, weighs heavily upon me!

Rex

4/10 Rick Nye (Populus)

I can see a hung parliament, where Labour is the largest party in terms of seats – though not necessarily in terms of votes, with the Lib Dems having 30 seats or fewer, the SNP having up to 20 seats and Ukip having no more than five seats. In short, it's going to get messy and stay messy for some time to come.

5/10 Nick Moon (GfK)

I can't recall there ever being an election more difficult to predict than this one. I'm confident no party will have an overall majority, with the Tories probably the largest party but no single partner for a viable coalition, with the Lib Dems on 25 seats, the SNP 20, Ukip three, and the Greens one.

6/10 Damian Lyons Lowe (Survation)

We might have expected a workable Labour majority, were it not for the wild-card rise of the SNP in Scotland. Survation's December Scottish polls suggest an almost complete wipeout by the SNP in Scotland and result in 40+ seat gains – mostly at Labour's expense. My current predictions are: Labour the largest party by 40-50 seats over the Tories, no overall majority; Tories 235-255 seats; Lib Dems 20-30 seats; SNP 30-40 seats – maybe held back from potential support level by opposition incumbency and tactical voting by pro-unionist voters. Finally, Ukip, 5-10 wins from Conservatives, including Rochester and Clacton, and potentially a single Labour-seat surprise.

7/10 Michelle Harrison (TNS)

The battleground over the next three months is at the kitchen table – the difference between what the statistics tell us about the economy, the experience that Britons are having of managing their household budgets, and where – and if – they believe politics can make a difference. In this regard, the disconnect with the major political parties is more interesting than the horse race.

8/10 James Endersby (Opinium Research)

Our first poll for 2015 shows Labour one point ahead [see above], but polls four months out from an election are snapshots, not predictions. It would be extremely unwise for a pollster to make a firm prediction now. At the moment, Opinium's estimate on polling day would be the Tories slightly ahead on vote share, but Labour slightly ahead on seats. These numbers are based on a uniform swing, with tweaks to Green and Ukip numbers based on local information: Labour 320 seats, Conservatives 271, Lib Dems 20, SNP 16, Plaid Cymru three, Greens two, Ukip four. A hung parliament with Labour potentially closer to a majority coalition than the Conservatives.

9/10 Martin Boon (ICM)

I've not recovered from the Scottish referendum campaign yet, and here we go with another wildcard strewn nail-biter. For me, Labour on 30 per cent will only fractionally nudge past their woeful 2010 showing – behind the Tories on 33 per cent – but enough to secure more seats (290 for Labour, 280 for the Tories) on boundary wackiness. The Lib Dems will secure 14 per cent of the vote and 35 seats; Ukip will also get 14 per cent, but that only gets them a couple of seats. As for Scotland, I'm bewildered, but as you asked I'll say 30 seats for the SNP, which wipes out a breathing-space victory in seats for Labour.

10/10 Lord Ashcroft (Lord Ashcroft Polls)

Declined to take part. His spokeswoman said: "As he has said many times, his polls are snapshots not predictions." Health warning: when The Independent on Sunday carried out a similar exercise in April 2010, at the start of that year's election campaign, eight out of eight pollsters predicted a Conservative overall majority.

Rex
But controversy raged last night over the 16 April BBC programme of the five opposition leaders. A source close to the negotiations said in reference to Mr Clegg's absence that it was "extraordinary that one party leader is dictating the terms for a leader of another party". The Lib Dems and Tories refused to comment on the revelation that the Conservatives had requested that Mr Clegg not appear. A Lib Dem source said: "We don't know what the Conservatives are saying to the broadcasters."
A Labour Party spokesperson said: "We have … with great reluctance, agreed to a change in the format of the programme on 30th April. But due to the cowardice of David Cameron, the two leaders will not be on stage at the same time to debate with each other.
"The Conservative Party has also objected to the second debate on 16th April. We have made clear that we will attend this second debate. But, again at the Conservative Party's insistence, Nick Clegg is to be excluded. The whole country will understand the reasons for this: the Prime Minister wants to minimise the scope of televised debates between himself and Ed Miliband."
A Lib Dem spokesman said: "If it was down to us, we would be in every TV debate and every interview... But we think that the politicians and broadcasters have ducked and dived on this long enough and just need to get on with it now and ensure the public have the opportunity, however flawed the format, to scrutinise their politicians."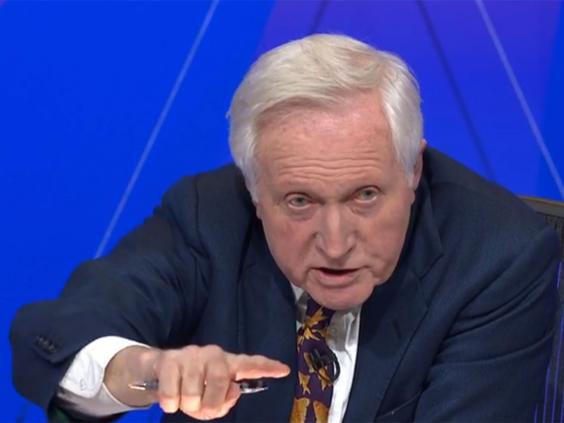 A Conservative Party source said: "If anything, this is an improvement on the deal we were offered last week. The PM has always believed too many debates would suck the life out of the campaign."
The BBC did not deny that it had acceded to a request from the Conservatives not to invite Mr Clegg. If anyone accused Mr Cameron of barring Mr Clegg from taking part in the 16 April debate that was "up to them".
Insiders suspect the BBC acquiesced to Tory demands in order to preserve relations with Downing Street ahead of negotiations over the future of the licence fee.
Those 'final offers' in full
4 March: David Cameron issues his "final offer", saying he will take part in just one contest featuring at least seven party leaders more than a month before the election in the final week of March, and ruled out a head-to-head debate with Ed Miliband.
17 March: The PM agrees to a seven-way debate on 2 April – after the campaign has started.
21 March: Mr Cameron agrees to take part in three programmes – on 26 March, 2 April and 30 April,  although only the middle one will be an actual debate.
Reuse content