The BBC will stop short of "empty chairing" David Cameron, even if he refuses to take part in any television debates, and is considering giving him his own election programme to meet strict rules on impartiality during election campaigns, The Independent on Sunday understands.
Sources say there will be "no tub of lard moment" for Mr Cameron – in reference to the time Roy Hattersley failed to turn up for an appearance on Have I Got News for You and was replaced by the embarrassing prop – meaning there will be no empty rostrum on the platform if the debates go ahead without the premier. Despite the broadcasters' robust intention to push ahead with the programmes in Mr Cameron's absence, the BBC appears to be fighting shy of humiliating the Prime Minister.
The row over the leaders' debates continued to rage yesterday when Ed Miliband formally accepted invitations to appear in all three of the live screen debates – an ITV programme on 2 April featuring seven party leaders (or six without Mr Cameron), the same format on 16 April hosted by the BBC, and a head-to-head debate on 30 April, exactly one week before the election, broadcast simultaneously by Channel 4 and Sky News. This final clash is the subject of the most controversy, because it is supposed to feature Mr Miliband and Mr Cameron. Yet last week, the Prime Minister, in his "final offer" to broadcasters, refused to take part in any of the programmes during the month-long campaign, and insisted that he will join only a seven-way format in the last week of March.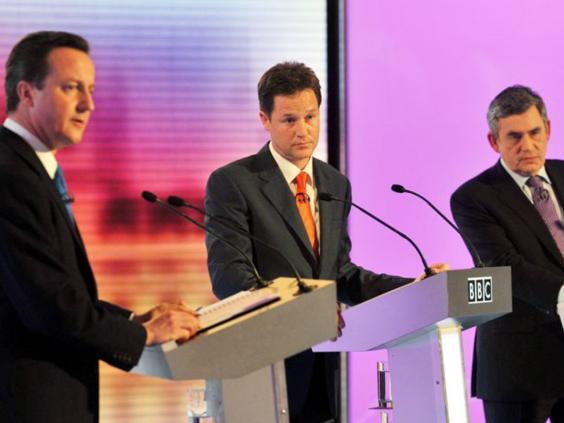 In a letter to the BBC's head of political programmes, Sue Inglish, the chair of the broadcasters' negotiating team, Lord Ashdown, who is running the Liberal Democrat election campaign, formally proposed that Mr Clegg stand in for the premier against Mr Miliband on 30 April.
Mr Cameron's offer has caused consternation among broadcasters and fellow parties – particularly because it would be before the dissolution of Parliament on 30 March and the full publication of party manifestos. This weekend broadcasters were sticking to their guns, but sources at the BBC expressed caution at anything that might look as if the corporation were humiliating the Prime Minister. And, to comply with election and Ofcom rules about impartiality, if it hosts a debate without Mr Cameron, it would feel compelled to let him have his own programme, an in-depth interview or allow an extended party political broadcast. It is believed that the other broadcasters would follow a similar approach as the BBC.
Mr Miliband, in a speech to Labour's Scottish conference, said yesterday: "This is what David Cameron used to say about TV election debates: that they were essential to our democracy. That every country apart from Mongolia had them. That he wasn't going to have any feeble excuses to get out of debates. And now he is doing everything he can to stop them. And it is on the issue of leadership debates that David Cameron's duplicity has caught up with him.
Experts' predictions for the general election
Experts' predictions for the general election
1/10 Andrew Hawkins (ComRes)

Just as the polls in 2010 pointed to no overall majority for any party, the overwhelming evidence points to Labour either being the largest party or getting a small majority, probably below 20. The Lib Dems and SNP should each win between 25 and 35 seats, with single-figure wins for both Ukip and the Greens.

2/10 Joe Twyman (YouGov)

I predict it will be close. I predict a few tremors, though earthquakes are unlikely. I predict the eventual winner may not be the direct result of public opinion, but instead the outcome of political negotiations. It's too early to predict numbers given all the uncertainties surrounding (among other things) Ukip, the SNP and the Lib Dems. It is possible that it will be close between Conservative and Labour in terms of both votes and seats. The Lib Dems might retain 20-30 seats and the balance of power, despite small gains for the SNP, and at most half a dozen Ukip seats. Gun to my head? Labour minority government.

Rex

3/10 Ben Page (Ipsos MORI)

A mug's game for this election months away, but my predictions in order of likelihood: most likely a hung parliament or coalition of some kind, closely followed by either a small Labour majority or an equally small Conservative majority. Given how close the parties are, the unknown performance of Ukip in key marginals, the effect of incumbency on Lib Dem losses, the final size of SNP surge and so on, to be more precise is simply foolish! Professor Tetlock, who found that forecasts by experts were only slightly better than throwing dice, weighs heavily upon me!

Rex

4/10 Rick Nye (Populus)

I can see a hung parliament, where Labour is the largest party in terms of seats – though not necessarily in terms of votes, with the Lib Dems having 30 seats or fewer, the SNP having up to 20 seats and Ukip having no more than five seats. In short, it's going to get messy and stay messy for some time to come.

5/10 Nick Moon (GfK)

I can't recall there ever being an election more difficult to predict than this one. I'm confident no party will have an overall majority, with the Tories probably the largest party but no single partner for a viable coalition, with the Lib Dems on 25 seats, the SNP 20, Ukip three, and the Greens one.

6/10 Damian Lyons Lowe (Survation)

We might have expected a workable Labour majority, were it not for the wild-card rise of the SNP in Scotland. Survation's December Scottish polls suggest an almost complete wipeout by the SNP in Scotland and result in 40+ seat gains – mostly at Labour's expense. My current predictions are: Labour the largest party by 40-50 seats over the Tories, no overall majority; Tories 235-255 seats; Lib Dems 20-30 seats; SNP 30-40 seats – maybe held back from potential support level by opposition incumbency and tactical voting by pro-unionist voters. Finally, Ukip, 5-10 wins from Conservatives, including Rochester and Clacton, and potentially a single Labour-seat surprise.

7/10 Michelle Harrison (TNS)

The battleground over the next three months is at the kitchen table – the difference between what the statistics tell us about the economy, the experience that Britons are having of managing their household budgets, and where – and if – they believe politics can make a difference. In this regard, the disconnect with the major political parties is more interesting than the horse race.

8/10 James Endersby (Opinium Research)

Our first poll for 2015 shows Labour one point ahead [see above], but polls four months out from an election are snapshots, not predictions. It would be extremely unwise for a pollster to make a firm prediction now. At the moment, Opinium's estimate on polling day would be the Tories slightly ahead on vote share, but Labour slightly ahead on seats. These numbers are based on a uniform swing, with tweaks to Green and Ukip numbers based on local information: Labour 320 seats, Conservatives 271, Lib Dems 20, SNP 16, Plaid Cymru three, Greens two, Ukip four. A hung parliament with Labour potentially closer to a majority coalition than the Conservatives.

9/10 Martin Boon (ICM)

I've not recovered from the Scottish referendum campaign yet, and here we go with another wildcard strewn nail-biter. For me, Labour on 30 per cent will only fractionally nudge past their woeful 2010 showing – behind the Tories on 33 per cent – but enough to secure more seats (290 for Labour, 280 for the Tories) on boundary wackiness. The Lib Dems will secure 14 per cent of the vote and 35 seats; Ukip will also get 14 per cent, but that only gets them a couple of seats. As for Scotland, I'm bewildered, but as you asked I'll say 30 seats for the SNP, which wipes out a breathing-space victory in seats for Labour.

10/10 Lord Ashcroft (Lord Ashcroft Polls)

Declined to take part. His spokeswoman said: "As he has said many times, his polls are snapshots not predictions." Health warning: when The Independent on Sunday carried out a similar exercise in April 2010, at the start of that year's election campaign, eight out of eight pollsters predicted a Conservative overall majority.

Rex
"He says this election is all about leadership, all about the choice between him and me, and when it comes to a debate between him and me, he's running scared. He's running away. I say to David Cameron: you can refuse to face the public, but you can't deny your record. You can try to chicken out of the debates, but don't ever again claim that you provide strong leadership, You can try to escape the people's debates, but you can't escape the people's verdict."
Mr Clegg accused Mr Cameron of "arrogance" yesterday, adding: "If David Cameron is too important or too busy to turn up, if he doesn't want to defend the record of this coalition government, then I will."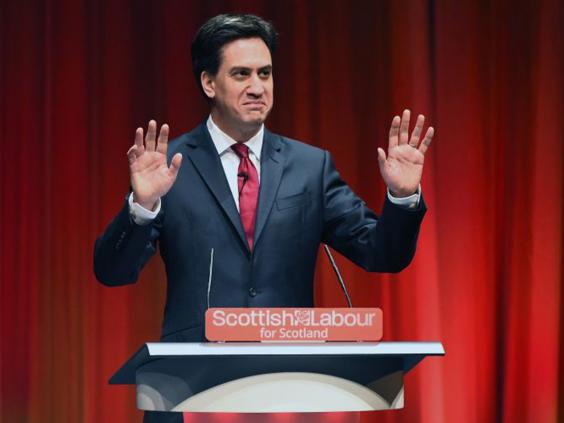 In his letter to Ms Inglish, Lord Ashdown wrote: "It is deeply disappointing that the Prime Minister is trying to avoid these debates. It is also clear from his 'final offer'... that he does not want to debate once the Conservative Party's manifesto has been published. Not only is he refusing to defend the Government's record, but he is also unwilling to expose his party's plan for the future to scrutiny by the British public."
Mr Cameron did not mention the debates when he spoke at a Conservative election rally in Harrow yesterday, with two months to go until polling day. Instead, he seized on the failure of the Labour leader to rule out a coalition deal with the SNP – after Nicola Sturgeon dropped the scrapping of Trident as a red line in any negotiations.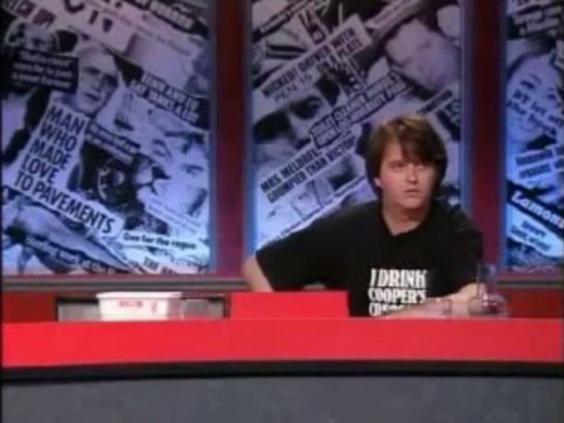 Mr Cameron said: "If you thought the worst outcome for this election was a Labour government led by Ed Miliband, think again. You could end up with a Labour government led by Ed Miliband – propped up by Alex Salmond and the Scottish National Party. You could end up with an alliance between the people who want to bankrupt Britain and the people who want to break up Britain."
Meanwhile, in what will be seen as a victory for allies of Vince Cable, the Business Secretary is to join Mr Clegg for a launch tomorrow of the Lib Dems' plans "to build a stronger economy". Last month, Mr Clegg and Danny Alexander held a press conference at the Shard in London on the party's tax-and-spend plans, which ruffled feathers in Mr Cable's camp.
Polling by Lord Ashcroft suggests that Mr Alexander is to lose his Inverness  seat to the SNP in May, and Mr Clegg has been urged to put Mr Cable at the centre of the party's election campaign.
Reuse content