Ukip has admitted its internal row over whether to accept millions of pounds in taxpayer funds is "ongoing" as its leader Nigel Farage and the party's only MP Douglas Carswell attempt to come to an agreement on the matter.
The party is entitled to an annual sum of £650,000 of "short money" - funds given to opposition parties to cover the cost of support staff, research and other costs incurred in carrying out its parliamentary business.
Mr Farage, re-appointed as Ukip leader on Monday, wants the party to accept the full sum and use it to represent the 4 million people who voted for Ukip at the election.
But Mr Carswell said the party should be "prepared to reject" the public funds and instead accept just £350,000, dismissing a proposal from Ukip officials to hire 15 staff as unnecessary. "I am not a US senator, I don't need 15 staff," the Clacton MP told the BBC.
He added: "We should be different, we should be prepared to reject taxpayer funding. We don't need to be on the gravy train to fund staff. UKIP should be about saying no to the political trough. Not taking our fill."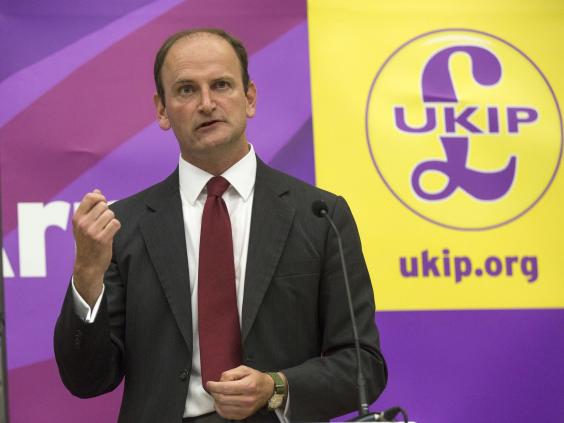 Opposition parties are given £33.33 for every 200 votes it receives at the general election and an extra £16,689.13 for every seat won.
The libertarian politician is a strong campaigner in favour of smaller government and reducing the cost of politics – a view very much in line with Ukip's call to cut back on government bureaucracy.
Admitting the pair had so far failed to come to an agreement, Ukip sent out a statement explaining the latest on the matter.
"Nigel Farage met with Douglas Carswell this afternoon and there's ongoing discussion about how best to represent four million UKIP voters in a way that is sensible and correct," the statement said.
It comes two days after Mr Farage was re-appointed as leader of Ukip, withdrawing his resignation after "overwhelming" support from the party's members in favour of him staying.
Mr Carswell, believed to have been dismayed by the move, dismissed suggestions he would re-join the Conservatives, saying: "I'm 100% UKIP, and right now I'm 100% of Ukip in Westminster".
He was asked repeatedly if he supported the decision to keep Mr Farage as leader but declined to respond directly.
Mr Carswell was one of the panellists at a question and answer session in London organised by Conservative Home when he was asked his views after Ukip's national executive refused to accept Mr Farage's resignation.
He replied: "I heard about the unresignation on, I think Twitter, or whatever. You'll need to ask me about it later I'm not going to talk about that now."
Reuse content