A Ukip MEP, who infamously referred to a Thai woman as a "ting tong", has been suspended from the party after "serious financial" allegations about her expenses.
Janice Atkinson, who represents the South East of England in the European Parliament, was dropped as Ukip's general election candidate for Folkestone and Hythe and also had the party whip withdrawn.
The Sun filmed Christine Hewitt, Ms Atkinson's chief of staff, asking a restaurant manager for an invoice for a party in Margate that cost £950. She asked for a higher sum and eventually was given an invoice for £3,150.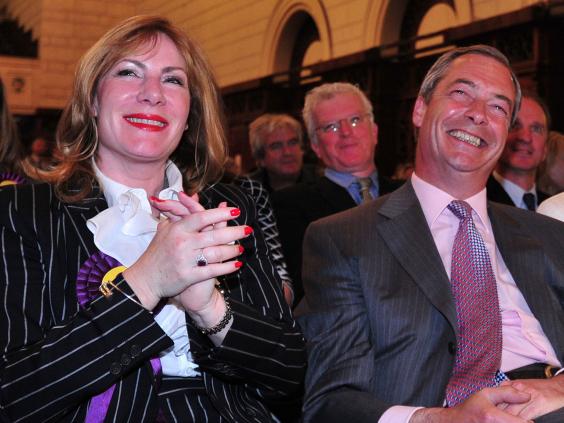 "The idea is we overcharge them slightly because that's the way of repatriating [the money]," Ms Hewitt allegedly said. The restaurant manager agreed to take part to enable video footage to be obtained, The Sun said.
Legal experts told The Sun the claim could be viewed as a criminal fraud and should prompt a police investigation. European laws on expenses and party funding may also have been broken.
The party was attended by Mr Farage's wife, Kirsten, 50, and Ukip MP Mark Reckless. A source close to the party leader Nigel Farage said they had not yet seen all the evidence of the alleged wrongdoing but were "satisfied the conditions are such that we have had to suspend her".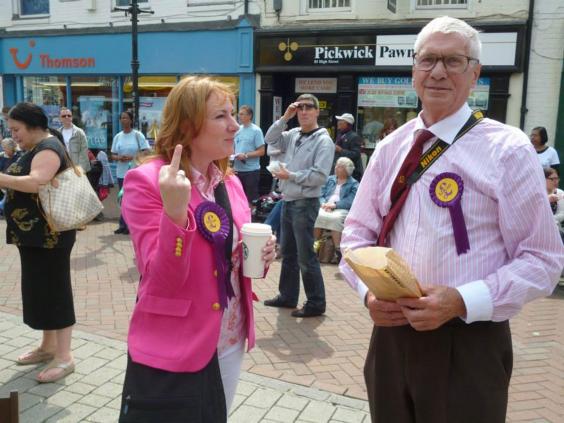 Asked about Ms Atkinson's reaction to the claims, he said she appeared "very, very surprised" that she was being criticised. "She doesn't see what she's done wrong. I think she's genuinely dense enough not to realise this is not the way things happen," the source said.
Writing in The Independent, Mr Farage said: "I want to be very clear that we do not condone, and never have condoned the types of actions that this individual has been accused of. And that's why we as a party acted so quickly when we heard of the incident. I want Ukip to be the party that restores decency into our political sphere, and as such, I will do my level best to uphold those principles across the entire party."
In pictures: Not-so virtuous MPs
In pictures: Not-so virtuous MPs
1/17 Lord Hanningfield

Lord Hanningfield claimed more than £3,000 in a month by regularly 'clocking in' to the House of Lords to claim his £300 daily attendance allowance. The former Conservative leader of Essex Council was also convicted in May 2011 for fiddling his expenses.

PA

2/17 Denis MacShane

The disgraced former Labour minister was jailed for six months at the Old Bailey in July 2013 after admitting making bogus expense claims amounting to nearly £13,000.

PA

3/17 Maria Miller

Although she was cleared of making false expenses claims, Maria Miller was ordered to pay back £5,000 in overclaimed taxpayer-funded expenses on her second home. Mrs Miller's apology in the Commons lasting just over half a minute was widely viewed as grudging and perfunctory. She resigned over the row in April.

Getty Images

4/17 Eric Joyce

Falkirk MP Eric Joyce was fined £1,500 at Edinburgh Sheriff Court in March after admitting abusive behaviour at the city's airport. Mr Joyce repeatedly hurled insults at baggage handlers, and abused a black police officer during the incident in May 2012. He has said he will now "reflect" on whether to continue at Westminster until the election next year.

Getty

5/17 Mark Harper

Immigration minister Mark Harper resigned after it emerged his cleaner was working in the country illegally. Mr Harper quit after he discovered his cleaner, whom he employed at his London flat for seven years, did not have indefinite leave to remain in the UK.

6/17 Lord Rennard

The former chief executive of the Liberal Democrats faced allegations of sexual harassing several women, claims he denies. He was suspended after refusing to bow to calls from Mr Clegg to apologise to the women.

Tom Pilston

7/17 Mark Menzies

Former Conservative MP Mark Menzies resigned as a ministerial aide following allegations made by a Brazilian rent boy in March. The MP for Fylde in Lancashire resigned his position as a parliamentary private secretary (PPS) amid allegations which appeared in a tabloid newspaper, some of which he strenuously denied.

8/17 Nadhim Zahawi

Nadhim Zahawi apologised in March for charging the taxpayer £5,822 to heat his stables. It later emerged that he had claimed 31p on his expenses for paperclips, 53p for a holepunch, 63p for ballpoint pens and 89p for a stapler.

Getty

9/17 Liam Fox

Former Defence Secretary Liam Fox resigned in 2011 over his working relationship with his friend Adam Werritty, which saw the Tory MP ordered to repay £3,000 of expenses for allowing Mr Werritty to live rent-free at his taxpayer-funded second home for a year. Mr Fox faced further embarrassment when it was revealed successfully claimed 3p of taxpayers' cash for a car journey of fewer than 100 metres.

10/17 Aidan Burley

The ex-Tory MP for Cannock Chase was photographed at a Nazi-themed stag party in 2011. He admitted there had been 'clearly inappropriate behaviour' by some of the other guests at the party in a French ski resort after the Mail on Sunday published photographs of Mr Burley at the event, where revellers allegedly made Nazi chants and toasted the Third Reich.

11/17 Jeremy Hunt

Mr Hunt admitted to sending a congratulatory text message to News Corp executive James Murdoch just hours before the minister was asked to oversee the firm's bid for BSkyB. Although Downing Street insisted that Mr Hunt had acted properly during the takeover, a Labour MP accused him in the house of deliberately misleading Parliament about his contact with News Corp over the takeover.

Getty Images

12/17 Brian Binley

The Tory MP for Northampton South, allegedly told a local businessmen 'we are all totally corrupt' talking about politicians at a drinks party during a taxpayer-funded trip to Malta.

Getty Images

13/17 Tim Yeo

Stood down as the chairman of the influential Energy and Climate Change committee in June 2013 amid allegations he was prepared to use his position to help business clients.

Getty Images

14/17 Chris Huhne

The former Energy Secretary was jailed for eight months in March 2013 for swapping penalty speeding points with ex-wife Vicky Pryce in an offence that the court heard had struck at the heart of the criminal justice system.

Getty Images

15/17 Patrick Mercer

Patrick Mercer resigned the Tory whip in May last year after he was filmed by the BBC's 'Panorama' apparently agreeing to lobby on behalf of Fiji for a pro-Fijian cross-party committee.

Rex Features

16/17 Michael Martin

Former Labour party MP Michael Martin became the first Commons Speaker to be forced out of office for more than 300 years following criticism of his handling of the MPs' expenses scandal of 2009.

17/17 Jacqui Smith

Former Home Secretary Jacqui Smith stood down in the cabinet reshuffle amid a flurry of controversy after the MPs expenses scandal revealed her husband Richard Timney, who also ran her constituency office, had watched two pay-per-view adult movies which had then, unknown to her, been subject to a claim for reimbursement. The 'porn scandal' not only saw the former Labour MP Ms Smith, who was the first female Home Secretary, eventually resign but also saw her lose her parliamentary seat in May 2010.
A party spokesman said Ukip was "incredibly disappointed with Ms Atkinson". He said she "appears to have exercised extremely poor judgement in acting in a way that the party has never and would never condone".
"The party has acted swiftly and immediately and, just as we showed when we suspended another MEP for financial irregularities, we always maintain a zero-tolerance attitude towards acts of this nature," the spokesman added.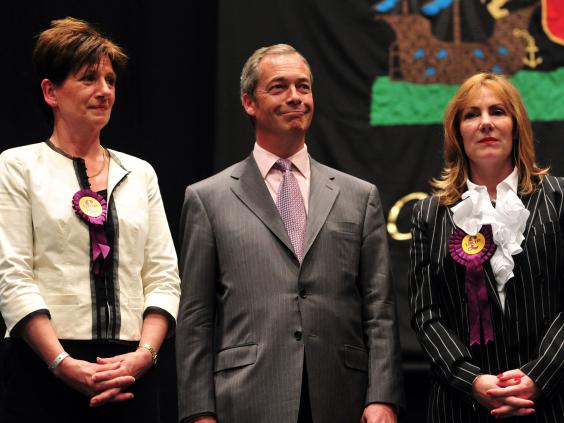 Ms Atkinson has been a source of controversy for Ukip. In August, she was recorded describing fellow Ukip member Fa Munday, originally from Thailand, as a "ting tong from somewhere".
In December, it emerged that Ms Atkinson had been taken to court by the Child Support Agency over missed support payments to her ex-husband, who has custody of her teenage son. A Ukip spokesperson said at the time that Ms Atkinson "disputes the claim as she was not earning for the period of the claim".
Reuse content