German officials are ready to hold "official-level discussions" on David Cameron's efforts to reform Britain's membership of the European Union, Downing Street has said ahead of a crucial week of negotiations.
The Prime Minister heads to Brussels later in the week for an EU summit, with Britain's demands for change set to feature on the official agenda.
He aims to complete his series of one-to-one talks with each of his fellow 27 EU leaders before Thursday's summit and the Prime Minister's official spokeswoman said German Chancellor Angela Merkel was now keen to move to "technical talks" on the "substance" of Mr Cameron's demands.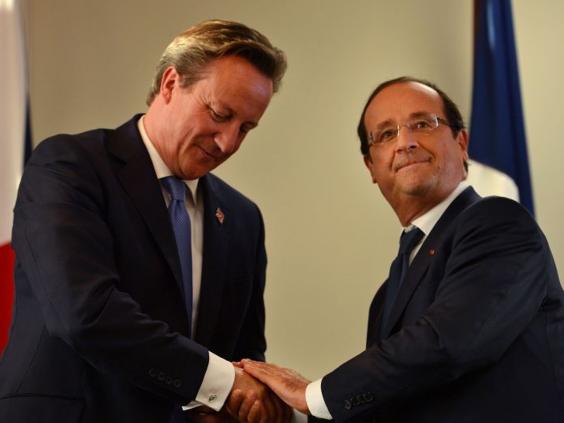 Mr Cameron has spent much of the last six weeks since his election victory jetting around Europe meeting with his continental counterparts in a bid to persuade them of the need for reform.
But after these initial, more informal talks, the next stage of negotiations would take "several months," and would take place behind closed doors, the spokeswoman added. 
Mr Cameron has met or spoken on the phone to 20 EU leaders and he aims to talk to the remaining seven before Thursday – the leaders of Austria, Bulgaria, Croatia, Greece, Lithuania, Portugal and Malta.
Domestically there are increasing demands for Mr Cameron to lay out which reforms he hopes to secure in his renegotiation.
Liam Fox, who served in Mr Cameron's first Cabinet in 2010 as Defence Secretary, called on him to reveal "a little bit more what we're negotiating" before the Conservative party's autumn conference. In the event of a referendum as early as next year, however, he said Mr Cameron would have to reveal details "much sooner".
Eurosceptic Tory MPs
Eurosceptic Tory MPs
1/7 Owen Paterson

Formerly a cabinet minister, Owen Paterson is now free to make his opinion known on the backbenchers. On the subject of Europe, he does so regularly – claiming recently that the EU referendum was "rigged" in favour of staying in

Getty

2/7 John Redwood

A longstanding eurosceptic, Mr Redwood warned last year that businesses that spoke out in favour of EU membership would be punished at the check-outs by anti-EU

Getty

3/7 Bill Cash

Awkward squad rebel Bill Cash said last year that he thought the EU had become an undemocratic, German-dominated project. "An increasingly assertive German Europe is at odds with British national interests," he wrote in the Daily Telegraph

Getty

4/7 Philip Davies

From the Conservative party's hard right wing, Philip Davies has been a longstanding critic of the EU. He founded the Better off Out campaign and is so eurosceptic that Ukip decided not to stand a candidate against him in 2010 because they agreed with him

Rex

5/7 Nadine Dorries

Outspoken Tory MP Nadine Dorries has previously advocated an alliance with Ukip. At the height of the Greek crisis in 2013 she said that the EU was "dying on its feet"

Rex

6/7 Liam Fox

The former defence secretary is a central figure on the right wing of the Conservative party. He's long put pressure on David Cameron over EU negotiations

Getty

7/7 Zac Goldsmith

A socially liberal eurosceptic, Goldsmith was one of the founding members of the People's Pledge campaign to get MPs to sign up for an EU referendum. His father ran the Referendum Party, a precursor to Ukip

Getty
Meanwhile a group of business leaders in the UK said Mr Cameron should be prepared to take Britain out of the EU if he fails in his bid to win any meaningful reforms.
The group has published a 1,000 report, called Change, or Go, concludes that unless Mr Cameron wins a veto for the UK over EU laws, wins back control over employment rules and secures protection for the City from eurozone regulations, he should recommend an Out vote when he calls the referendum, which he has promised to hold before the end of 2017.
But so far Mr Cameron has held his cards very close to his chest and Downing Street signalled he was unlikely to change approach any time soon.
Speaking this morning, the Prime Minister's spokeswoman said: "We would like to maintain the momentum in the discussions we have had so far and therefore pave the way for moving to technical talks on the issues on the table following the European Council.
"Those talks, one would expect, will take several months. The Prime Minister has been clear on the areas where we are seeking to address the concerns of the British people during this renegotiation and reform the EU.
"We have also been clear that we are not going to be conducting these negotiations in public."
Downing Street played down speculation about the UK seeking a potential change in the status of its EU membership, with the spokeswoman saying there were only two categories - "you are either a member of the EU or you are not a member of the EU".
Reuse content