The Government's e-petition system has been called into question after a recycled and irrelevant response was issued to a popular demand on the official website.
Social media users were bemused after the wrong government department responded to a petition about music venues with a copy and pasted response about a completely different subject.
42,000 people had asked the Government to introduce mandatory noise complaint waivers for anyone who buys or rents a property within close distance of a music venue.
The Government's response, for which the Department for the Environment, Food and Rural Affairs (DEFRA) was supposed to be responsible, read:
"The Government's [NHS] reforms are not about privatisation, but about placing the financial power to change health services in the hands of those NHS professionals whom the public trust most, and putting clinicians, rather than politicians, in control of healthcare. ...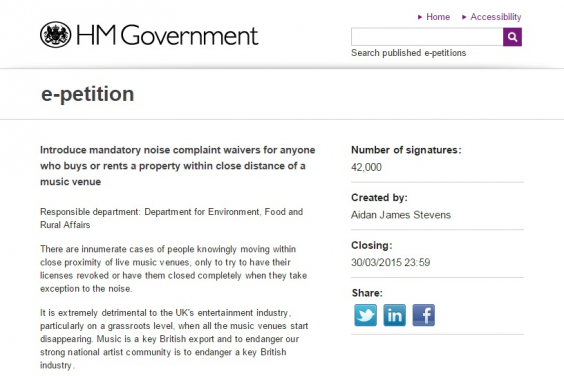 "Ministers believe that competition can help to deliver better quality care and better choice for patients, and improved value for the taxpayer."
The response to the noise petition had originally appeared in July of last year to a campaign by the Unite union about the privatisation of the National Health Service.
One London music venue keeping an eye on the petition, The Garage, in Highbury, accused the department responsible for not caring about the issue raised.
"It's almost as if [Defra] didn't take the matter seriously," the venue's staff tweeted before asking people for their view on the issue.
Others social media users said they suspect that the Government might not individually consider all of the e-petitions it received.
Graeme Peacock, a graphic designer from London, said: "Do you sometimes feel that maybe the [Government] copy/pastes the 'replies' to e-petitions? Because I do."
The idea for an e-petition system first appeared in the Conservative 2010 election manifesto, where the party argued the new system would "give people real controls of their lives".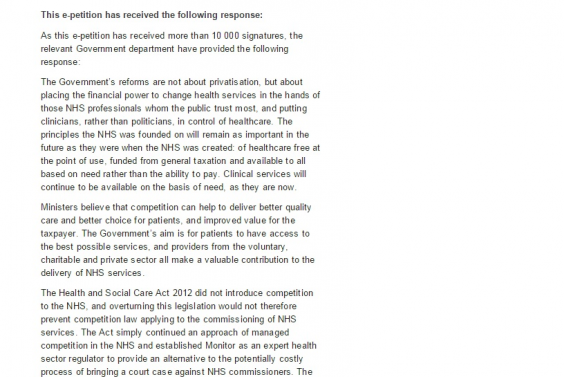 "People have been shut out of Westminster politics for too long. Having a single vote every four or five years is not good enough – we need to give people real control over how they are governed," the party's manifesto said.
The e-epetition system was eventually rolled out by the Coalition and was touted as part of the Government's constitutional reform programme to restore trust in politics.
The Independent contacted the Cabinet Office, which administers the petition system, but did not receive a response at the time of publication. A Defra official said the problem was being looked into.
After the initial publication of this article, a Defra official said the response was a "simple IT error which has now been corrected", noting the page had been updated.