One in two British seven-year-olds could have too much salt in their diet, putting them at increased risk of strokes or heart attacks as adults, according to a new study.
The research, conducted at the University of Bristol, tracked the amount of salt in the diets of more than 6,000 children. The results showed that half of the sample group were "taking more than the maximum recommended intake of salt at seven years of age".
The children who took part in the study were divided into four groups, based on the levels of salt consumed. The maximum recommended daily salt intake for seven-year-olds is five grams a day, but researchers discovered that the top group was consuming far more – 6.7g a day.
Those children had raised levels of blood pressure at the ages of seven, nine, 13 and 15. By the age of 15, the average blood pressure of this group was 2.0mm Hg (millimetres of mercury) higher than those children in the bottom group. The study warns: "This difference in adults is associated with increased levels of stroke and heart attack."
Researchers found that children who consumed high amounts of salty foods at a young age were likely to continue to do so as they grew older. Bread, pizza, pasta, crisps and cereals were among the foods associated with high salt diets.
Dr Kate Northstone, senior research fellow at Bristol University's School of Social and Community Medicine and one of the researchers, said: "We were able to look over time, so can show that salt intake in childhood has medium and potentially long-term effects on cardiovascular health." 
The research – submitted to an international nutrition conference taking place in Berlin in October – was commissioned as part of an investigation into salt by Channel 4's Dispatches programme, to be broadcast tomorrow evening.
Despite years of warnings about the dangers of consuming too much salt, and repeated pledges by government and business to take action, salt remains hard to avoid.
Laboratory tests of 30 different products carried out for the TV documentary revealed that 18 out of them contained more salt than the level indicated by the label.
Heinz Reduced Sugar and Salt Baked Beans had on average 20 per cent more salt than declared on the label. Tests on packs of Dairylea Lunchables ham and cheese crackers found they contained around 30 per cent more salt than stated. Additional checks of Valley Foods chicken fillets found one with over 60 per cent more salt.
The hidden levels of salt in everyday foods make it difficult for people to stick within safe limits.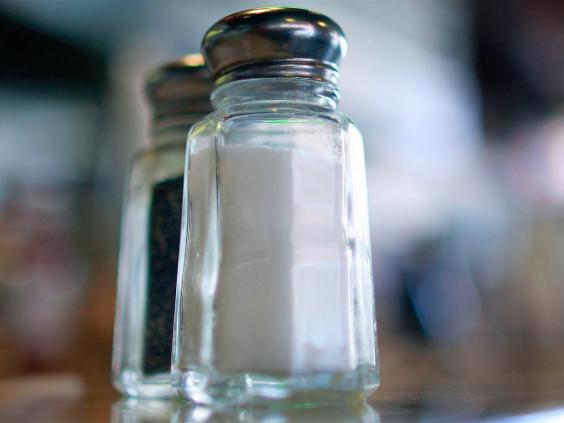 Freedom of Information (FOI) responses from 29 health trusts in England showed that 1,064 children were treated for hypertension between 2012 and 2014. Around half were under 11. And figures obtained from 10 trusts revealed that the number of children treated has tripled over the past decade – from 49 in 2004 to 153 in 2014.
According to Dispatches, of more than 70 companies which signed up to the Government's salt reduction pledge, just 12 have met all the targets they were supposed to achieve by 2012. It also cites documents obtained under FOI, in which companies lobbied the Department of Health to change the 2017 salt reduction targets, 17 of which ended up being weaker than those originally proposed by the Government. These include targets for sausages (originally meant to be 425mg of salt per 100g, but now 550mg); meat pasties (360mg to 400mg); and tinned hotdogs and burgers (495mg to 700mg).
Professor Graham MacGregor, chairman of Consensus Action on Salt and Health, says: "We went through all the targets with the Department of Health officials – working out what we thought was reasonable, but we were then incredibly surprised that the targets were watered down without any consultation with us. Where there was a change, it was all in the wrong direction. None was made tougher, in spite of the fact we said many of them should be."
The Government needs to take a tougher line with businesses when it comes to reducing salt in food, according to campaigners. In the Channel 4 documentary, Dr Vivienne Nathanson, senior director at the British Medical Association, says: "Government must set targets. They can then start to explore with industry how industry will meet those targets, but the targets should not be up for negotiation."
A Department of Health spokesman said: "The 2017 targets are more challenging than ever before."
Reuse content