David Cameron has slashed housing investment since he came to power, while spending than ever on housing benefit – ignoring his own advice on the subject.
At Prime Minister's Questions on Wednesday David Cameron warned opposition MPs that "every penny you spend on housing subsidy is money you cannot spend on building houses".
However, a House of Commons Library analysis seen by the Independent shows that the Government has in fact been spending more on housing benefit than its predecessors – and less on building houses.
Housing benefit is usually paid directly to landlords and the amount the Government spends on it has increased dramatically in recent years as rents increase and more tenants are pushed into the private sector.
A lack of affordable homes is thought to be in part responsible for increases in rents that feed into higher social security costs.
Despite Mr Cameron's warning, housing benefit expenditure grew from £20 billion in the last year of the Labour government to £24.3 billion in 2014/15 under the Coalition.
The same analysis found that total Government housing development expenditure has fallen from £11 billion in 2009/10 to just £5 billion in 2013/14 and £6 billion in 2014/15.
Green MP Caroline Lucas warned that the Government could only bring the benefit bill down by building enough new homes.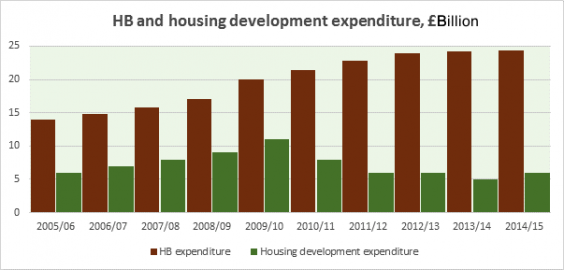 "The effects of the housing crisis are hitting people hard. In Brighton people are being forced out of the city because of sky high rents- and lengthy waiting lists make social housing am impossible dream for most," she told the Independent.
"It's astounding that the Government are failing so miserably to get a handle on this situation. On their watch the money put into housing development relative to spending on housing benefits has dropped dramatically. 
In pictures: Tiny London flats to rent
In pictures: Tiny London flats to rent
1/6 London properties

A "cosy" flat in an upmarket area of west London is available to rent for a reasonable £520 a month, provided the tenant doesn't mind showering under the bed

2/6 London properties

Located on Castletown Road, the advertisement on Zoopla boasts: "A cosy, single studio located in the heart of London's fashionable and up-market area of West Kensington, this compact mezzanine includes not only a fully furnished living area including table, chair, wardrobe and chest of draws [sic] but also a personal shower and kitchenette complete with storage"

3/6 London properties

The property is recommended for "students, working professionals and those looking for a thriving London life at an affordable rate"

Rightmove

4/6 London properties

A studio flat for rent in Kember Street, north London was advertised for £737-a-month

Rightmove

5/6 London properties

The 'well-used' kitchen of a flat in Hoxton, which was on the market for £997 per month

Zoopla

6/6 London properties

For only £125 per week you could be the lucky owner of this single studio flat, complete with shower and kitchenette, located between Barons Court and West Kensington

Zoopla
"This perverse situation sees landlords subsidised by the taxpayer, while action to permanently cut the cost of renting or buying stalls. It is an indictment of this Government that so many young people struggle to pay their housing costs.
"Ministers must act fast to address this failure by building more homes and, at the very least, controlling rents to stop them going up anymore. People deserve decent homes they can afford to live in- it's the Government's duty to make this a reality."
Official figures released in January show soaring numbers of people being made homeless because they cannot afford their rent or their landlord kicks them out at the end of a tenancy agreement.
The increase in housing benefit spending comes despite harsh cuts to housing benefit rates for individuals over the same period. 
Changes include the so-called "bedroom tax" – a reduction in housing benefits for people with rooms deemed unnecessary by the Government. That policy mainly hits disabled people and has been blamed for causing serious hardship and poverty.
Overall ministers are looking to cut £12 billion from the benefits bill. David Cameron has described the benefits system as a "ridiculous merry-go-round".
The Government has resisted growing calls to re-introduce rent controls for private rented accommodation; the Scottish Government is however consulting on the move, which could save taxpayers significant amounts of money in housing benefit.
Reuse content