Tim Farron's successful Liberal Democrat leadership campaign was codenamed "From Langley Park to Memphis", the title of the third album by 1980s pop band Prefab Sprout.
Mr Farron, who beat former health secretary Norman Lamb, has previously named the band's singer-songwriter, Paddy McAloon, as one of his three ideal dinner guests. The new Lib Dem leader was an aspiring pop star in his youth and pictures of his three-piece band, known as The Voyeurs and, later, Fred the Girl, emerged this year.
At a victory bash, Mr Farron also revealed that his press officer made a large wager several years ago that Farron would be Lib Dem leader – the odds then were 40-1, but the unlucky press officer has lost the betting slip.
Among the guests was Simon Hughes, the former justice minister and two-time leadership contender, who lost his Bermondsey seat in May. Mr Farron told supporters: "I voted for Simon Hughes for leader twice – he's been my political hero since I was 18 or 19. In many ways, he's the greatest leader we never had."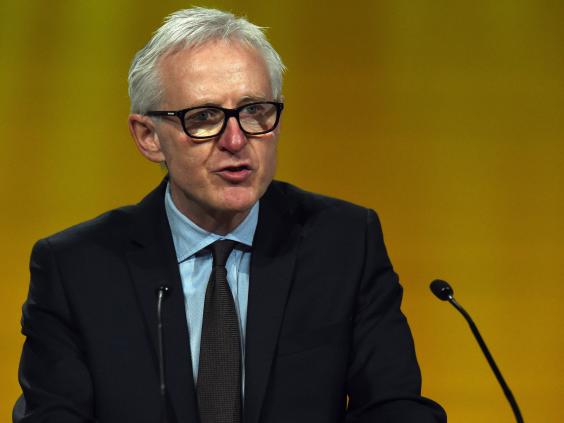 The comments will help douse concerns that Mr Farron, a committed Christian, might view homosexuality as a sin, especially after he struggled on the issue on Channel Four News. Mr Hughes is openly bisexual, while Mr Farron has said he regrets abstaining in the gay marriage vote.
The Lib Dems collapsed with only eight per cent of the vote in May's election. Mr Farron said: "Our job is to take us out of single figures, into double figures, into the teens, into the twenties. There's nothing grubby, Mandelsonian about winning elections."
The first potential split of his leadership could come when the Lib Dems debate scrapping the Trident nuclear deterrent at September's Bournemouth conference. Policy at the general election was to reduce the submarines that carry Trident from four to three or fewer, which would end 24-hour patrols. The current fleet is due to retire and the Tories and Labour are committed to maintaining four subs.
The Lib Dems Against Trident group, formed on Facebook last year, has drafted a motion that calls nuclear weapons "inappropriate and unhelpful". Mr Farron thinks the UK should not spend up to £100bn on what he has described as "a Cold War relic". 
Gareth Epps, of the party's Federal Conference Committee, said: "There's been a lot of close debate on Trident over many years; this certainly could be a test."
Reuse content