A Green MP has said she is prepared to take non-violent direct action to stop the Government passing new laws to restrict trade union practices.
Caroline Lucas said the proposed law undermined labour rights to such an extent that it could leave the UK breaking international conventions it had signed.
"The Trade Union Bill being debated today represents a savage and vindictive assault on UK employment rights - hitting at the heart of protections enshrined in international conventions," she said.
"For a Government elected by only 24 per cent of eligible voters to propose a 40 per cent minimum turnout for public sector strikes reeks of hypocrisy.
"I'll be working with MPs from across the political parties in fighting this draconian piece of legislation as it passes through Parliament. If the Bill is passed into law, I would be prepared to join trade unionists and others in taking non-violent direct action to resist it."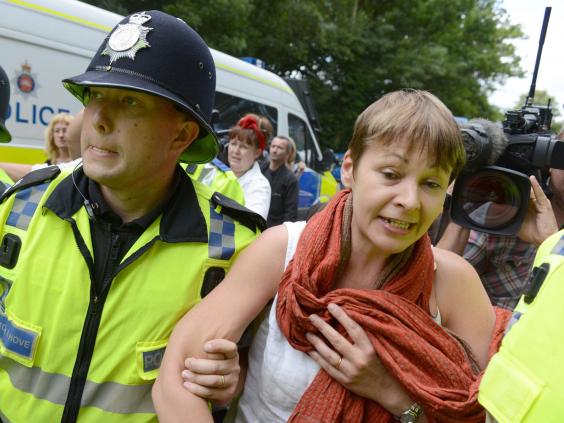 Ms Lucas has a history of taking extra-parliamentary political action. She was arrested in 2013 at a demonstration against fracking near her constituency on the south coast.
She and four co-defendants were accused of obstructing a highway and a public order charge but were cleared of any wrongdoing.
Ms Lucas has also previously given evidence at a trial in support of anti-arms trade protesters who took direct action to put a factory owned by an arms company near her constituency out of action.
Their actions were found by a jury to have been legal because the people involved had aimed to prevent further weapons from fueling a military campaign by the Israeli military in the Gaza strip.
In that case the MP said non-violent direct action should not be taken lightly and only when someone had "exhausted all democratic avenues".
The MP's warning comes a day after a Conservative MP broke ranks to compare some aspects of the restrictive new laws to those operated by Spanish fascist dictator General Franco.
Britain at War: Opinions on the ground
Britain at War: Opinions on the ground
1/8 CAROLINE LUCAS Green Party MP for Brighton Pavillion

"Whatever we decide people will die. Be it directly at the hands of ISIL, whose barbarity seems to know no limits. Or when they are hit by bombs dropped by the US, France or the UK."

Teri Pengilley

2/8 DR ANDREW WHITE Chaplain of St George's Anglican Church in Baghdad

"Isis is an evil, evil force – the only way to control these bigots is to further put at risk Iraqi people."

Susannah Ireland

3/8 DR NAFEEZ AHMED Executive director of the Institute for Policy Research & Development

"We might win some short term battles but we will create more grievances that will empower the IS cause in the long run."

4/8 DAVID DAVIS Former shadow Home Secretary

"The moral case is clear, the practical case is not - what do we do when we stop bombing?"

Getty

5/8 GENERAL JAMES CONWAY Retired US Marine

"I don't think President Obama's plan has a snowball's chance in hell of succeeding."

AFP

6/8 NADIM ZAHAWI Baghdad born Conservative MP

"We need to learn that we can't do nation-building, it has to be up to the local community to decide who they want to govern themselves."

Susannah Ireland

7/8 RICHARD WILLIAMS Former commanding officer of the SAS

"Friday's debate lacked any meaningful reference to the political solution that must be considered in Iraq if these bombs are to mean anything."

8/8 CHRIS DOYLE Director of Council for Arab-British Understanding

"The bigger issue is to actually help Syria, but if you just want to defeat IS then you lose sight of that overall goal."
David Davis said he supported most of the measures of the bill but objected to a provision that would force people on pickets to help police establish their identity.
Balloting for industrial action is already a highly bureaucratic process with legal requirements for postal ballots, warning periods and huge numbers of loopholes that leave workers open to legal challenge.
The Trade Union Bill includes sweeping provisions including proposals to ban strikers from using social media and to introduce higher voting thresholds for industrial action.
There are also new requirements for employers to be given longer notice of strikes and for workers to re-ballot themselves after four months of agreeing to take action.
Business Secretary Sajid Javid said the bill would balance the rights of people wanting to take action "with those of working people and business".
Reuse content