The Irish government is preparing contingency plans in the event that Britain leaves the European Union, Ireland's foreign minister has said.
Dara Murphy said his government's priority was playing a role in keeping the UK in the EU but said the possibility of a 'Brexit' was a scenario his colleagues were "looking at".
His comments come ahead of David Cameron's meeting with Irish Prime Minister Enda Kenny tomorrow as he continues his bid to reform Britain's relationship with the EU.
Britain is Ireland's largest trading partner and a Brexit would have damaging ramifications for its economy. A recent report by the Open Europe think tank predicted that Britain leaving the EU could cost Ireland a permanent loss of 3.1 per cent and even in the best case scenario it would still lose 1.1 per cent of GDP.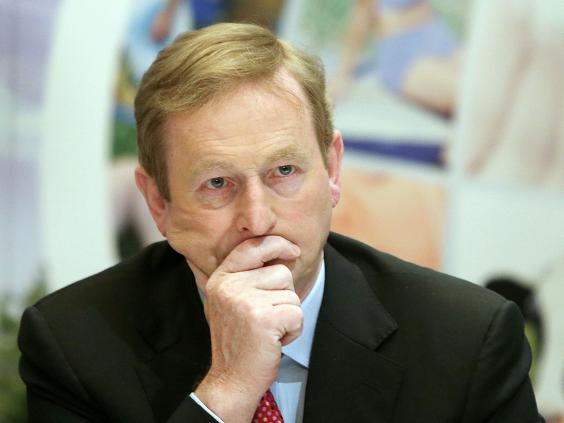 Speaking to the World at One, Mr Murphy said: "The core focus at the moment is the strategy around negotiation to play a part in keeping the UK in the European Union. But, yes, it would be remiss of us given the possibility that our largest trading partner may be exiting the European Union, that is something we, of course, are looking at."
The two countries are close trading partners, which played a key factor in George Osborne's decision in 2010 to offer Ireland around £7 billion to support its ailing economy as the country needed an international rescue package to maintain its financial stability. He said it was not just in Britain's national interest to help Ireland out, but added it was important to help "a friend in need".
Former Irish prime minister Bertie Ahern warned Mr Cameron that Ireland would not support treaty change – a key demand of Mr Cameron's in his drive to renegotiate Britain's relationship with the EU.
"I don't think he'll be very enthusiastic about treaty change because they are unpredictable, they create uncertainty," he said. "If you go the road of treaty change it's a far slower process than the road of trying to get some amendments."
Yesterday Mr Cameron suffered his first Tory rebellion over plans to scrap the normal purdah rules in the run up to the EU referendum.
Some 27 Tories voted against the EU Referendum Bill after accusing ministers of tilting the plebiscite in favour of the In campaign by allowing the Government machine to issue public statements about Europe in the four weeks before the vote.
A rebel amendment to reimpose the system of "purdah" – a ban on such statements before elections and referendums -- was rejected by votes to 288 votes to 97, a government majority of 191.  Labour abstained, lifting the prospect of a humiliating defeat for Mr Cameron, but claimed the Bill was already "in chaos".
The Government headed off a bigger rebellion by promising to amend the Bill this autumn to ensure the referendum campaign would be "fair". 
David Lidington, the Europe Minister, told the Commons: "We will ensure there is a clear mechanism that in those four weeks before polling day, government will not undertake a range of activity that most would regard as the province of the campaigns, such as issuing mailshots, running commercial advertising campaigns and emailing voters." He said the curbs could be included in a "code of conduct."
But his compromise did not far enough for some Tory Eurosceptics.  Liam Fox, the former Defence Secretary, who voted against the Government, said: "The fear in this debate is that the government, at all levels, central and local, can use taxpayers' money to support one side of the debate, potentially changing the course of that debate."
Alex Salmond, the SNP's foreign affairs spokesman, accused Mr Cameron of a U-turn after the Government prevented another Tory revolt by ruling out holding the referendum on the same day next May as elections to local authorities, the Scottish Parliament and Welsh Assembly. Mr Salmond said: "The Government faced retreat or defeat on this issue. It was clear that the Tories were angling to hijack Scottish elections with the EU referendum and the united opposition have blown them off course."
Appointments in David Cameron's Tory government
Appointments in David Cameron's Tory government
1/7 Amber Rudd: Energy and Climate Change Secretary

Wins a big promotion after increasing her majority in Hastings and Rye despite once describing her constituency as a "bit depressing". The former banker and financial journalist is considered a moderate Eurosceptic

2/7 Priti Patel: Employment Minister (attending Cabinet)

Former party press officer and now the Witham  MP is rewarded for her  forceful performances  during the election campaign. She is on the right of the party and a Eurosceptic.  Ms Patel has called for the return of hanging

3/7 John Whittingdale: Culture Secretary

Having never been a minister in his 23 years as an MP John Whittingdale's elevation to the Cabinet is meteoric. But his appointment sends a message to Tory backbenchers that preferment is possible even for those who may have given up hope (and be tempted to rebel)

Getty

4/7 Anna Soubry: Minister for Small Business

Not long ago the former defence minister feared she would not even be an MP but now she has a key role in the Department for Business and the right to attend Cabinet

5/7 Sajid Javid: Business Secretary

Rising star tipped as Britain's first prime minister from an ethnic minority. Son of a bus driver, he grew up in two-bedroom flat in Bristol. After university he joined Deutsche Bank. Parliamentary aide to George Osborne before becoming Treasury minister and Culture Secretary

6/7 Greg Clark: Communities Secretary

Thoughtful moderniser who grew up in Middlesbrough where his father and grandfather were milkmen.  Was a special adviser before entering Parliament in 2005. In previous ministerial posts he drew up plans to devolve powers to cities

7/7 Matthew Hancock: Cabinet Office minister and Paymaster General

A former aide to George Osborne before becoming an MP in 2010 election. Hancock has had a meteoric ministerial rise
Reuse content