Among the thousands who poured into Brighton for this week's Labour conference was a high ranking European diplomat watching with a detached professional interest. Asked what he thought, he replied: "Being at other conferences was like sitting through a Hollywood blockbuster, but this is like an amateur production in the village hall – no, I don't mean to be insulting. Local amateur productions mean a lot to people."
Indeed. It is fun to watch an amateur cast perform with more enthusiasm than expertise. If they fluff their lines, or a prop collapses, it adds to the fun. Similarly, it has been a fun week in Brighton, watching the Labour faithful under their new and unusual leader. 
The people who do the grunge work of organising a conference, making sure that it starts on time, that the microphones work, that speeches are accurately transcribed and so on – that part of the operation was as professional as ever, but in the space at the top where political decisions are made and the party is given its direction, it was amateur night in Brighton.
That is part of Jeremy Corbyn's charm, for those to whom he appeals. His greatest single achievement has been to draw a generation of young activists into electoral politics by being who he is, an unspun and somewhat unprofessional political believer who is not controlled or hemmed in by advisers and spin doctors.
There were a lot of under-25s in Brighton finding the experience invigorating. And they were not alone. Here and there, you could spot the class warriors of yesterday, grey haired veterans of the anti-poll tax campaign, or the CND marches of the early 1980s, or even the 1960s marches against the Vietnam war – pensionable protesters who have been on the losing side of so many political arguments for so many years that they are quite bewildered that one of their own is now leader of the Labour Party.
"All right, the leader has changed, but the Labour Party hasn't changed, has it? So, what next?" asked one lady in her sixties, an old Trotskyist who paid her £3 to vote for Mr Corbyn and turned up to be in the hall, instead of outside, protesting.
UK news in Pictures
UK news in Pictures
1/29 7 October 2015

National lottery winners raise their hats as they aim to set a new world record for the largest gathering of lottery millionaires, in London

Getty Images

2/29 7 October 2015

Campaigners against the Transatlantic Trade and Investment Partnership (TTIP) inflate a 'Trojan Horse' outside the European Commission at Smith Square in London. A Europe-wide petition demanding an end to TTIP has reached over 3,000,000 signatures with over 500,000 of signatories coming from the UK. TTIP is a controversial free trade deal between the European Union and the United States that promises multilateral economic growth. Critics of the trade agreement that it threatens EU food and environmental safety laws as well as the sovereignty of national governments which could be sued for damages by foreign investors wide ranging government actions that they can claim have threatened their profits

Getty Images

3/29 6 October 2015

A Cheviot Ram tries to exit the auction ring during the United Auction Great Annual Sale of North Country Cheviot Gimmers and Ewes at their sale in Lairg , Sutherland

PA

4/29 6 October 2015

Delegates eat their lunches out of boxes on the steps of the Albert Memorial during the Institute of Directors convention at the Royal Albert Hall, London

PA

5/29 5 October 2015

A flock of Exmoor Horn sheep are penned in Savile Row, London. The Campaign for Wool marked the beginning of Britain's national Wool Week, on one of London's most renowned streets

Reuters

6/29 5 October 2015

A full-size origami inspired Lexus IS Saloon, the World's first origami car, is unveiled at Toyota's Headquarters in Surrey

PA

7/29 4 October 2015

NHS workers take part in an anti-austerity protest during the first day of the Conservative Party Autumn Conference 2015 in Manchester. Up to 80,000 people are expected to attend a demonstration today organised by the TUC and anti-austerity protesters. Conservative Party members are in Manchester for its first conference as a party in a majority government since 1996

Getty Images

8/29 4 October 2015

A trade stand gives out fake notes depicting Labour Leader Jeremy Corbyn as a comment on the Labour Party's policies on Quantitive easing inside Manchester Central on day one of the Conservative Party Conference in Manchester

Getty Images

9/29 3 October 2015

A Red deer stag barks, with a female seen behind, in the morning sun in Richmond Park in west London

Reuters

10/29 3 October 2015

Cider maker Roger Wilkins, owner of Wilkins Cider Farm picks apples from a tree in his orchard at his farm in the village of Mudgley in Somerset. The 67 year-old farmer, whose family has owned Lands End Farm in Mudgley since 1917, has been involved in traditional cider maker since he was a small boy. According to growers, this year's apple harvest is expected to a record-breaking bumper one, with one of the highest yield of English grown apples in more than 20 years, due in part to the early summer sun, followed by a wet and cool August

Getty Images

11/29 2 October 2015

People take part in the preview of the Japanese Journey experience at the London Restaurant Festival, which kicks off next week, with its exclusive culinary tour of 6 top Japanese restaurants serving a selection of mini dishes alongside Suntory Hibiki cocktails

London Restaurant Festival 2015/Suntory Whisky

12/29 2 October 2015

A rare self-portrait by the pioneering Indian modernist painter Amrita Sher-Gil: Untitled (Self-Portrait), 1931 is on display at Sotheby's auction house in London. The painting is to be sold on 7 October

AP

13/29 1 October 2015

Thousands of farm fresh apples are being given away to Londoners by Farmdrop, the online marketplace that lets people buy food direct from local farmers and producers

Farmdrop/Mikael Buck

14/29 1 October 2015

Judges walk from Westminster Abbey to the Houses of Parliament after a service to mark the start of the legal year, in central London

Reuters

15/29 30 September 2015

A competitor ploughs a field using a vintage tractor as he takes part in the Mendip Ploughing Society's 146th annual competitions at Stanton Wick Farm near Pensford, near Bristol. Established in 1858 the Mendip Ploughing Society's annual ploughing match attracts ploughing entries in a variety of classes from the across the West Country using everything from steam engines, pairs of horses and tractors of all ages from vintage to the modern day. It also allows competitors to display their skills whilst celebrating years of agricultural tradition

Getty Images

16/29 30 September 2015

The first seal pup to be born this season at a major colony of grey seals on the Farne Islands is seen on Brownsman Island. The pups are sprayed with a harmless dye to help rangers keep a count. It washes off after three weeks. Up to 1,800 pups are expected to be raised on the Farne Islands off the Northumberland coast this year - up from the usual 1,500

17/29 29 September 2015

A giant model of a Polar Bear is moved from its position outside the Shell building after Actress Emma Thomson joined Greenpeace climate change activists in London. The event was marked as a celebration after the Anglo-Dutch oil company announced that it was pulling out of Arctic oil drilling

18/29 29 September 2015

Two red pandas, born in June at the ZSL Whipsnade Zoo, make their first public appearance

19/29 29 September 2015

Dawn breaks over the blast furnace at the SSI UK steel plant in Redcar. Following the announcement that SSI UK are mothballing the plant and ceasing steel production 1700 jobs at the Teesside site have been lost

20/29 28 September 2015

A veteran walks in the D-Day landing craft as it goes on show at the Naval Base in Portsmouth, Hampshire, prior to major refurbishment. The LCT 7074, the last Second World War Landing Craft (Tank) in the UK and one of the last in the world, is a campaign veteran of the D-Day landings. The craft was raised from Liverpool Docks last year by the National Museum of the Royal Navy and transported by sea to Portsmouth

21/29 28 September 2015

Prince Harry talks to students at an informal reception during his visit to The Duke of York's Royal Military School in Dover

22/29 27 September 2015

The supermoon rises behind Glastonbury Tor in Somerset, England

23/29 27 September 2015

Texel sheep are judged at the annual Masham Sheep Fair in Masham, northern England. The Sheep Fair, which is marking its 30th anniversary, was founded to commemorate the sheep market history of Masham market square where historically as many as 70,000 sheep were sold each year

24/29 27 September 2015

Pearly Kings, Queens, Princes and Princesses process towards the Church of St Mary-le-Bow, Cheapside where they attended the service for the 17th Pearly Kings and Queen's Harvest Festival in London. The tradition of the Pearly Kings and Queens dates back to 1875 and today 30 London families keep the tradition alive, raising money for charities across the city and attending London's events in their colourful handmade costumes

25/29 26 September 2015

Firefighters tackle a blaze at the Baitul Futuh Mosque in Morden, south west London. Around 70 firefighters are tackling the blaze which broke out around midday

26/29 26 September 2015

A South Africa fan walks outside the ground prior to the 2015 Rugby World Cup Pool B match between South Africa and Samoa at Villa Park in Birmingham

27/29 25 September 2015

A man receives a tattoo using traditional Samoan method at the London Tattoo Convention in Tobacco Dock in London. Over 300 tattoo artists from around the world are showcasing their body art in 26 halls at the convention which also features live music and tattoo competitions

28/29 25 September 2015

Croydon North UK Independence Party candidate Winston McKenzie attends the UK Independence Party annual conference at Doncaster Racecourse. After increasing their vote share following the May General Election campaign the UKIP conference this year focussed primarily on the campaign to leave the European Union ahead of the upcoming referendum on EU membership

29/29 24 September 2015

Hundreds of steel workers, their families and supporters attend a torch light vigil and rally to show support for the workers and contractors from SSI steel in Redcar. The event, which was organised by Labour MP for Redcar Anna Turley and members of the local community followed the recent announcement that SSI Steel has had to pause steel production at the Redcar site due to ongoing issues with the supply of raw materials and services
It has been suggested that this conference is a return to the Labour Party of the 1980s, when all was chaos, and if the leader got the conference to vote the way he wanted, he was in luck. In Tony Blair's hey day, by contrast, annual conferences were a parade. The delegates sat in their places, they heard the speeches, if there was a vote they were told how the leadership wanted them to vote, and in due course, they were told that the leadership had got the result it wanted. It was very disciplined and very dull.
Mr  Corbyn's arrival will put some political meaning back into these conferences and the inner life of the party. And this week in Brighton was very unlike the 1980s in that it was friendly and polite. In the bad old days, speakers were heckled, and unpleasant arguments broke out all over the hall, occasionally descending into violence. There were no angry arguments this week, partly because so many big names stayed away. There are four former party leaders – Neil Kinnock, Tony Blair, Gordon Brown and Ed Miliband – still alive and active: none showed up. Other well-known figures, such as Chuka Umunna and Tristram Hunt, high tailed it before the leader's speech.
Mr Corbyn was more approachable than previous leaders, putting himself around the fringe events without the usual phalanx of minders to separate him from the unwashed – but he did seem to be having trouble adjusting to the freak circumstances that have placed him centre stage. The starkest example was his handling of the Trident issue, which has divided Labour before. Hugh Gaitskell declared in 1960 that he would "fight and fight and fight again" to "save" the Labour Party from becoming a party of unilateral nuclear disarmament. In the 1980s, when unilateralism was party policy, Mr Kinnock went into battle to reverse it, succeeding at the second attempt. In both cases, no one was left in any doubt that the leader intended to impose his will on the party.
The roles have now changed. The party is for Trident, the leader is against. "I've made my own position clear, and I believe I have a mandate from my election on it. I don't believe £100bn on a new generation of nuclear weapons taking up a quarter of our defence budget is the right way forward," Mr Corbyn announced.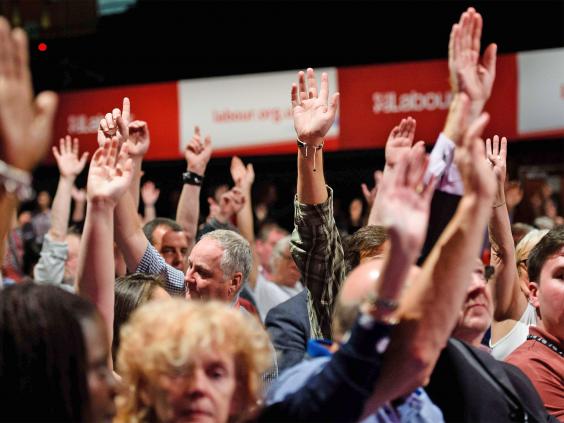 But he has just appointed a shadow defence secretary, Maria Eagle, and shadow foreign secretary, Hilary Benn, who disagree. Two of Labour's three biggest affiliated unions, Unite and the GMB, have thousands of members in the defence industries, including 7,000 in Barrow, Cumbria, where there is no alternative employment.
In this new world where the party members, it is said, are going to be the ultimate determiners of policy, Mr Corbyn could go over the heads of the shadow cabinet and unions who did so much tomake him leader, to change policy, after which he could instruct Ms Eagle, Mr Benn and others to back the party line or resign. But nothing suggests that he has the determination or organisational ability to stamp his authority so decisively. It seems he is content to drift along being publicly at odds with official party policy. It is a familiar situation for him: he has been at odds with Labour policy for most of his adult life. It is just a very peculiar position for a party leader.
An oddity about his speech was that there was no mention of the general election Labour has just lost, nor of the one in 2020, nor even that Labour used to be a party of government. But in a revealing slip, he did claim to have a mandate from "59 per cent of the electorate", as if the entire country had taken part in Labour's leadership election.
It was left to his deputy, Tom Watson, to praise Labour's record in government and stress the importance of putting the "summer of introspection" behind to concentrate on getting back into power. In these strange days, Labour has a deputy leader who talks like a leader, and a leader who talks like a rank-and-file activist.
Reuse content