Jeremy Corbyn has reaffirmed his pledge to scrap Britain's Trident missile system at a Campaign for Nuclear Disarmament rally in London – despite frustration from members within his own party.
The Labour leader was the last of more than 20 speakers, including the Scottish First Minister Nicola Sturgeon, senior union members and actress Vanessa Redgrave, to address the large crowd. 
"I don't want us to replace Trident, everyone knows that, many of the British public don't want to replace Trident," he said in the emotive speech.
Addressing a crowd of campaigners in Trafalgar Square, he added: "I think we should just consider for a moment what a nuclear weapon actually is. It is a weapon of mass destruction. If ever used it can only kill large numbers of civilians.
"They've only once been used in war and that was in Japan in 1945 and we still see the consequences, the cancers, the destruction and the horror of very old people in Hiroshima and Nagasaki."
The Labour leader continued: "If a nuclear war took place there would be mass destruction on both sides of the conflict...Everyone should think about the humanitarian effects on people across this globe if they're ever used.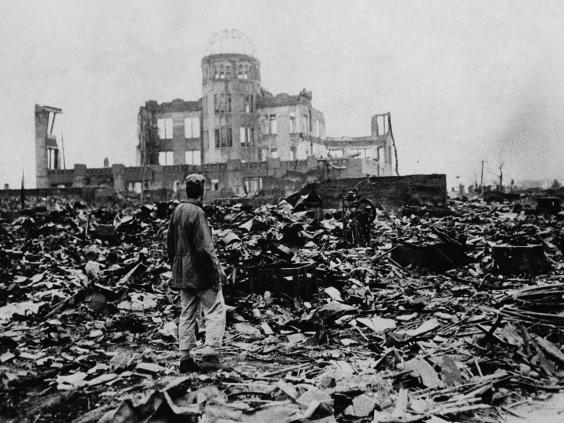 "We live in a world where so many things are possible. Where peace is possible in so many places. You don't achieve peace by planning for war, grabbing resources and not respecting each other's human rights. Today's demonstration is an expression of many people's opinions and views. I'm here because I believe in a nuclear-free Britain and a nuclear-free future.
"Thank you for coming to this demonstration, thank you for showing that you care and thank you showing you want a peaceful future for this country and the rest of the world."
The renewal of Britain's nuclear deterrent has sparked a fierce debate within the Labour party. The party's leader Jeremy Corbyn favours unilateral disarmament yet other members of his shadow cabinet are outspoken advocates.  Last year the former Labour leader Neil Kinnock – who ended the party's commitment to unilateral disarmament in 1989 – warned that voters would not back a party that attempts to axe Britain's nuclear programme.
Mr Corbyn has also come under fire from internal critics over his close links with CND, which recently appointed him to the post of vice-president. He used the speech, however, to praise the CND for their "crucial role" in society in standing up for human rights. He added: "I first joined the CND when I was 16-years-old and I'm still a member only a short time later."
Speaking to The Independent last week one shadow Cabinet minister said: "Everyone knows there's a division of opinion on Trident, there's no disguising that. But it's a shame if Jeremy chooses to advertise it when we should be focusing on everyday issues and taking an active party in the EU referendum."
The Labour MP John Woodcock added: "At a time when we've already been plunged into unnecessary, inward-looking turmoil on this issue, choosing to speak at this demonstration on an issue which Labour cannot change would seem like a terribly divisive act.
"I just hope, even at this late stage, that Jeremy and those around him recognise what many people are saying – a lot of whom are anti-Trident – that Labour should be concentrating on holding the government to account on all the things hurting families now."
The most ridiculous claims made about Jeremy Corbyn
The most ridiculous claims made about Jeremy Corbyn
1/11 He called Hezbollah and Hamas 'friends'

True. In a speech made to the Stop the War Coalition in 2009, Mr Corbyn called representatives from both groups "friends" after inviting them to Parliament. He later told Channel 4 he wanted both groups, who have factions designated as international terror organisations, to be "part of the debate" for the Middle East peace process. "I use (the word 'friends') in a collective way, saying our friends are prepared to talk," he added. "Does it mean I agree with Hamas and what it does? No. Does it mean I agree with Hezbollah and what they do? No."

Reuters

2/11 'Jeremy Corbyn thinks the death of Osama bin Laden was a tragedy'

Partly false. David Cameron used this as a line of attack at the Conservative Party conference but appears to have left out all context from Mr Corbyn's original remarks. In an 2011 interview on Iranian television, the then-backbencher said the fact the al-Qaeda leader was not put on trial was the tragedy, continuing: "The World Trade Center was a tragedy, the attack on Afghanistan was a tragedy, the war in Iraq was a tragedy."

3/11 He is 'haunted' by the legacy of his 'evil' great-great-grandfather

False. A Daily Express exposé revealed that the Labour leader's ancestor, James Sargent, was the "despotic" master of a Victorian workhouse. Addressing the report at the Labour conference, Mr Corbyn said he had never heard of him before, adding: "I want to take this opportunity to apologise for not doing the decent thing and going back in time and having a chat with him about his appalling behaviour."

4/11 Jeremy Corbyn raised a motion about 'pigeon bombs' in Parliament

This one is true. On 21 May 2004, Mr Corbyn raised an early day motion entitled "pigeon bombs", proposing that the House register being "appalled but barely surprised" that MI5 reportedly proposed to load pigeons with explosives as a weapon. The motion continued: "The House… believes that humans represent the most obscene, perverted, cruel, uncivilised and lethal species ever to inhabit the planet and looks forward to the day when the inevitable asteroid slams into the earth and wipes them out thus giving nature the opportunity to start again." It was not carried.

5/11 He rides a Communist bicycle

False. A report in The Times referred to Mr Corbyn, known for his cycling, riding a "Chairman Mao-style bicycle" earlier this year. "Less thorough journalists might have referred to it as just a bicycle, but no, so we have to conclude that whenever we see somebody on a bicycle from now on, there goes another supporter of Chairman Mao," he later joked.

6/11 'Jeremy Corbyn will appoint a special minister for Jews'

False so far. The Sun report in December was allegedly based on a "rumour" passed to the paper by a Daily Express columnist who has written pieces critical of the Labour leader in the past. The minister did not materialise in his shadow cabinet.

7/11 'Jeremy Corbyn wishes Britain would abolish its Army'

False. Another gem from The Sun took comments made at a Hiroshima remembrance parade in August 2012 where Mr Corbyn supported Costa Rica's move to abolish it armed forces. "Wouldn't it be wonderful if every politician around the world…abolished the army and took pride in the fact that they don't have an army," he added. The caveat that "every politician" must take the step suggests Mr Corbyn does not support UK disarmament just yet.

8/11 Jeremy Corbyn stole sandwiches meant for veterans

False. The Guido Fawkes blog claimed that the Labour leader took sandwiches meant for veterans at at Battle of Britain memorial service in September but a photo later emerged showing him being handed one by Costa volunteers, who later confirmed they were given to all guests.

9/11 He missed the induction into the Queen's privy council

True. After much speculation about Mr Corbyn's republican views and willingness to bow to the monarch, his office confirmed that he did not attend the official induction to the privy council because of a prior engagement, but did not rule out joining the body.

10/11 Jeremy Corbyn refuses to sing the national anthem.

Partly true. The Labour leader was filmed standing in silence as God Save the Queen was sung at a Battle of Britain remembrance service but will reportedly sing it in future. Mr Corbyn was elusive on the issue in an interview, saying he would show memorials "respect in the proper way", but sources said he would sing the anthem at future occasions.

11/11 He is a member of the All-Party Parliamentary Group for Cheese

True. The group lists its purpose as the following: "To increase awareness of issues surrounding the dairy industry and focus on economic issues affecting the dairy industry and producers."
Michael Dugher, who was sacked from Mr Corbyn's shadow cabinet last month, said: "I've nothing against old friends getting together at the weekend for a nice walk.
"But for Jeremy to share a platform with many of Labour's political opponents and denounce what is still Labour Party policy is quite frankly barmy."
Support from party leaders showed there was a "mainstream party consensus on Trident and nuclear weapons" was forming, said Kate Hudson, the general secretary of the CND.
Speaking before Mr Corbyn, the First Minister of Scotland Nicola Sturgeon, said to the crowd in Trafalgar square: "Let's cut £167 billion by not renewing the Trident system. There is the moral argument, there is the practical argument, there is the financial argument and I would so much rather see those billions of pounds spent on conventional forces – on health, on education, on giving our children the best start in life."
Reuse content