One hundred days have gone by since Jeremy Corbyn won his sensational victory in Labour's leadership election. He is the oldest person to assume this office since Michael Foot was elected 35 years ago and, paradoxically, the least well-prepared. Previous leaders arrived at this position after years of making alliances, assembling a support team, and building up relations with journalists and other outside influences.
Jeremy Corbyn had done none of that. He did not enter the leadership contest expecting to win, and slipped into high office after 32 years as a left-wing rebel on the back benches. How did his first 100 days go?
Day 1: 12 September 
Corbyn emerged victorious from the Labour leadership election with 251,417 votes, nearly 60 per cent of all votes cast and more three times the tally of his nearest challenger. At his victory celebration, he gave a lusty rendition of "The Red Flag". 
Day 2: 13 September 
A chaotic day was spent trying to put together a frontbench team, with some refusing to serve, and some MPs recoiling in horror when John McDonnell was appointed shadow Chancellor. Criticised for giving all the main jobs to men, Corbyn hurriedly designated Angela Eagle shadow First Secretary. 
Day 3: 14 September 
The Times bizarrely accuses Corbyn of riding a "Mao-style" bicycle. The Chinese dictator never rode a bike, so far as is known. 
Day 4: 15 September
Appearing at a ceremony commemorating the Battle of Britain, Corbyn failed to join in singing of the national anthem. He promised he would in future. 
Day 5: 16 September 
Tackling David Cameron for the first time at Prime Minister's Questions, Corbyn succeeded in changing the tone of the event by reading questions from the public.
Day 8: 19 September  
The Sun "reported" that Corbyn had once given money to a fraudster whom he believed to be an IRA member on the run. The Times first published this story 28 years previously, and retracted it a few days later because it was untrue. 
Day 14: 25 September 
John McDonnell announced ahead of Labour's annual conference that Labour would support the fiscal charter proposed by George Osborne. 
Day 18: 29 September 
Though delegates at Labour's annual conference liked their leader's first speech, it was instantly noted that large parts came from a draft written by a journalist, Richard Heller, which previous leaders had rejected. 
Day 19: 30 September
Corbyn announced that if he were Prime Minister he would never fire Trident's nuclear warheads at an enemy, a position publicly contradicted by nearly half his Shadow Cabinet, including the shadow Foreign Secretary Hilary Benn.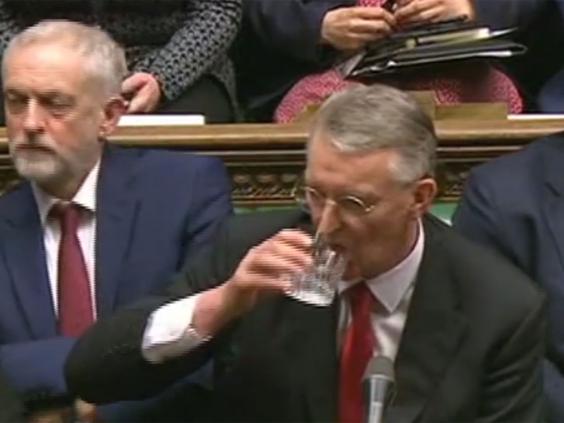 Day 27: 8 October 
Fully paid-up Labour Party membership was revealed to be 370,658 – the highest figure since 1997 – including 183,658 who joined after the general election. 
Day 32: 13 October 
Michael Gove cancelled a £5.9m contract to help run Saudi prisons, something Corbyn had called for in his conference speech. 
Day 33: 14 October 
Twenty-one Labour MPs rebelled and voted with the Government after John McDonnell executed a U-turn and called for a vote against Osborne's fiscal charter. 
Day 47: 28 October  
A YouGov poll suggested that 30 per cent think Corbyn is doing well, but 50 per cent say he is doing badly, a net rating of minus 20.
Day 56: 6 November 
Corbyn's adviser, Andrew Fisher, had his party membership suspended over an allegation he backed an anarchist in the general election. 
Day 58: 8 November 
Corbyn made a respectful appearance at the Cenotaph to lay a wreath – but absurdly got attacked for not bowing deeply enough.  
Day 61: 11 November 
Corbyn sworn in as a member of Privy Council. Did he bow to the Queen? Who cares? In another solemn ceremony, he was filmed in a circle of toddlers, singing "Incy Wincy Spider".
Day 63: 13 November
Corbyn invited ridicule by saying it would have been better if the terrorist Jihadi John had been put on trial. 
Day 66: 16 November  
Interviewed about the Paris terrorist attacks, Corbyn said: "I'm not happy with the shoot-to-kill policy in general." This was interpreted as a criticism of the French police's response, although he probably had UK examples in mind. 
Day 67: 18 November
Corbyn angered many Labour MPs by appointing his ally Ken Livingstone to be co-chair of Labour's defence review alongside Maria Eagle, without consulting her.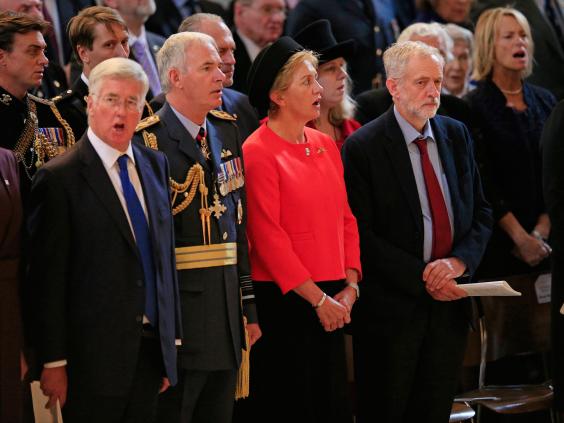 Day 74: 24 November 
Comments made to York University students by the Unite leader Len McCluskey, criticising Corbyn's comment on shoot to kill, and for saying "the first thing that comes into his head", appeared in the York Press. McCluskey probably did not expect to be reported. 
Day 75: 25 November 
In the Autumn Statement, George Osborne retreated from his threat to cut tax credits – a significant victory for Labour. 
Day 77: 27 November 
Two Labour MPs called for Corbyn's resignation, while the Fire Brigades Union, which severed its ties with the Labour Party during a pay dispute in 2004, voted to reaffiliate. 
Day 79: 29 November
Corbyn told Andrew Marr that he might whip Labour MPs to vote against bombing Isis positions in Syria, when even his ally John McDonnell had called for a free vote. He was later forced to back down.
Day 82: 2 December
Hilary Benn was applauded by MPs as he led 66 Labour MPs in their opposition to Corbyn's line on Syria. 
Day 83: 3 December 
Labour confounded the forecasters with a convincing victory in the Oldham West by-election. 
Day 88: 8 December
It emerged that Green MP Caroline Lucas had cut her link with the Stop the War coalition over statements posted on its website after the Paris attacks, raising the issue of Corbyn's continued support.
Day 89: 9 December 
Tony Blair, writing in The Spectator, lamented "the tragedy of the Labour Party's current position". 
Day 90: 10 December 
Visiting the flooded parts of the North-west, Corbyn touchingly sang happy birthday to one tearful victim. He also won the Parliamentary Beard of the Year for an unprecedented sixth time, despite a recent trim. 
Day 91: 11 December 
Corbyn defied critics by appearing at a fund-raising dinner for Stop the War. 
Day 100: 20 December 
Asked whether she would like to see Jeremy Corbyn lead the party through to 2020, the shadow First Secretary Angela Eagle replied "We have our leader."
Reuse content