Jeremy Corbyn is by far the most popular Labour leadership candidate with ordinary Londoners, according to a new poll.
A YouGov survey for the Evening Standard newspaper asked a representative sample of all Londoners – not just those set to vote in Labour's election – whether they preferred Mr Corbyn or any of his rivals.
There had been warnings from Labour establishment figures that though Mr Corbyn is popular with the party faithful, his views might not chime with those of the public.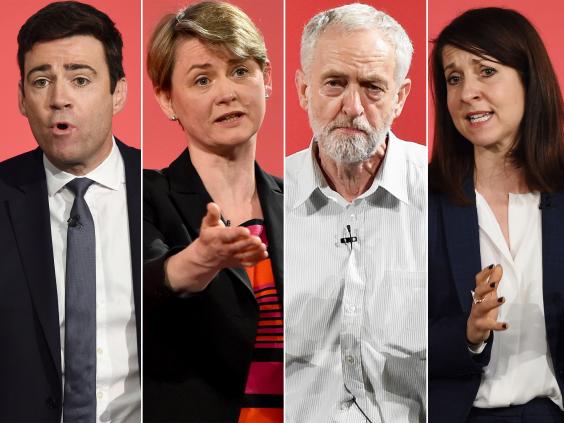 But the pollsters found that Mr Corbyn had the support of 46 per cent of the capital's residents, who thought he would make the best Labour leader.
Andy Burnham was a distant second place in the survey on 21 per cent, Yvette Cooper third on 20 per cent, with Liz Kendall, the Blairite candidate, trailing on 12 per cent.
The results suggest the views of the public – at least in the Capital – are broadly in line with those of Labour supporters, who also back Mr Corbyn by a landslide.
Labour leadership: The Contenders
Labour leadership: The Contenders
1/2 Jeremy Corbyn

Jeremy Corbyn started off as the rank outsider in the race to replace Ed Miliband and admitted he was only standing to ensure the left of the party was given a voice in the contest. But the Islington North MP, who first entered Parliament in 1983, is now the firm favourite to be elected Labour leader on September 12 after a surge in left-wing supporters signing up for a vote.

PA

2/2 Andy Burnham

Andy Burnham started out as the front-runner in the leadership election, seen as the candidate of the left until Jeremy Corbyn entered the race. The former Cabinet minister has found himself squeezed between the growing populism of Corbyn's radical agenda and the moderate, centre-left Yvette Cooper, not knowing which way to turn. It has attracted damaging labels such as 'flip-flop Andy', most notably over his response to the Government's Welfare Bill. He remains hopeful he can win enough second preference votes to take him over the 50 per cent threshold ahead of Corbyn.

PA
Future surveys could shed light on whether Mr Corbyn's popularity with the wider electorate extends beyond the capital – where Labour already did well at the May general election.
Labour 600,000 strong electorate will pick the party's next leader starting this weekend, with the result announced at a special conference in September.
Reuse content