Jeremy Corbyn's leadership has been plunged deeper into crisis after a key union leader broke ranks to criticise him. Unison general secretary Dave Prentis, who backed Mr Corbyn for the leadership, said it could not "get any worse" for the party and warned it was time it "got its act together" before it lost any chance of returning to power in 2020.
His blunt words came as a damaging poll revealed six out of 10 voters now believe Mr Corbyn would not keep them safe. A poll for The Independent on Sunday shows Mr Corbyn's support plummeted in the wake of his response to last week's Paris terror attacks.
Overall, voters are now more than twice as likely to say they are unfavourable towards Mr Corbyn, after an 8 per cent increase since September in people who see him negatively.
It follows Mr Corbyn's decision to criticise publicly David Cameron's order for security services to "shoot to kill" armed terrorists attacking civilians in the UK.
Mr Prentis, the first union leader to attack the Labour leader openly, said the party under Mr Corbyn did not appear to understand people's concerns – including "their need to feel safe and secure". "Divisive rows over Trident or shoot to kill are distractions no one needs," he said.
"It's got to stop. If it doesn't, Labour stands little chance of winning back the millions who deserted the party in May."
Mr Prentis, who represents more than 1.3 million workers, said the Labour leader needed to turn things around quickly.
"The Spending Review is just three days away. Millions of working families anxiously await the Chancellor's plans," he said. 
"They're scared about what he has in store for the tax credits they rely upon, and nervous about deep spending cuts to essential local services and the policing of their communities. Standing up for these families and arguing against Government austerity is what the Labour Party should have been doing this week. But instead, we've seen yet more, very public, incredibly damaging squabbling. 
"Every time you think that things can't get any worse, they do. It's high time Labour got its act together. The party needs to start working together, against the Government, not each other."
Mr Prentis said people were worried about having enough money to feed their children but Labour MPs were more concerned with "knocking seven bells out of one another".
Every time you think that things can't get any worse, they do. It's high time Labour got its act together
He said: "To many voters, Labour no longer seems to understand the issues that matter to ordinary people. Their money worries, their need to feel safe and secure. So Labour must stop with the verbal fisticuffs, and get back to showing ordinary people that the party is on their side."
According to today's ComRes poll, members of the public are now twice as likely to say they trust Mr Cameron to keep them and their family safe as Mr Corbyn – with 39 per cent backing the PM compared with 17 per cent for the Labour leader. Three in five people canvassed – 58 per cent – say they don't trust Mr Corbyn to keep them safe. 
Earlier last week, the former Labour frontbencher Chuka Umunna said this perception was a "disqualification from office".
But Mr Corbyn has demanded more loyalty from Labour MPs and insisted he had a mandate from party members.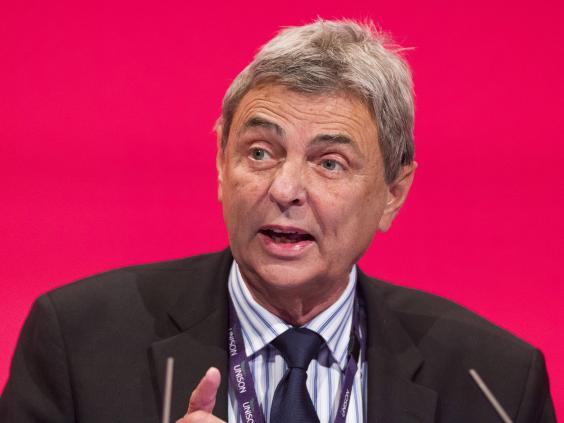 "Of course the new politics is also about open and respectful debate," he said. "But I have also been elected to lead, to express the aspirations and concerns of millions of people – hundreds of thousands of whom gave me my mandate. We owe it to them to unite and conduct our debates in a comradely and constructive way."
Mr Corbyn will be able to point to today's poll findings as further proof he has the support of Labour members – if not the wider general public. While four in 10 voters say Labour MPs should mount a coup to remove him as leader, most Labour voters – 56 per cent – disagree that he should be toppled.
Mr Corbyn now faces a defining week amid warnings he could be challenged within six months if he does not turn things around. 
Tomorrow he will respond to the Government's Defence and Security Review, delivered by the Prime Minister, before facing MPs at a meeting of the Parliamentary Labour Party the same evening.
At the meeting, its understood Mr Corbyn will be challenged to publish an official review of why Labour lost the last election, amid concerns that he is sitting on the review because he does not like its findings. Twenty‑four hours later, he will face his first possible rebellion as leader, after ordering Labour MPs to abstain on a vote against Trident – despite it being official party policy to renew Britain's nuclear deterrent.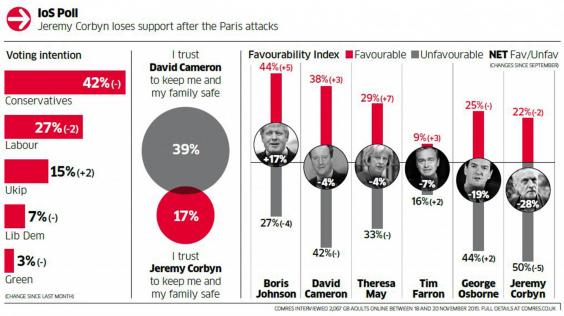 On Wednesday, George Osborne will deliver his long-awaited Autumn Statement. Mr Corbyn will then face another serious test of his leadership when the PM publishes his "war plan" for joining air strikes on Isis in Syria, amid growing public support for action. 
Mr Corbyn is under pressure to give MPs a "free vote" on air strikes – allowing them to back air strikes without rebelling against the leadership. He also appears to be at odds with the public on a series of crucial security questions.
Two-thirds of the public say that killing British citizens in Syria is justified if the security services say they have joined IS – with 65 per cent agreeing and only 15 per cent disagreeing.
Seven out of 10 of those polled also agree that the public should have to accept infringements of privacy on the internet for the sake of fighting terrorism – with only 17 per cent disagreeing.