Jeremy Corbyn's widely praised debut at Prime Minister's Question Time has given him vital breathing space among MPs who are already warning that he faces a battle to survive as Labour leader.
Mr Corbyn won plaudits after he challenged David Cameron with questions from the general public on housing, benefits and mental health as part of his commitment to a "new kind of politics".
Earlier, shadow ministers had contradicted him over policy and attacked him for failing to sing the national anthem, intensifying Labour's turmoil as he attempts to assert his authority over the parliamentary party.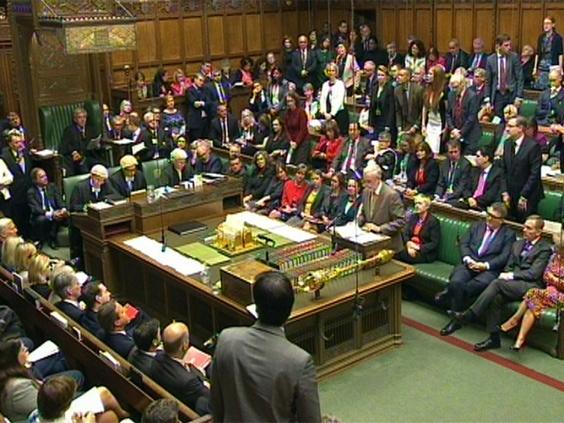 The turbulence intensified speculation among his MPs – most of whom supported his leadership rivals – that Mr Corbyn's tenure as leader could be short-lived, despite his overwhelming mandate from the rank and file. One former minister told The Independent: "I suspect he could be out sooner rather than later," while a current shadow minister said: "I had originally given him two years in the job. I'm beginning to think it could be more like one."
Mr Corbyn is adding to his shadow ministerial team in an effort to bind in potential critics and was trying to recruit a journalist to handle his press. He is also reported to be preparing to appoint special advisers rather than allow shadow ministers to hire their aides, and he told Channel 4 News: "I'm not resigning. I have been elected with a mandate of more than a quarter of a million people."
He adopted a non-confrontational style for his first appearance opposite Mr Cameron, explaining that many voters viewed Parliament as "out of touch and too theatrical" and wanted a new approach to PMQs.

Chuka Umunna and Tristram Hunt, who have both decided not to serve on Mr Corbyn's front bench, were among senior Labour figures who welcomed the new approach. Mr Umunna tweeted: "PMQs is a circus. I've long argued to abolish it and put a better alternative in its place, but it was rather refreshing today – good."
Many Labour MPs were aghast at the headlines generated by Mr Corbyn's decision not to sing the national anthem at a Battle of Britain commemoration. Kate Green, shadow minister for women and Owen Smith, shadow Work and Pensions Secretary – who had both publicly contradicted the leader's insistence that the party would oppose any cap on benefits – as well as Kerry McCarthy, shadow environment secretary, openly criticised his silence. Ms Green warned that his failure to sing "will have offended and hurt" people.
Pressed on the subject, Mr Corbyn dismissed the row as "tittle-tattle" and repeatedly refused to say he would join future renditions of God Save The Queen. But minutes later a Labour spokesman insisted he had "meant to say" he would sing.
Reuse content