As speculation continued to rage about allegations David Cameron placed his genitals in a dead pig's mouth during his time at university, a very unlikely tweet was highlighted by someone using Jeremy Corbyn's Twitter account.
The new Labour leader's page, which has more than 251,000 followers, has only listed 25 tweets on its favourites in more than four years.
The newest one, added on Monday, was from a member of the public asking: "Which is worse? F***ing a pig or f***ing Diane Abbott?"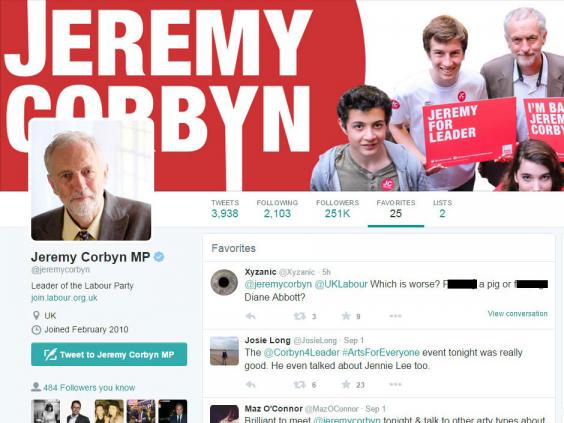 The question, directed at Mr Corbyn and the Labour Party, did not receive a reply and was later un-favourited by the leader's account.
It came after The Times revealed that Mr Corbyn and Ms Abbott are former lovers, having had a brief relationship in the 1970s, when they reportedly went on a motorbike tour of East Germany together.
The Islington North MP brought Ms Abbott on to Labour's front bench as the shadow International Development Secretary following his election last week.
A spokesperson for Mr Corbyn told The Independent that the tweet had been favourited accidentally.
"It obviously happened unintentionally," he added. "It's very easy to do when scrolling through Twitter."
The spokesperson did not know whether Mr Corbyn or one of his aides had been using the account at the time.
Lord Ashcroft, the former deputy chairman of the Conservative Party and a prolific donor, reported the claims about Mr Cameron in his new book Call Me Dave: The Unauthorised Biography.
He and the co-author Isabel Oakeshott wrote that an unnamed "distinguished Oxford contemporary", who is now an MP, recalled how Mr Cameron took part in an "outrageous" initiation ceremony at a Piers Gaveston Society event.
"His extraordinary suggestion is that the future PM inserted a private part of his anatomy into the animal's mouth," an excerpt published by the Daily Mail claimed.
Lord Ashcroft wrote that the man made the same allegation three times, with increasing detail, and claimed a photograph existed of the act.
Its alleged owner has not responded to Lord Ashcroft's request to view the photo, and the peer wrote that it may be a "case of mistaken identity".
The book comes during a continuing feud between the pair, who are said to have fallen out after Lord Ashcroft was passed over for a leading role in the Coalition.
The book also contains allegations that Mr Cameron smoked cannabis with university friends who nicknamed themselves the "Flam Club", and later allowed cocaine at his home in London.
A spokesperson for Downing Street told The Independent: "It's a no comment from us. On any of it."
The Prime Minister's official spokesperson later told a press briefing that Mr Cameron would not "dignify" the allegations with a response.
Reuse content