Jeremy Corbyn's suggestion of trains having women-only carriages to reduce sexual harassment would amount to "apartheid", a Labour MP has said.
Geraint Davies tweeted that the proposals would amount to "apartheid for women on our trains", adding "no thanks".
Mr Corbyn proposed a consultation on the arguments for and against the carriages, which exist in other countries including Japan, Mexico, and Brazil.
"Some women have raised with me that a solution to the rise in assault and harassment on public transport could be to introduce women only carriages," he wrote.
"My intention would be to make public transport safer for everyone from the train platform, to the bus stop to on the mode of transport itself.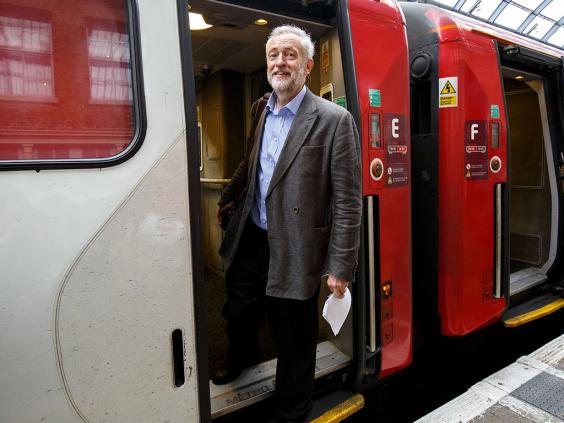 "However, I would consult with women and open it up to hear their views on whether women-only carriages would be welcome - and also if piloting this at times and modes of transport where harassment is reported most frequently would be of interest."
The idea was also suggested by junior Conservative transport minister Claire Perry last year.
The proposed measure was part of a range of ideas to "end street harassment", including a 24-hour police hotline, public awareness programmes and new licencing requirements.
Apartheid for women on our trains no thanks @YvetteForLabour http://t.co/BMhSVtlwoF

— Geraint Davies MP (@GeraintDaviesMP) August 26, 2015
The carriages idea has been met with mixed reactions, with some campaigners saying it has worked in other countries and others suggesting it would be "admitting defeat" to the causes of harassment.
Mr Davies is a supporter of Mr Corbyn's rival for the leadership of the party, Yvette Cooper.
Labour leadership: The Contenders
Labour leadership: The Contenders
1/2 Jeremy Corbyn

Jeremy Corbyn started off as the rank outsider in the race to replace Ed Miliband and admitted he was only standing to ensure the left of the party was given a voice in the contest. But the Islington North MP, who first entered Parliament in 1983, is now the firm favourite to be elected Labour leader on September 12 after a surge in left-wing supporters signing up for a vote.

PA

2/2 Andy Burnham

Andy Burnham started out as the front-runner in the leadership election, seen as the candidate of the left until Jeremy Corbyn entered the race. The former Cabinet minister has found himself squeezed between the growing populism of Corbyn's radical agenda and the moderate, centre-left Yvette Cooper, not knowing which way to turn. It has attracted damaging labels such as 'flip-flop Andy', most notably over his response to the Government's Welfare Bill. He remains hopeful he can win enough second preference votes to take him over the 50 per cent threshold ahead of Corbyn.

PA
Apartheid was a system of racial segregation in place in South Africa in 1994 in which black South Africans were excluded from the usually superior facilities enjoyed by white South Africans.
Voting in the Labour leadership contest is currently underway, with the results set to be announced at a special conference in September.
Reuse content