A "job description" for MPs should be included on ballot papers to prevent voters getting "unrealistic" expectations about what parliamentarians can achieve.
The recommendation has been made by the Commons Standards Committee, as part of a review into how MPs' behaviour is regulated.
"If the public are to form a reliable opinion of the conduct of their MPs, they must know what is currently expected of those MPs, in terms of performance as well as conduct," the committee's report says. "It is clear that many people do not."
"Where there is no clear description of the duties on an MP, their constituents are likely to fill the vacuum with their own definitions and these can be exacting or irrational or unrealistic."
The committee noted that there were "many tasks which it is unreasonable for the public to expect MPs to undertake, at least at first instance, since many other bodies exist precisely for such purposes".
It criticised Parliament's website for saying MPs could help constituents with issues about tax, the NHS, immigration and school closures. "We recommend that the parliamentary website be amended to give a clearer picture of the functions of an MP, one which is not so focused on the constituency role," the report said.
Maria Miller: The damning and defensive quotes about the Culture Secretary
Maria Miller: The damning and defensive quotes about the Culture Secretary
1/9 'Not how I would have apologised'

Esther McVey told ITV: "I can honestly say it wouldn't be how I would have made an apology. But different people have different styles and do things in different ways"

2/9 'A plague on all our houses'

One Tory MP told Huff Post UK: "Any expenses scandal is a plague on all our houses. It fills us full of dread, because it just drops the whole standing of Parliament another notch with our electorate. We are all tarred with the same brush."

Getty Images

3/9 'She's done the right thing'

"What matters is doing the right thing. I think Maria has done the right thing by repaying the money, making an apology and now getting on with her job. "We ought to remember she was found innocent of the claim that was levelled at her at the start of this process. Maria Miller is in her job because she is doing a good job as Culture Secretary."

4/9 Mark Miller?

A Conservative backbencher told HuffPost UK: "I do wonder if her name was Mark Miller something different might happen. Colleagues think he would have been gone a week ago."

Rex Features

5/9 'She's being hounded'

Boris Johnson told Radio 4: "I don't know the facts of the case in great detail but it seems to me she is being hounded quite a lot." He added: "She is staying."

LEON NEAL/AFP/Getty Images

6/9 'Contemptuous'

Labour MP Sheila Gilmore has made a formal complaint to the standards committee, saying Miller's apology was "inadequate to the point of being contemptuous of your committee's report and the members' code of conduct".

PA

7/9 'A witch hunt'

Iain Duncan Smith said: "I think she has done a very good job in a very difficult set of circumstances, with the Leveson Inquiry, which has stirred up a lot of media antipathy to her." He added there was a risk of the episode developing into a "witch hunt of somebody".

Getty

8/9 'Arrogant'

Norman Tebbit: "Mrs Miller has not just re-ignited the flames but, by the arrogance of her response to the scandal, poured petrol on the fire."

Reuters

9/9 'She needs to get on with her job'

Grant Shapps refused to back Mrs Miller four times when questioned on the BBC, but later said: "She has accepted fully the recommendations of the committee, without reservation and she should be able to get on with the job. And the Prime Minister's said that's what he wants her to do"
"The danger is that by raising expectations which cannot in fact be met, the House service is inadvertently increasing the risk of public disillusion."
The review also recommends that the public is given equal representation on the body which rules on allegations of sleaze made against MPs, in an attempt to answer criticism that they "mark their own homework".
The number of lay members on the Commons Standards Committee is expected to be raised from three to seven. They would sit alongside seven MPs.
However, the committee has rejected calls for the public representatives to be given voting rights when it reaches a verdict on an MP's behaviour and recommends a punishment.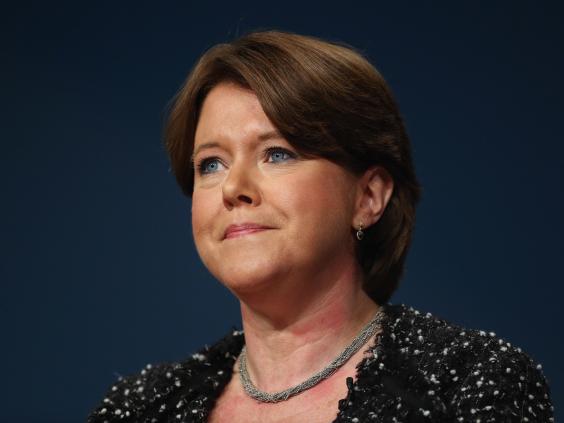 The review published today insists that the lay members enjoy real influence without having a vote, because they can register their dissent publicly when investigation into an MP's conduct is published. If they were unhappy with the progress of an inquiry, they could halt it by withdrawing.
The review was launched after the committee was accused of watering down the findings of Kathryn Hudson, the independent Parliamentary Standards Commissioner, after investigating the expenses claims of Maria Miller, who was forced to resign as Culture Secretary. Ms Hudson found that Ms Miller over-claimed for her mortgage by about £45,000. But the Standards Committee agreed with the Tory MP that she should repay only £5,800. Ms Hudson criticised Ms Miller's response to her inquiry but the committee cleared her of trying to discredit it.
After looking at regulation of other parliaments, the committee endorses the system of "self-regulation with strong independent elements". But it admitted the process needs to be explained better.
The committee conceded: "The majority of MPs carry out their tasks without any questions raised about the propriety of their actions."
Reuse content