As he approaches retirement age, John McDonnell, Labour's shadow Chancellor, insists he isn't mellowing. Sitting in his prefab constituency office, plastered with murals of a united Ireland and cards declaring "Behind every fortune lies a crime", the 64-year-old lashes out at Tory "brutality", calls for talks with Argentina over the Falklands and refuses to dismiss calls for a war crimes trial for Tony Blair.
But over a cup of tea, just off the high street in Hayes, west London, the life-long socialist hardliner lets slip a rather more sedate side. He enjoys gardening and swaps home-made jams with his friend Jeremy Corbyn. He even owns a sailing boat moored on the Norfolk Broads – a far cry from the council estate round the corner in Great Yarmouth, where he grew up.
It's a "little boat", he insists. "It's a Skipper 17 which cost me £1,000. It's a bit of a dinghy with a roof on it. It sank last year."
Very shortly Mr McDonnell will also be a "Right Honourable", he tells me. The life-long republican is about to join the Privy Council. Isn't he uncomfortable about his new position? "No, I'm the same working-class person I was before."
But his politics are less ferocious – at least on the surface. From "fermenting the overthrow of capitalism", he now attacks Ed Miliband's "unseemly" criticism of David Cameron over his privileged background. "People don't choose what class they were born into or the wealth that they inherit."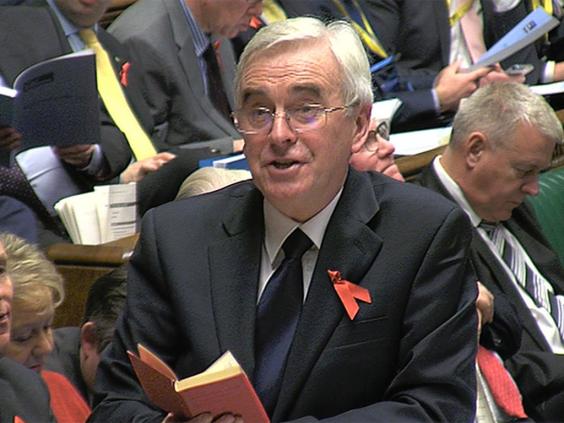 He also guarantees not to raise any income taxes, apart from returning to the 50p top rate if Labour returns to power. "We're not interested in increasing personal income tax at all; that isn't what we're about as a party." Is that a guarantee? "Yes."
Has the old hardliner disappeared? "No, we're being strategic. The whole point of this is that we are strategic in our approach and taking people with us as best we can. We've always been left wing, we maintain a consistent pattern of being on the left and being socialists."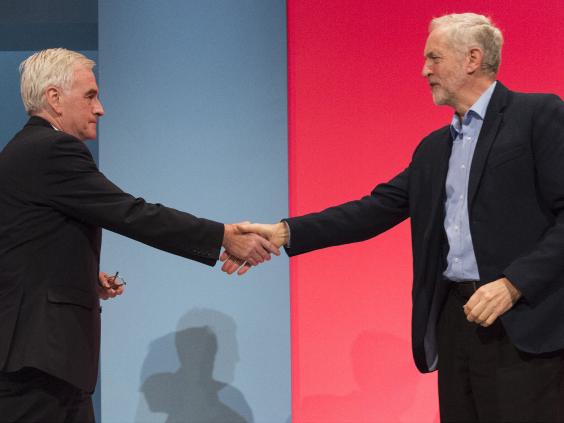 If Mr McDonnell is toning things down so as not to scare the horses, Labour MPs don't see it that way. The shadow Chancellor was singled out for criticism over his role in Mr Corbyn's four-day "revenge reshuffle" after dismissing the three MPs who resigned as a "right-wing clique". He now says he "wouldn't even call it a reshuffle … I'd call it an adjustment". He maintains the three shadow ministers who resigned over the sackings of Pat McFadden and Michael Dugher were "sequenced" to cause maximum damage to the Labour Party – a claim fiercely denied by Jonathan Reynolds, Stephen Doughty and Kevan Jones.
He dismisses as "hype" claims Hilary Benn was under threat. "All that was needed with Hilary was to set out the ground rules for the future," he says – insisting there will not be another situation in which Mr Benn is allowed to criticise the leader's position from the front bench.
"The ground rules are these: he'll represent the party's position in regard to foreign policy, but where there is a situation if it ever occurs again – I'm not sure it will – where there is a free vote, he's perfectly able to express his views on that. But he won't do that as the spokesperson; he'll do that from the back benches.
"That doesn't mean he resigns or loses his position. He'll retain his position but he'll speak on that matter from the back benches as an individual MP."
UK news in pictures
UK news in pictures
1/30

A man carries a EU flag, after Britain voted to leave the European Union, outside Downing Street in London

REUTERS

2/30 23 June 2016

AFP/Getty Images

3/30 22 June 2016

British Prime Minister David Cameron poses for a photograph after addressing pro-EU "Vote Remain" supporters at rally in Bristol, whilst campaigning to avoid a Brexit, ahead of the 23 June EU referendum

AFP/Getty Images

4/30 21 June 2016

Scottish Conservative leader Ruth Davidson (left) and Mayor of London Sadiq Khan speak during the EU debate at Wembley Arena in London

Getty Images

5/30 20 June 2016

A full moon rises behind Glastonbury Tor as people gather to celebrate the summer solstice in Somerse

Getty Images

6/30 19 June 2016

Hot air balloons took to the air as part of the annual Lord Mayor's Hot Air Balloon Regatta, a charity event in aid of the Lord Mayor's Fund, in London

Getty Images

7/30 19 June 2016

Liberal Democrats leader Tim Farron (C) poses with supporters after arriving in the Liberal Democrat Vote Remain campaign bus, campaigning to avoid a Brexit in the EU referendum, during a launch event in east London

AFP/Getty Images

8/30 18 June 2016

A man lights a flare among pro-refugee activists rallying outside the French Embassy in central London, during a protest after most of an aid convoy of vehicles organised by campaign groups heading to northern France were turned back at the French frontier at the port of Dover

AFP/Getty Images

9/30 17 June 2016

Prime Minister David Cameron and Labour Leader Jeremy Corbyn arrive to pay their respects at the scene where Jo Cox was shot in Birstall

Getty Images

10/30 16 June 2016

Floral tributes and candles are placed by a picture of slain Labour MP Jo Cox at a vigil in Parliament square in London. Cox died after a shock daylight street attack, throwing campaigning for the referendum on Britain's membership of the European Union into disarray just a week before the crucial vote

AFP

11/30 15 June 2016

Boats from the 'Fishing for Leave' campaign group join a flotilla along the Thames River in London. The flotilla organised by members of the Fishing for Leave group, who are campaigning to leave the European Union ahead of the referendum on the 23 of June, was countered by boats representing the 'In' campaign

Getty Images

12/30 14 June 2016

A general view of the Tate Modern's new Switch House in London. The Tate Modern art gallery has unveiled its new Switch House building designed by architects Herzog & de Meuron

Getty

13/30 13 June 2016

Labour Leader Jeremy Corbyn (C) and Deputy Labour Leader Tom Watson (R) attend a vigil for the victims of the Orlando nightclub shooting, outside the Admiral Duncan pub on Old Compton Street in Soho, London

Getty Images

14/30 12 June 2016

A pigeon flies ahead of Britain's Queen Elizabeth and Prince Philip, and Princes William, Harry and Kate Duchess of Cambridge behind as they wave to guests attending the Patron's Lunch on the Mall, an event to mark her 90th birthday, in London

REUTERS

15/30 11 June 2016

A Guardsman faints at Horseguards Parade for the annual Trooping the Colour ceremony in central London

REUTERS

16/30 10 June 2016

The national service of thanksgiving for the 90th birthday of Britain's Queen Elizabeth II at St Paul's Cathedral in London, which is also the Duke of Edinburgh's 95th birthday

Getty Images

17/30 9 June 2016

Princess Anne, Princess Royal attends the Founders Day Parade at The Royal Hospital Chelsea in London

Getty Images

18/30 8 June 2016

Two women walk barefoot through heavy rain in Westminster in London. The Met Office has issued flood alerts for parts of the south east of England as torrential rain hit parts of the country

Getty Images

19/30 7 June 2016

An Osprey catches two Rainbow Trout at Rothiemurchus in Kincraig, Scotland. Ospreys migrate each spring from Africa and nest in tall pine trees around the Aviemore area, the raptor was hunted to the point of extinction in the Victorian era, their migratory habits eventually brought them back to Scotland with the first successful breeding pair being recorded in 1954

Getty

20/30 6 June 2016

David Cameron speaks at a Remain in the EU campaign event at the Oval cricket ground in London

Getty Images

21/30 5 June 2016

Original participants take part in Japanese artist Koki Tanaka's recreation of the 1985 youth training scheme protest as part of the Liverpool Biennial. The 1985 protest saw 10,000 UK school children take to the street to protest against the Conservative government's controversial youth training Scheme

Getty Images

22/30 4 June 2016

Troops parade along The Mall after the Colonel's Review in London

Getty Images

23/30 3 June 2016

Large scale recreation of Dutch flower painting 'A Still Life of flowers in a Wan-Li Vase' by Ambrosius Bosschaert made out of real flowers is seen outside National Gallery in London

Rex

24/30 2 June 2016

Final preparations are made for the RHS Rose Show in London. The RHS London Rose Show runs from June 3-4 at RHS Lawrence Hall in Westminster

Getty Images

25/30 1 June 2016

Sheep are judged on the opening day of the Royal Bath and West Show in Shepton Mallet. The result of the EU referendum is likely to be closely watched by members of the farming community as the UKs membership of the European Union has long been a contentious issue for the farming industry

Getty Images

26/30 31 May 2016

German President Joachim Gauck (C), British Premier David Cameron (L) and Princess Anne, Princess Royal attend the 100th anniversary commemorations for the Battle of Jutland at the Lyness cemetery in Lyness, Scotland

Getty Images

27/30 30 May 2016

People enjoy the fine weather as they gather on the beach at Sennen Cove in Cornwall

Getty Images

28/30 29 May 2016

K, Moses Adams (South Africa), performs a noseblunt slide during the Red Bull Hold The Line competition at The Royal Albert Hall in London

Getty Images

29/30 28 May 2016

Princess Anne, Princess Royal and Vice Admiral Sir Tim Laurence attend a service at a war graves cemetery to mark the Battle of Jutland in South Queensferry, Scotland. The events begin a weekend of commemoration leading up to the anniversary on 31 May and 1 June to mark the centenary of the largest naval battle of World War One where more than 6,000 Britons and 2,500 Germans died in the Battle of Jutland

Getty Images

30/30 27 May 2016

Leader of Britain's opposition Labour Party, Jeremy Corybn, arrives to deliver a speech on the merits of Britain remaining in the European Union, in Doncaster

Getty Images
Allies of Mr Corbyn claim the Labour leader has emerged strengthened from the reshuffle after moving outspoken Shadow Cabinet critics and appointing a more anti-Trident shadow defence secretary in Emily Thornberry. But MPs have raised concerns the party is becoming increasingly dominated by a core known in Westminster as the Mice – the metropolitan intellectual cultural elite.
Mr McDonnell, born in Liverpool and raised in Norfolk, unsurprisingly rejects the accusations. "I live in the most deprived ward in my borough; it's hardly Mice, is it?"
Despite the defence of his leader, Mr McDonnell admits they are "all learning, every day" – citing Mr Corbyn's conscious decision to smarten up.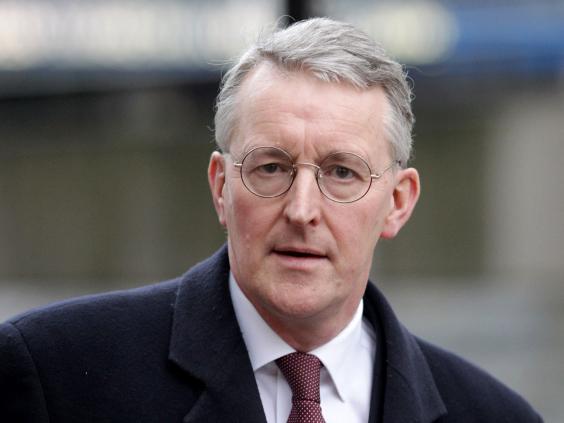 "You're in a much more formal role now. Whereas if you're representing Islington North there are certain forms of behaviour expected by your constituents in that particular area. If you're representing the whole country, it's dramatically different."
But he remains confident of securing victory in 2020 – and even winning over Tory voters who were not prepared to back Mr Miliband. 
"I've worked with Conservatives and Lib Dems and tried to convince them. I respect their views, but I disagree with them. It's not a matter of being evil – it's just a matter of being wrong. I have faith and belief in the power of conversion. I can think I can win the argument with them and convert a number of them over. That's what we're going to have to do at the next election – to win over a large number of Tory voters."
Nonetheless, he steadfastly refuses to drop some of his more controversial opinions. 
Does he still want Mr Blair sent to the Hague? "We'll see what happens in Chilcot." And what about a united Ireland? "Yes, I'm a republican. I hope to see it in my lifetime." The Falklands? "All these territorial disputes should be open to discussion rather than force."
What if Mr McDonnell can't convince Tory voters to join his socialist revolution? His wife's family is from Goa and his mother-in-law has retired back to the traditional family home there. However, Mr McDonnell says he won't leave his patch of west London – and will never stop campaigning for socialism. "I'll join the retired members' section of Unite; I'll keep on campaigning."