Andy Burnham is the Labour leadership contender most likely to improve the party's chances at the next general election, according to a survey of 2,000 people for The Independent by ORB.
The shadow Health Secretary was cited by 36 per cent when people were asked, irrespective of which  party they would support, to say which  of the four Labour candidates would most enhance the party's prospects at the 2020 election.
Liz Kendall, the shadow Care Minister who is seen as the Blairite candidate, came second on 25 per cent, with Yvette Cooper, the shadow Home Secretary, on 20 per cent and Jeremy Corbyn, a left-wing backbencher, on 18 per cent.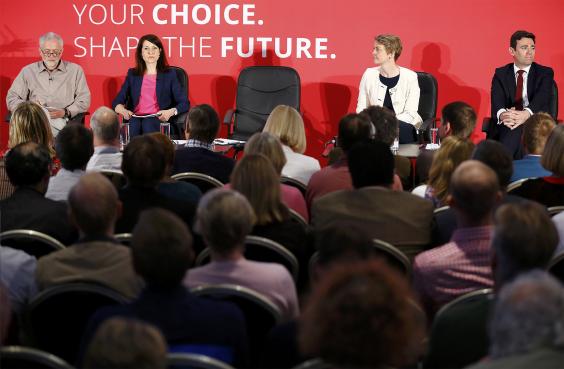 Mr Burnham enjoys strong support in the North West - the region from which he hails and where is MP for Leigh - as the party's most likely vote-winner (44 per cent).  He enjoys more backing among men (39 per cent) than women (33 per cent).
Ms Kendall is regarded by young voters as the contender most likely to boost Labour's appeal; 43 per cent of 18-24 year-olds describe her in this way.  Her support is even among men and women. Ms Cooper is rated the most likely candidate to increase Labour's chances by more women (22 per cent) than men (19 per cent).
When people were asked which of the four runners would do most harm to Labour's election prospects, Mr Corbyn was chosen by 33 per cent of those polled, Ms Cooper by 26 per cent, Mr Burnham by 22 per cent and Ms Kendall by 19 per cent.
Labour is split over the decision by some MPs who will not vote for Mr Corbyn to nominate the left-winger in order to broaden the choice for Labour's 260,000 members and registered supporters. They hope the contest will show that Mr Corbyn's views are rejected by Labour. But some Labour moderates are appalled, saying that advertising the left's influence in the party sends a damaging signal to the voters Labour needs to win back after last month's shattering defeat. Corbyn allies believe he could win between 10 and 20 per cent of the votes.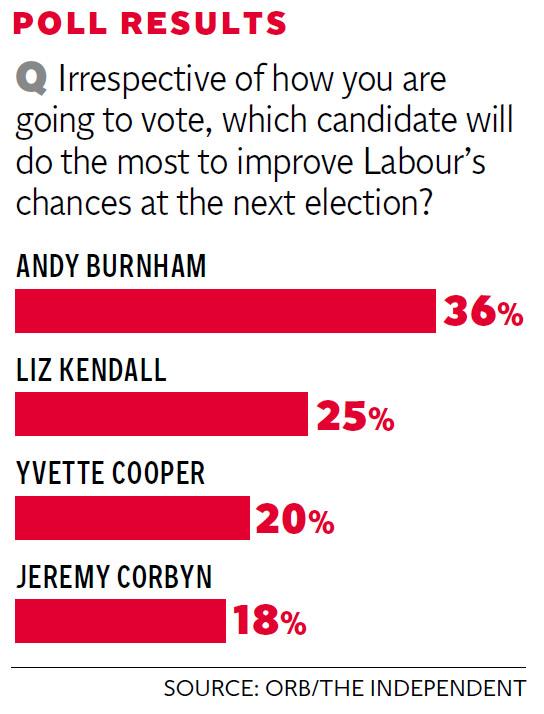 Ms Cooper's position in the public's rankings may be due to the relatively slow start to her leadership campaign. Some senior Labour figures believe she will win the contest because, under the party's preferential voting system, the candidate who comes last drops out and second preference votes are redistributed until one person wins more than 50 per cent of the votes. This method helped Ed Miliband overtake his older brother David in the 2010 leadership contest.
Allies of Mr Burnham, the early front-runner, welcomed the poll findings as evidence that his message is "cutting through" to the public. On Wednesday he will answer Conservative claims that he is the "left-wing candidate" by unveiling plans for Labour to "revive the dream of home ownership." In a speech, he will call for an extension of "rent to own" schemes under which people do not need a deposit and part of their rent goes towards buying their home.
Mr Burnham will say: "This will be a central part of my mission to make the Labour Party that helps everyone get on in life. There is no greater legacy that a government can leave than building new, high-quality homes that create strong new communities. With new powers, new money and a national ambition, we can build the homes that Britain needs."
The shadow Health Secretary will argue: "When it comes to helping people on to the housing ladder, Westminster has been failing people for decades. It has sat on its hands as that ladder has been pulled up and left millions struggling to get their feet on it."
Mr Burnham will call for a Housing Minister with senior Cabinet rank and a brief to bring down the age at which people become home-buyers without parental help – currently 37.
A spokesman for the Corbyn campaign said: "Polls rise and fall but this is a great start - Jeremy has only been in the race just over a week and already created a terrific platform to lift off from - higher than anyone predicted 10 days ago. 
"Although seen as the Westminster establishment outsider there is clearly a substantial body of support for Jeremy  at this early stage. As more people hear his arguments, we aim to build on his early support with new policies and ideas for a fairer and more prosperous country.''
The Kendall campaign said today: "The fact that Liz has already established herself amongst the leading two candidates so early into her campaign shows how much appetite there is for Labour to get back into a winning position.Liz is the candidate whose support is broadest across different genders and geographies.
"Over the first few weeks of this campaign she has proven she offers a strategy for winning and that's why so many are looking to her candidacy. Over the next few weeks as she expands on how she will deliver a Labour victory that puts the country first, we are confident that she will be seen as the fresh start the Labour Party needs."
Reuse content