Andy Burnham has sought to win over Jeremy Corbyn supporters by positioning himself close to the hard-left MP and promising him a top job in his frontbench team if he wins the leadership contest.
In a stark warning to members, Mr Burnham warned that Labour's future "hangs in the balance" unless they unite once the fractious leadership election is over.
He insisted there was a "good deal of common ground" between him and Mr Corbyn, who is now regarded as the clear favourite to win after starting as the rank outsider just two months ago.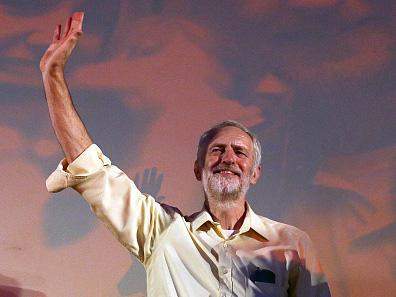 A poll last week gave him a 32 per cent lead over Mr Burnham and his chances of winning were boosted even further by a last-minute surge in registered supporters and trade union affiliates signing up for a vote in the leadership election.
"Jeremy has brought real energy to this race," Mr Burnham said this morning. "I want to capture that and would involve Jeremy in my team from the outset.
"I want the people who are drawn to his campaign — particularly young people — to help us rebuild our party from the bottom up, to re-energise it, make it the People's Party again," he added.
Mr Burnham's offer of a job to Mr Corbyn comes just weeks after his aides insisted he was "joking" when he previously said he would offer the Islington North MP a role in his shadow cabinet.
His strategy of aligning himself closer to Mr Corbyn than ever before contrasts with Yvette Cooper's decision to attack the veteran MP's policy offerings directly.
She condemned him last week for offering "old solutions to old problems" and warned a Labour party under Mr Corbyn's leadership would lead to a decade of Tories in power.
Labour leadership: The Contenders
Labour leadership: The Contenders
1/2 Jeremy Corbyn

Jeremy Corbyn started off as the rank outsider in the race to replace Ed Miliband and admitted he was only standing to ensure the left of the party was given a voice in the contest. But the Islington North MP, who first entered Parliament in 1983, is now the firm favourite to be elected Labour leader on September 12 after a surge in left-wing supporters signing up for a vote.

PA

2/2 Andy Burnham

Andy Burnham started out as the front-runner in the leadership election, seen as the candidate of the left until Jeremy Corbyn entered the race. The former Cabinet minister has found himself squeezed between the growing populism of Corbyn's radical agenda and the moderate, centre-left Yvette Cooper, not knowing which way to turn. It has attracted damaging labels such as 'flip-flop Andy', most notably over his response to the Government's Welfare Bill. He remains hopeful he can win enough second preference votes to take him over the 50 per cent threshold ahead of Corbyn.

PA
Making a key speech in Manchester on the day that eligible voters began to receive their ballot papers, Mr Burnham told Labour party members that he was the only candidate capable of uniting the party.
He said: "Coming out of this contest, there is a real risk of division and that is why I am presenting my vision today as the only one that can unite our party. And I believe I am the person who can unite us too.
"I was accused early in this race of wanting to put the party first. And you know what — I admit it — I have done that all my life. Why? Because unity is strength.
"If we all put the Party first, then that way we can be a strong force that stands up for people and changes the country for the better."
Responding to Mr Burnham's speech, Mr Corbyn said: "We welcome Andy's inclusive tone towards our campaign and the view is mutual - if we win we would involve Andy in our team if he was willing. From day one, whoever wins must pull the party together."
Reuse content