Liz Kendall appealed to Labour members to elect her as leader to give the party a "fresh start" as she declared that her main rivals Yvette Cooper and Andy Burnham had "baggage" from serving as Cabinet ministers.
In the first in a series of live televised debates before Labour chooses Ed Miliband's successor in September, Ms Kendall gambled that the party would return to the political centre ground after its shattering defeat in last month's election. The shadow care minister, an MP for only five years, insisted: "I'm not Blairite, Brownite, Old Labour, New Labour. I want to be today's and tomorrow's Labour."
In the hour-long debate, Ms Kendall set out a distinctive position she argued would win back disillusioned former Labour voters. She contrasted her pledge to always put the country first with Mr Burnham's statement that "the party" would come first.
Claiming she was the candidate the Conservatives most feared, Ms Kendall said she did not carry the "baggage of the past", adding: "We have to move on from the politics of the comfort zone."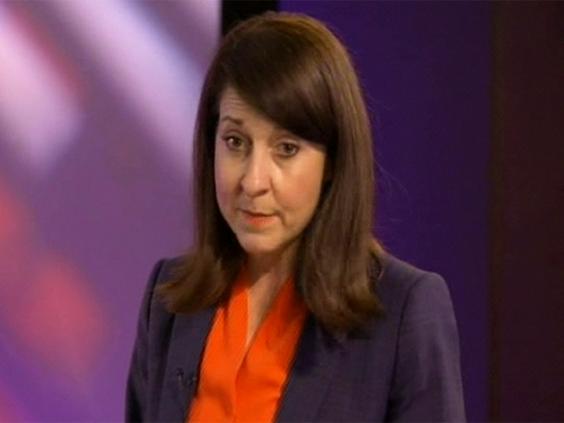 Hitting back, Ms Cooper argued that there was "an advantage to having experience", citing her record running a £100bn budget at the Department for Work and Pensions.
Ms Cooper said it would be "fantastic" for Labour to smash the glass ceiling by electing its first female leader. But she sidestepped a question over whether she would want Ms Kendall to lead the party if she fell short, adding: "I'm putting myself forward because it is a tough job and I think it would be a good thing to shake up the old boys' club in Westminster."
Highlighting his record putting people before profits when he was Health Secretary, Mr Burnham said: "Let's have the best of New Labour and the best of Old Labour and provide a distinctive Labour offer." Asked how the party should distance itself from the Blair era, Mr Burnham replied: "I don't think we would want to do that because Tony was the Prime Minister who won three elections for Labour. He didn't get everything right so we have to learn from the mistakes of that government. But he did a lot of things right and he spoke to people's wishes to get on in life."
Jeremy Corbyn, the left-wing standard-bearer, won applause from the audience in Nuneaton – a marginal seat Labour failed to capture last month – when he said: "Why, oh why, oh why did Blair have to get so close to Bush that we ended up in an illegal war in Iraq? The party has an opportunity now to rediscover its principled roots, rediscover the issues of equality, rediscover the issues of public service."
Economy
According to Mr Corbyn, the priority should be boosting the quality of health and education and he called for a "national crusade to solve the housing crisis". He said: "That comes [as a priority] over a budget surplus."
Ms Kendall disagreed, saying Labour lost the voters' trust at the last election over its ability to handle the economy or spend their taxes. "Unless we balance the books, live within our means, get the debt, the deficit down, we cannot do the things we are passionate about," she argued.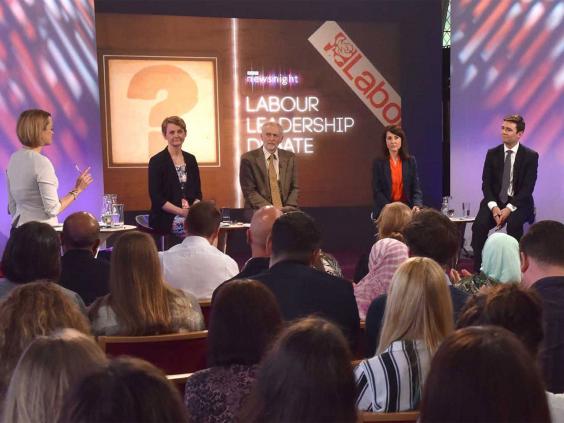 Mr Burnham insisted: "We have to be credible on the deficit, we have to get it down, but we need to do it in a different way: through a plan for growth." Ms Cooper argued that the party should not buy the "Tory myth" that the 2007-08 financial crisis was caused by Labour's investment in health and education.
Immigration
Ms Cooper, the shadow Home Secretary, said immigration had to be controlled, but conceded: "A lot of people do not feel it is fair." She said migrants should not be able to claim benefits and tax credits for two years.
Ms Kendall said: "People are angry and concerned about immigration." But she added: "I will not be a Labour leader who tries to out-Ukip Ukip."
According to Mr Burnham, Labour should be talking about the benefits of immigration but admitted: "We have not realised how quickly immigration has changed some people's lives. The answer is freedom to work here, but not freedom to claim [benefits]." He warned that Britain could "sleepwalk" to the EU exit door if this problem were not tackled.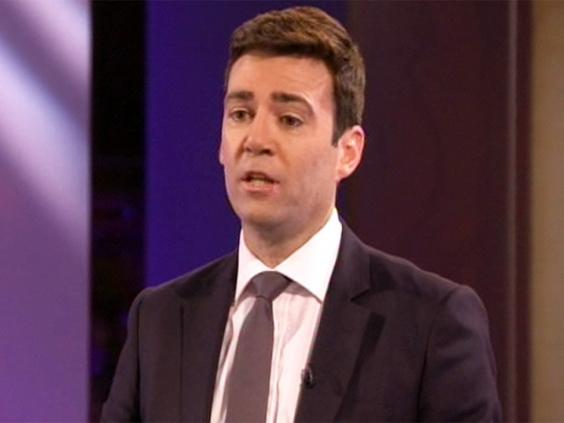 Mr Corbyn asked: "If there had not been immigration, what kind of NHS, transport and education system would we have?" He said migrants made a net contribution to the economy through their taxes.
Welfare
Ms Kendall said it was "terrible" that some voters regard Labour as not believing in work. She backed the principle of contribution, under which people paid in before they took out.
Recalling that she relied on benefits when off work for a year with ME, Ms Cooper backed clear rules to ensure people worked when they could, but said those who could not should be shown "respect".
Mr Burnham said the perception that people could receive more in benefits than wages could undermine public trust in the welfare state, and had to be addressed. He accused the Conservatives of running a campaign to "demonise people who claim benefits".
Mr Corbyn attacked the "deeply unpleasant" mentality of Benefits Street and "cruelty" of fitness-to-work assessments which he said had driven some people to suicide.

The hustings: Contenders make their pitches
Andy Burnham
He performed a skillful balancing act, on the one hand defending Labour's past achievements, while promising to avoid repeating past mistakes. He speaks with a Northern accent, and played to that advantage. "I am somebody who represents the constituency where I grew up. I am the person to lead Labour: I will take it out of the Westminster bubble," he said. That works for now, but if he were to be Labour leader, people might notice that he too is part of the Westminster elite.
Yvette Cooper
Replying to a question about welfare, Cooper mentioned she herself was too ill to work for a time, 20 years ago. "Let's make sure we have fair rules, but let's make sure that we go about this in a way that is respectful," she said. That encapsulated the tone of her performances. She sounded confident, she spoke well, but each time she came close to uttering an opinion, she followed up with a statement that implied the opposite. She may yet win as the candidate who makes no mistakes.
Jeremy Corbyn
He was helped on to the ballot paper for the sake of a "wider debate". He certainly livened up the evening, especially when he took on a man from the audience who objected to immigration. But he got his loudest round of applause when he proclaimed: "Why, oh why, oh why did Blair have to get so close to Bush that we needed to have an illegal war in Iraq?" The oldest and most left wing of the candidates was still fighting some very old battles. 
Liz Kendall
She said she was neither Blairite nor Brownite, Old Labour or New Labour but "tomorrow's Labour". She added: "I don't have the baggage of the past" – implying that the former cabinet ministers, Burnham and Cooper, had. "I'm going to be the Labour leader the Tories fear." She argued for balancing the government's books and strict rules on immigration. The Blairite wing of the Labour Party has invested its hopes in Liz Kendall. This performance will have buoyed them.
High five: Deputy leadership race
Five senior MPs will contest the Labour deputy leadership after one contender pulled out at the last moment.
The party had faced the prospect of a two-horse race between Tom Watson and Caroline Flint. But Rushanara Ali, MP for Bethnal Green and Bow, withdrew her candidacy 20 minutes before the deadline and her supporters switched allegiance to the former ministers Ben Bradshaw and Angela Eagle and the Walthamstow MP Stella Creasy, enabling all three to make the cut.
The five face a series of hustings, with the winner declared on 12 September.
Reuse content