Boris Johnson has thrown unexpected praise on Jeremy Corbyn, describing the Labour leadership candidate as "not wholly wrong".
The Mayor of London added that it would be "very complacent" of the Conservatives to ignore all of his analysis of the problems facing Britain. 
Giving his assessment of the Labour leadership battle, which has little over a month left before the winner is announced, Mr Johnson said the party would be best placed if it chose one of the two female candidates – Yvette Cooper or Liz Kendall. "If Labour had any sense, they would probably pick one of the female candidates," he said after delivering a speech to the Centre for Social Justice.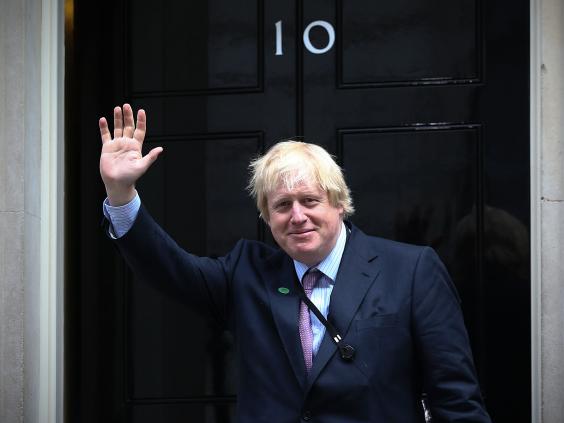 He stopped short of saying which of the two he backed, saying an endorsement from him would "be probably fatal".
Asked by Buzzfeed News what he made of Mr Corbyn's leadership bid, Mr Johnson joked: "I don't want to intrude on private grief." But he added: "I think the Corbo-mania is a very interesting political phenomenon. One nation Tories should pay attention because some of the things he is talking about, some of the analysis is not wholly wrong. Yes, there is a problem of inequality. Yes, there is a problem of low pay.
"I happen to think his solutions are completely wrong and he would take the Labour Party in radically the wrong direction.
"But it would be very complacent and wrong to ignore the truth of some of the observations he is making about ways in which society could be better. We should be humble about that."
And in an acknowledgement of traits he shares with Mr Corbyn, Mr Johnson added: "Also, I think he is probably getting points for saying what he thinks."
Labour leadership: The Contenders
Labour leadership: The Contenders
1/4 Jeremy Corbyn

Jeremy Corbyn readily admits he is only standing to ensure the left of the party is given a voice in a contest dominated by candidates promising to move the party towards the centre-ground of British politics

Profiles by Matt Dathan

BBC

2/4 Andy Burnham

Andy Burnham is the current front-runner to win the leadership election according to bookmakers, but the fact that the Conservative party leadership hopes he wins shows the task that awaits if he is Ed Miliband's successor. He will have to find a way of distancing himself from both the last five years under Mr Miliband and the Blair and Brown years, during which he served in the Cabinet

Jon Super

3/4 Yvette Cooper

Yvette Cooper will also face a battle in convincing voters she offers a sufficient break with the past, having served in Gordon Brown's Cabinet and she played a key role in Mr Miliband's team as shadow home secretary. The fact that her husband is Ed Balls will not have a negative impact internally but voters are not likely to look favourably on the prospect of Mr Miliband's ousted shadow chancellor entering Downing Street if Ms Cooper wins in 2020

Getty Images

4/4 Liz Kendall

Liz Kendall faces criticism over her lack of experience – she was only elected in 2010 and has no experience of serving in government and wasn't even in Ed Miliband's shadow cabinet. But that very lack of experience means she can make a pitch as the only candidate offering real change and a real break from the Blair/Brown/Miliband years

Getty Images
Reuse content