Dennis Skinner stayed silent today in a break from State Opening tradition in the Commons.
The Beast Of Bolsover's annual quip at Black Rod is almost as much part of the pomp and circumstance as the Queen's procession to Parliament.
Last year, the veteran Labour MP shouted "Coalition's last stand" as MPs were summoned to hear the Queen's Speech in the House of Lords.
But this year, despite apparently winning his battle with the SNP over his high profile Commons seat, Mr Skinner stayed quiet.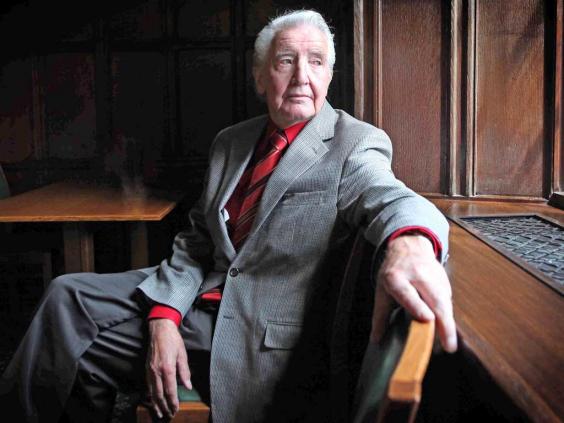 Traditionally, the Bolsover MP shouts out as Lieutenant General David Leakey instructs elected Parliamentarians to attend the Queen in the Lords.
He won widespread laughs in 2013 when he shouted "Royal Mail for sale. Queen's head privatised" in reference to the planned Royal Mail privatisation.
In 2012 he angered Tory MPs by drawing attention to the country's economic difficulties, saying: "Jubilee year, double dip recession, what a start."

And in 2006, as the movie The Queen was released, Mr Skinner joked: "Have you got Helen Mirren on standby?"
Mr Skinner has not made a joke every year since he entered Parliament but has done so on the great majority of occasions.
Since the general election, Mr Skinner has been engaged in a turf war over his favoured seat in the Commons, across the aisle from the main Labour front bench.
The Scottish National Party has tried to force Labour from the far front bench as it wants the row of seats for its own members, as the third party in the Commons.
The row has seen SNP MPs sitting on the main Labour benches and behind the Opposition Despatch Box.
Mr Skinner was in his normal place and joined by three Labour colleagues - Ian Mearns (Gateshead), Ian Lavery (Wansbeck) and Ronnie Campbell (Blyth Valley) - while the SNP took the rest of the bench and the row behind.
The line up is thought to be a resolution of the row in a bid to end the territorial games before the serious business of Parliament resumes. PA
Reuse content