Local bus services would be handed to "not-for-profit" operators including community groups under a plan by Labour to end the market dominance enjoyed by five big companies.
An incoming Labour government would give councils the power to award local licences and make it much easier for non profit-making groups to run services. Labour says the move will throw a lifeline to rural areas left isolated by the loss of services. The number of miles of local bus service in such places has dropped by 23 per cent since 2010.
Labour regards the policy as similar to its interventionist plan to reduce the power of the "big six" energy companies. It claims the local bus market is not working for passengers because 2,000 routes have seen services reduced or axed completely since 2010, while fares have risen by 25 per cent - five times faster than wages.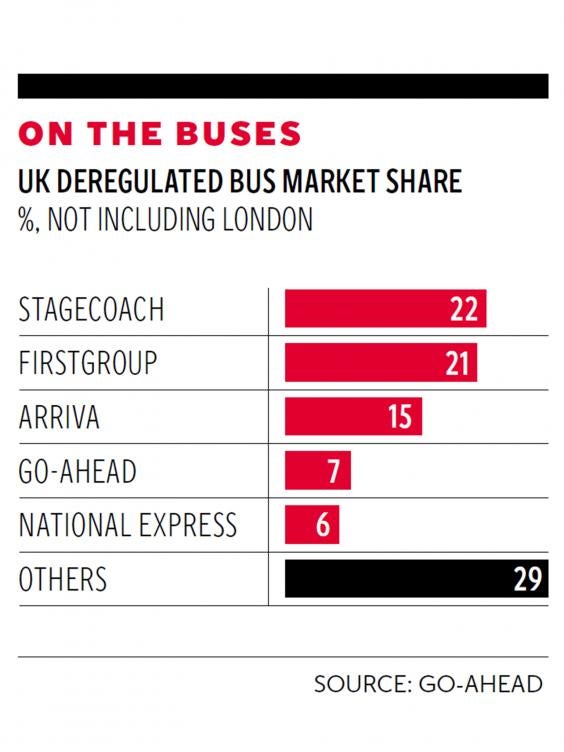 Labour would halt the downward spiral by ending the dominance of Stagecoach, Arriva, Go-Ahead, First Group and National Express, who control 72 per cent of the market in England and recorded operating profits of more than £500m.
An incoming Labour government would set up an immediate review of how to boost the not-for-profit transport sector so that "passengers rather than operators come first". It could mean local groups or co-operatives running mini-buses or traditional buses and reinvesting any profits in services.
Labour wants to encourage the growth of groups such as Hackney Community Transport, formed in 1982 to provide low-cost mini-bus services for residents in the London borough, which has since expanded into Yorkshire, Humberside and the South West.
In London, buses are controlled by Transport for London, which is part of the Mayor's responsibility. Labour would give the same powers over contracts, fares and routes to local authorities outside the capital, where most services have been run by private companies since the industry was deregulated in 1986.
The six-party election: key figures
The six-party election: key figures
1/12 Conservatives

2/12 Lynton Crosby (Con)

Chief election strategist

Rex

3/12 Labour

4/12 Lucy Powell (Lab)

Vice chair of general election campaign

5/12 Liberal Democrats

6/12 Paddy Ashdown (Lib Dem)

Campaign director

Getty

7/12 Ukip

8/12 Suzanne Evans (Ukip)

Deputy chairman

9/12 Greens

10/12 Chris Luffingham (Green)

Campaigns director

11/12 Scottish National Party

12/12 Angus Robertson (SNP)

General election director

PA
Michael Dugher, the shadow Transport Secretary, told The Independent: "Like the energy market, the bus market is broken. Developing a thriving not-for-profit sector is one way Labour will rebalance our bus market. The significant development of not-for-profit model will help city and county regions break the stranglehold that the big private bus operators currently have."
He added: "There is a proud and growing British tradition of community transport in the UK. It is a sector that serves both rural and urban areas, often operating in areas the commercial operators have turned their back on. In government, Labour will ensure that communities cannot be held to ransom by operators threatening to pull buses and cut services."
According to the Department for Transport, passenger journeys on local buses in England increased by two per cent to 4.7bn in the year to March 2014, the highest figure since the mid-1980s. Bus service mileage fell by 0.3 per cent, continuing a gradual decline since 2008-09.
The Confederation of Passenger Transport UK, which represents the bus and coach industry, denies that services are in crisis. It insists that operators have underpinned routes for many years after councils withdrew subsidies.
Nick Clegg said that the Liberal Democrats would not axe free bus passes for rich pensioners, even though it would withdraw their winter fuel allowances and free TV licences. The Lib Dems decided not to end free bus passes because they help keep the buses running and because older people rely on public transport.
Reuse content