Labour is trying to win back supporters who may vote for Ukip by trumpeting a hard line on immigration in a direct mail campaign about the NHS.
But the targeting of white working-class voters has provoked protests by some Labour politicians, who say it risks alienating the party's black supporters.
The controversy has been sparked by a four-page leaflet headed "Building an NHS with time to care". Although it is mostly about health, one section is headed: "Labour's tough new approach to immigration." It says: "People who rely on public services have a right to expect that staff, like nurses and care workers, can speak English. That is why Labour will make sure that all frontline public sector staff can speak English."
Labour officials said the leaflet was not widely distributed, but sent only to traditional Labour supporters identified by the party as those who might back Ukip at the May election. One insisted: "Our best argument with Labour-Ukip switchers is the NHS and this mailing is about the NHS." Labour attacked Nigel Farage after he said that after the election, Ukip would have to revisit whether a system based on private insurance was needed.
The six-party election: key figures
The six-party election: key figures
1/12 Conservatives

2/12 Lynton Crosby (Con)

Chief election strategist

Rex

3/12 Labour

4/12 Lucy Powell (Lab)

Vice chair of general election campaign

5/12 Liberal Democrats

6/12 Paddy Ashdown (Lib Dem)

Campaign director

Getty

7/12 Ukip

8/12 Suzanne Evans (Ukip)

Deputy chairman

9/12 Greens

10/12 Chris Luffingham (Green)

Campaigns director

11/12 Scottish National Party

12/12 Angus Robertson (SNP)

General election director

PA
David Lammy, who is running to be Labour's candidate in next year's election for London Mayor, has received complaints from around the country from party supporters offended by the leaflet. "It has gone down like a lead balloon," he said. "We are a pro-immigration party and we should stay that way, engaging in the debate on immigration but not on Ukip's terms. We should be taking on Ukip by challenging the myths it is peddling about immigration, and by arguing against the kind of divided, intolerant and isolated nation that it wants to turn Britain into.
"Forty per cent of London's nurses are immigrants – many of them are my constituents – and they tell me there is no way they would pass their three-year qualification if they didn't speak good English. These people are the lifeblood of our NHS and we should not forget that. I have never been a fan of any approach that seeks to divide society into different groups and target them independently."
He questioned why the leaflet was sent out in his constituency, where Ukip won only 1 per cent of the vote at the 2010 election.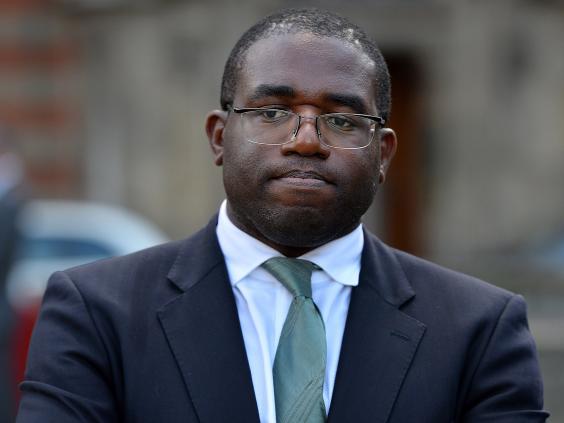 After new research showed that migrant voters could have a decisive impact in marginal seats at the May election, Trevor Phillips, the former chairman of the Equalities and Human Rights Commission, said this group would be "very sensitive to any shift in Labour's position, for example, in not standing up to the Ukip message".
Other Labour figures defended the leaflet. Marcus Roberts, deputy general secretary of the Fabian Society, said: "Labour's strongest card is the NHS. Ukip's weakest is the NHS. These materials prove that Labour is smartly targeting Ukip switchers with a clear message that should help win them back. Unlike the Tories, who are struggling to make voter targeting work because of technical problems, Labour knows which voters it needs to win back. The question is: is there enough time?"
This weekend Labour will continue its campaign on health in more than 100 key seats across the country. The dominance of the NHS in Labour's campaign has been criticised by Blairite former cabinet ministers including Alan Milburn, who called it the party's "comfort zone". Labour sources said January was always earmarked as "health month" in the party's election strategy and insisted that it will also fight on the economy.
Reuse content