Labour supporters have banded together to buy Jeremy Corbyn his "dream bike" after he was slated in the press for mentioning the model in an interview.
The Labour leader was criticised in the headline of an article in the Daily Telegraph after he recommended the red aluminium-framed Raleigh Criterium, which costs £475.
He mentioned the bike in a guest column for Stylist magazine, where he was asked to recommend a purchase to readers. 
The newspaper however framed the tip as "Socialist Jeremy Corbyn reveals he covets at £475 bicycle". The headline was later changed to "Jeremy Corbyn reveals his dearest wish is a £475 bike" after criticism on social media. 
The bike is a fairly averagely-priced entry-level commuter bicycle for getting around town. 
A keen cyclist, Mr Corbyn already owns a similar, albeit older red Raleigh utility bike that he says he has kept in service by repairing.
Tom Jordan set up the project on the crowdfunder.co.uk website titled "Let's get Jez his dream bike!", describing the Daily Telegraph article about Mr Corbyn as a "pathetic smear".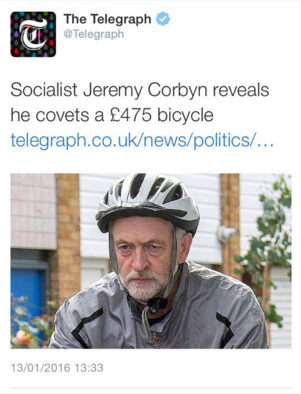 "I propose we make his dreams come true, by crowd funding his bicycle in time for his birthday in May," Mr Jordan wrote.
"I will stick a quid in and all we need is 474 other people to do the same, in order to put a smile on Jez's face, but primarily it will really annoy the Telegraph, the Mail, the Sun, the Tories, UKIP etc. It will definitely be funny!"
The bike was suggested as a present for Mr Corbyn's birthday, which is in May.
When it became apparent that the project would meet its target within hours of its launch Mr Jordan suggested the excess money raise be donated to charity.
As of late on Wednesday evening the web page had raised over £1,000.
Mr Corbyn was asked to recommend his "object of desire" by Stylist. He wrote: that this "aluminium-framed Raleigh Criterium, like my own trusty red Raleigh, is light and therefore fast, but comfortable for longer rides".
"Although as I'm a big believer in repairing rather than replacing, I suspect I will have my own long after my leadership," he added.
The Independent has reached out to Mr Corbyn's office for comment.