The Labour Party will campaign to stay in the EU at the forthcoming membership referendum "under all circumstances", the party's shadow foreign secretary has said.
Hilary Benn said Britain had to work in alliance with other European nations and that the EU had "brought peace, prosperity and influence for Britain".
"Jeremy [Corbyn] said whatever differences we may have with some aspects of European policy, whatever reforms we want to see we will stay to fight together for a better Europe. It's absolutely clear: our policy has not changed," he told BBC Radio 4's Today programme.
"We're going to stay to fight together for a better Europe, we will be campaigning to remain in the European Union under all circumstances."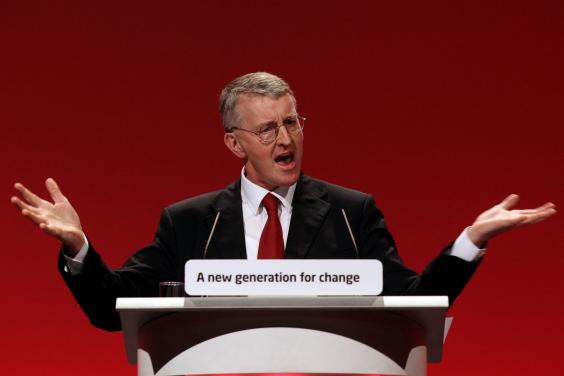 Mr Benn highlighted the on-going refugee crisis as an example of where cooperation between European countries was needed in the 21st century.
The intervention comes hours after former shadow business secretary Chukka Umunna said he would not serve in the Cabinet on the basis of Mr Corbyn's EU stance.
"It is my view that we should support the UK remaining a member of the EU, notwithstanding the outcome of any renegotiation by the prime minister, and I cannot envisage any circumstances where I would be campaigning alongside those who would argue for us to leave; Jeremy has made it clear to me that he does not wholeheartedly share this view," Mr Umunna said in a statement on Sunday night.
When asked why Mr Umunna had said this, Mr Benn on Monday morning replied: "You'll have to ask Chukka that."
Eurosceptic Tory MPs
Eurosceptic Tory MPs
1/7 Owen Paterson

Formerly a cabinet minister, Owen Paterson is now free to make his opinion known on the backbenchers. On the subject of Europe, he does so regularly – claiming recently that the EU referendum was "rigged" in favour of staying in

Getty

2/7 John Redwood

A longstanding eurosceptic, Mr Redwood warned last year that businesses that spoke out in favour of EU membership would be punished at the check-outs by anti-EU

Getty

3/7 Bill Cash

Awkward squad rebel Bill Cash said last year that he thought the EU had become an undemocratic, German-dominated project. "An increasingly assertive German Europe is at odds with British national interests," he wrote in the Daily Telegraph

Getty

4/7 Philip Davies

From the Conservative party's hard right wing, Philip Davies has been a longstanding critic of the EU. He founded the Better off Out campaign and is so eurosceptic that Ukip decided not to stand a candidate against him in 2010 because they agreed with him

Rex

5/7 Nadine Dorries

Outspoken Tory MP Nadine Dorries has previously advocated an alliance with Ukip. At the height of the Greek crisis in 2013 she said that the EU was "dying on its feet"

Rex

6/7 Liam Fox

The former defence secretary is a central figure on the right wing of the Conservative party. He's long put pressure on David Cameron over EU negotiations

Getty

7/7 Zac Goldsmith

A socially liberal eurosceptic, Goldsmith was one of the founding members of the People's Pledge campaign to get MPs to sign up for an EU referendum. His father ran the Referendum Party, a precursor to Ukip

Getty
During his leadership campaign Mr Corbyn had said he would not "blanketly" commit to campaigning to stay in in the event that David Cameron decided to strip away employment protections provided by the EU.
The UK is due to hold a referendum on membership of the EU by 2017, according to a pledge in the Conservative election manifesto.
The Prime Minister has said he will first renegotiate the terms of Britain's membership, however – focusing on stifling freedom of movement and cutting back social security provision for nationals of other member states.
Reuse content