The leader of one of the campaigns to leave the European Union has said he is planning to sue the Government over the extension of the deadline to register to vote.
Arron Banks, a multimillionaire insurance tycoon who also bankrolls Ukip, said it was "extreme" to give people two extra days to sign up to vote in the referendum.
The Government extended the deadline to register after its website crashed due to high demand and prevented people from signing up.
Leave campaigners are however worried that most of the people signing up to vote are young people, who tend to want to remain in the EU, according to polls.
Mr Banks said he had instructed his legal team to await any attempt by Parliament to back the announced extension with legislation.
"We've got lawyers that are looking at it at the moment," he told BBC Radio 4's Today programme.
"They are tending to say it's unconstitutional because once you've set the rules you can't really change it halfway through, and Parliament really shouldn't be doing this.
"I think what we're going to do is wait to see what Parliament does and then we're going to consult lawyers to see if we've got grounds to take them to court."
He added: "If it went down for an hour and a half, why a 48 hour extension? That is extreme and it potentially leaves the result of the referendum open to a judicial review – it's a close race."
On Twitter he later accused the Government of trying to "abandon all rules".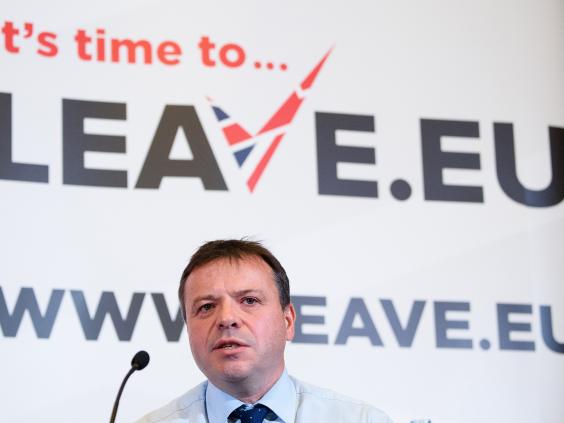 Eurosceptic Conservative MP Bernard Jenkin yesterday told the House of Commons that extending the deadline was "madness".
Vote Leave, the designated Leave campaign, has also criticised the extension. 
Matthew Elliott, the chief executive of Vote Leave, claimed the extension of the deadline was linked to an attempt to stuff the electoral rolls with as many Remain supporters as possible. 
The most scaremongering arguments for Brexit
The most scaremongering arguments for Brexit
1/7 22 May 2015

In his regular column in The Express Nigel Farage utilised the concerns over Putin and the EU to deliver a tongue in cheek conclusion. "With friends like these, who needs enemies?"

PA

2/7 13 November 2015

UKIP MEP for Yorkshire and North Lincolnshire Mike Hookem, was one of several political figures who took no time to harness the toxic atmosphere just moments after Paris attacks to push an agenda. "Cameron says we're safer in the EU. Well I'm in the centre of the EU and it doesn't feel very safe."

Getty Images

3/7 19 April 2016

In an article written for The Guardian, Michael Gove attempts to bolster his argument with a highly charged metaphor in which he likens UK remaining in the EU to a hostage situation. "We're voting to be hostages locked in the back of the car and driven headlong towards deeper EU integration."

Rex

4/7 26 April 2016

In a move that is hard to decipher, let alone understand, Mike Hookem stuck it to Obama re-tweeting a UKIP advertisement that utilises a quote from the film: 'Love Actually' to dishonour the US stance on the EU. "A friend who bullies us is no longer a friend"

5/7 10 May 2016

During a speech in London former work and pensions secretary Ian Duncan Smith said that EU migration would cause an increasing divide between people who benefit from immigration and people who couldn't not find work because of uncontrolled migration. "The European Union is a 'force for social injustice' which backs the 'haves rather than the have-nots."

EPA

6/7 15 May 2016

Cartoon character Boris Johnson made the news again over controversial comments that the EU had the same goal as Hitler in trying to create a political super state. "Napoleon, Hitler, various people tried this out, and it ends tragically." "The EU is an attempt to do this by different methods."

PA

7/7 16 May 2016

During a tour of the women's clothing manufacturer David Nieper, Boris had ample time to cook up a new metaphor, arguably eclipsing Gove's in which he compares the EU to 'badly designed undergarments.' "So I just say to all those who prophecy doom and gloom for the British Business, I say their pants are on fire. Let's say knickers to the pessimists, knickers to all those who talk Britain down."

Getty Images
"They've just told the House of Commons that their website crashed last night because of the high demand, but we know that the Government and their allies are trying to register as many likely Remain voters as possible," he said in a message to supporters.
Meanwhile The Spectator magazine reports that "senior figures" on the Leave side believe the registration website was "deliberately" crashed.
They reportedly believe the spike in traffic seen at 10.15pm on Tuesday which brought down the website was improbable in scale.
Remain campaigners derided the claims, with Education Secretary Nicky Morgan describing them as a "conspiracy theory".
"As they comprehensively lose the economic argument, Leave campaigners are turning into a bunch of conspiracy theorists," she said.
"Anyone who cares about British democracy, whichever side of the argument they are on, should support any attempts to get new voters registered to have their say in this referendum. Their attempt to deviate from this and focus on process stories show they have lost the substantive argument.
"Vote Leave's anger is a reflection of their paranoid, anti-democratic attitudes. They want to con the British people into voting to leave Europe on a derisory turnout. However much they talk about sovereignty, it is clear they have no respect for the democratic rights of the British people."
Around a quarter of a million additional people registered to vote during yesterday's extension, with more expected to sign up today before the renewed deadline of midnight on Thursday.
Reuse content