One of the campaigns to leave the EU has written to MPs to update them on their "ongoing struggle" against a rival campaign, which also wants to leave the EU.
Leave.EU sent the letter criticising Vote Leave to Conservative MPs on Friday morning.
The two campaigns are locked in a battle over who will be the official campaign to leave the European Union – a row threatening to overshadow the early stages of debate about the EU itself.
The official designation gives the victor access to public funds, a £7m spending limit, and television broadcasts.
Social media users have compared the row between the two campaigns to a Monty Python Sketch featuring the People's Front of Judea and the Judean People's Front
In the letter Arron Banks, the co-chair of Leave.EU, describes Matthew Elliott and Dominic Cummings, two senior figures in Vote Leave, as "two of the nastiest individuals I have ever had the misfortune to meet".
"Vote Leave now no has no real cross-party support, and I would urge you to consider supporting GO," the letter urges.
The text of the letter was press-released to journalists for good measure.
On Thursday Mr Banks also released a statement criticising the rival campaign as interested in taking forward "a business, not a cause".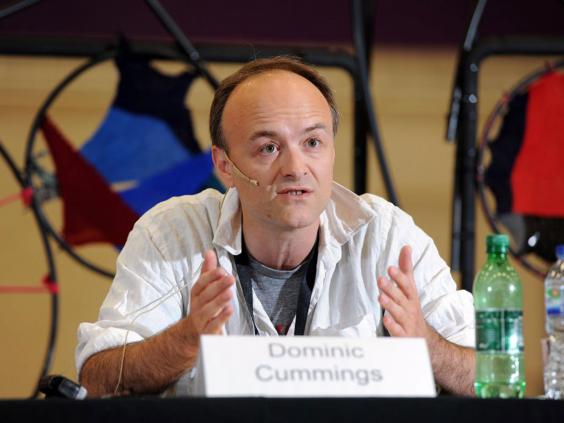 Responding to the letter, spokesperson for Vote Leave said: "We wish Arron well."
The group yesterday stressed that it had not sent any public press releases attacking Leave.EU.
However, Leave.EU points to a leaked internal email by former Vote Leave chair John Mills accusing figures in his own group of "damaging bickering".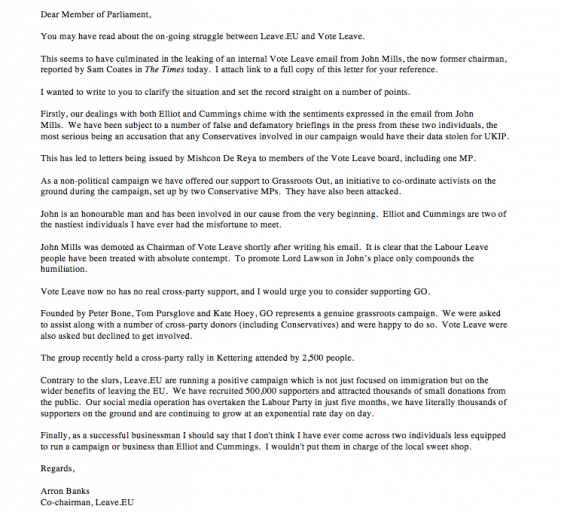 Mr Cummings was said by his colleague to have sent a rude text message to someone from the rival campaign.
"What on earth are you doing, generating more ill-feeling like this entirely unnecessarily?" Mr Mills wrote Mr Elliott and Mr Cummings.
What has the EU ever done for us?
What has the EU ever done for us?
1/7 1. It gives you freedom to live, work and retire anywhere in Europe

As a member of the EU, UK citizens benefit from freedom of movement across the continent. Considered one of the so-called four pillars of the European Union, this freedom allows all EU citizens to live, work and travel in other member states.

2/7 2. It sustains millions of jobs

A report by the Centre for Economics and Business Research, released in October 2015, suggested 3.1 million British jobs were linked to the UK's exports to the EU.

3/7 3. Your holiday is much easier - and safer

Freedom to travel is one of the most exercised benefits of EU membership, with Britons having made 31 million visits to the EU in 2014 alone. But a lot of the benefits of being an EU citizen are either taken for granted or go unnoticed.

4/7 4. It means you're less likely to get ripped off

Consumer protection is a key benefit of the EU's single market, and ensures members of the British public receive equal consumer rights when shopping anywhere in Europe.

5/7 5. It offers greater protection from terrorists, paedophiles, people traffickers and cyber-crime

Another example of a lesser-known advantage of EU membership is the benefit of cross-country coordination and cooperation in the fight against crime.

6/7 6. Our businesses depend on it

According to 71% of all members of the Confederation of British Influence (CBI), and 67 per cent of small and medium-sized enterprises (SMEs), the EU has had an overall positive impact on their business.

7/7 7. We have greater influence

Robin Niblett, Director of think-tank Chatham House, stated in a report published last year: "For a mid-sized country like the UK, which will never again be economically dominant either globally or regionally, and whose diplomatic and military resources are declining in relative terms, being a major player in a strong regional institution can offer a critical lever for international influence.
"I thought you had promised to stop doing this sort of thing. Don't you realise that this kind of behaviour puts more and more damaging and unnecessary strain on everyone?"
Mr Mills, a Labour figure, stood down from his position this week and is now the deputy chair of the campaign.
The row between the two campaigns comes as the Spectator reports that Labour Leave, a Labour-orientated group campaign to leave the EU, will split from Vote Leave – potentially creating a third organisation. 
The two groups had hitherto been merged.
The row comes amid polls showing significant public dissatisfaction with David Cameron's draft EU package – and an uphill struggle for the PM to get other EU leaders to agree to it.
Reuse content