David Cameron would have to dilute his stance on human rights and benefits cuts to form a second coalition with the Liberal Democrats next year, Nick Clegg indicated on Sunday.
He led a succession of senior party figures in denouncing the Tories' priorities as they sought to distance themselves from their Coalition partners at the last Lib Dem annual conference before the election.
Although the Deputy Prime Minister stopped short of setting down "red lines" for talks in the event of a hung parliament, he said he could not serve in a government committed to leaving the European Court of Human Rights (ECHR).
The Lib Dems' frustration with the Coalition agreement drawn up after the last election is still a divisive issue with Lynne Featherstone, the International Development minister, telling a fringe meeting on Sunday that she would "like to shoot the negotiating team" for failing to make her party's pledge not to increase tuition fees a "much stronger red line".
The battle lines for possible talks after next year's election are already being drawn with the Tories last week setting out plans to reassert the supremacy of British judges over the ECHR. Mr Clegg said: "Trashing human rights basically... to cater for, or to go after, Ukip votes is a legally illiterate thing to do and is not in keeping with fine British tradition."
Asked if a Lib Dem-influenced government would agree to quitting the ECHR, he replied: "No." Mr Clegg was scathing about Conservative plans for a two-year freeze on most working-age benefits and to impose a £23,000 cap on a household's benefits claims. He also said his party would "of course" increase taxes on the best-off as he lambasted the Tories for "beating up on the poor".
But he stressed: "The Liberal Democrats are not going to enter into government with an economic agenda which the Conservatives have announced is their priority, which would only penalise the working-age poor. It is anathema to everything we believe in."
While Mr Clegg attacked the Tories, Norman Lamb, the Health minister, criticised Ed Miliband for lacking credibility and warned against entering into coalition with Labour. He also accepted that the Lib Dems could finish fourth behind Ukip. He said: "There is the possibility that you could have Labour as the largest number of seats but the Tories as the largest number of votes. If there is any possibility of Labour in that situation going into coalition with the Lib Dems – the parties coming second and fourth – you would have zero honeymoon. It would be very, very hard to sustain it."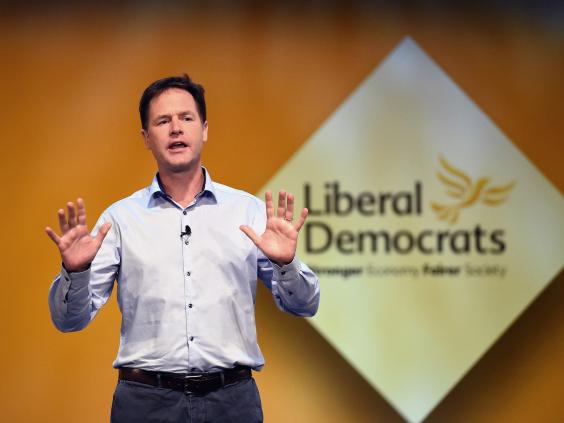 Ms Featherstone said the Lib Dems "still feel terrible" about breaking their pledge on tuition fees and blamed the party's negotiating team of Chris Huhne, Danny Alexander, Sir Andrew Stunnell and David Laws.
"We signed the NUS pledge promising we would vote against the rises and then we broke that pledge," she said.
"I would like to shoot the negotiating team because it should have been a much stronger red line in terms of what we agreed in the Coalition agreement."
A YouGov survey for the Sunday Times put the Lib Dems on just 7 per cent support, six points behind Ukip. Mr Clegg will today set out Lib Dem plans to build a rail-link from Cambridge to Oxford, which he believes would be a spur for the to help create five new garden cities between them, and Vince Cable, the Business Secretary, will announce moves to boost the minimum wage for new apprentices and for a wide-ranging review of workers' employment rights.
Reuse content