The Liberal Democrats could look at changing their party colour and "liberty bird" logo as part of a review planned by Tim Farron, if he wins the party's leadership contest.
Greg Mulholland, the Leeds North West MP who is co-ordinating Mr Farron's campaign, would be tasked with a review into the way the party marketed itself in the general election and what it will  need to do differently. This will include a look at rebranding, meaning the Lib Dems could axe the bird of freedom and yellow rosettes, though it is thought a mooted name change won't happen .
"Tim is concerned that the party was out-campaigned during the election, particularly on social media – even by Ukip," said a senior Lib Dem source.
Many members are sceptical that branding changes alone will provide a much needed boost after an election rout that reduced the party to eight MPs including Mr Farron.  However, one former MP said that the party needs an intellectual rethink on what it stands for after being squeezed on both the left and soft-right.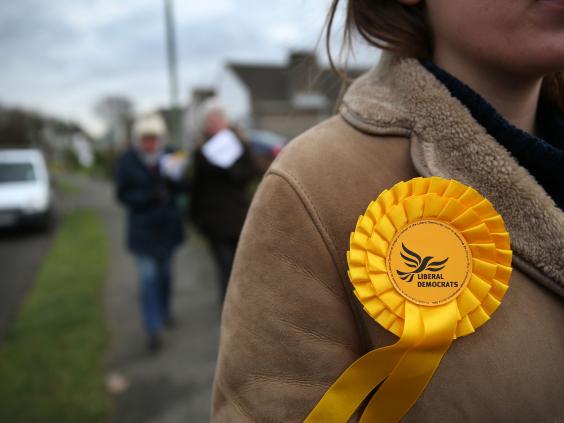 Mr Farron will have a tough fight to beat Norman Lamb, the former health minister, as the pair are considered to be the party's best campaigners. They face a gruelling contest, with 13 official hustings over the next two months. Local parties are calling for more hearings before deciding who to back.
Mr Lamb believes he can outflank Mr Farron, a committed Christian, on social issues, where he has occasionally been perceived as conservative. Mr Lamb told The IoS that he would back an assisted dying bill if it is reintroduced in this parliament: "For me it's an important liberal issue. It must be for individuals to decide, not the state, what to do when they're facing terminal illness."
Mr Farron is gaining politically high-profile support, counting the former employment minister Jo Swinson and the Welsh party leader Kirsty Williams among his many endorsements. Twenty leading figures from local government have also given their backing to Mr Farron, who was not a minister, so is untainted by coalition. He also voted against the trebling of tuition fees, viewed by many as a betrayal of the 2010 Lib Dem manifesto.
It is understood that Mr Clegg will make the Lib Dem response to the Queen's speech later this month. The eight remaining MPs also plan to hold monthly meetings with their contingent in the House of Lords. The party has 101 peers, meaning the Lords offers the best chance of amending or defeating legislation.
Reuse content