Nick Clegg attacked Conservative plans for a referendum on Europe and to leave the European Convention on Human Rights, but left himself some wriggle room for a second coalition with David Cameron.
Although the Liberal Democrat conference in Glasgow is being dominated by strong attacks on the Tories, behind the scenes there is a growing sense that a "continuing coalition" with Mr Cameron might prove more attractive than linking up with Labour.
At their conference a year ago, the Lib Dem mood was that the party was much more likely to join forces with Labour if next May's election ended in another hung parliament. Now Lib Dem ministers, MPs and activists are more open to sticking with the Tories. One minister said: "I think the Coalition will last until the EU referendum in 2017. It may be a case of 'better the devil you know'."
The Lib Dems sense that Labour is hostile to a Lib-Lab coalition, and doubt that Ed Miliband could persuade his MPs to support one. Although Labour and the Lib Dems agree on many individual policy areas, some Lib Dems believe they would alienate voters if they propped up a "weak" Miliband government that had only just managed to become the largest party and lacked a real mandate.
"Having pissed off one section of our voters by going into coalition with the Tories, it would be mad to piss off another group by going in with the other lot," said one senior Lib Dem.
Allies of Nick Clegg agree that the party mood has changed in the past year, saying it has moved into line with his strategy of being "equidistant" between Labour and the Tories. They say the party is unlikely to have to choose between the biggest two parties. "The voters will decide," one aide insisted.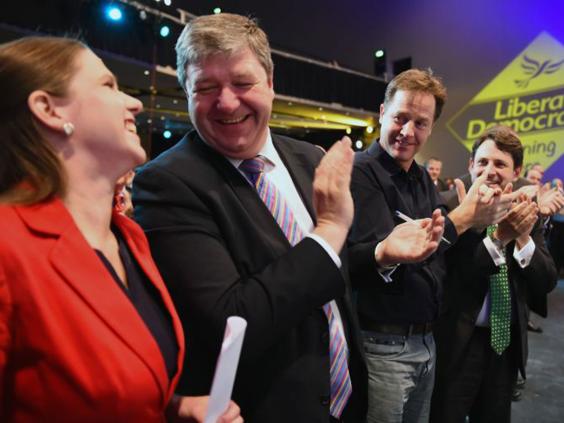 However, the Deputy Prime Minister raised eyebrows by appearing to break his own rule that the Lib Dems should not be drawn into speculating about their non-negotiable "red lines" in any coalition negotiations.
Asked if he would go into coalition with the Tories if they repealed the Human Rights Act which incorporated the European convention into British law, Mr Clegg replied: "No, I don't think we would ever be able to accept being part of a government that sacrifices the hard-won human rights that, remember, were drafted by British lawyers, were called for by Winston Churchill and protected many, many British citizens from unfair incursions by the government."
He said the Lib Dems would support an in/out referendum on the EU only if "there is a change in the rules" and more powers are transferred from the UK to Brussels.
One Lib Dem MP said: "It's foolish to talk about our red lines. You don't tell the enemy what your negotiating position is."
Another option for the Lib Dems is to avoid coalition and allow the party winning the most seats to govern as a minority administration. But the Lib Dems are hostile to a "confidence and supply" deal favoured by some Labour figures, under which the third party would not get any ministerial posts but would agree to support the government in key Commons votes.
Tim Farron, the Lib Dem president, told a fringe meeting in Glasgow: "You don't go into coalition negotiations letting your potential partners think that you are absolutely going to roll over and have your tummy tickled and go into coalition whatever the outcome of those negotiations. You have to make it absolutely clear that you can and will, if it comes down to it, walk away. If you don't do that you are going to get nothing out of any coalition negotiations."
Tomorrow Mr Farron will tell the conference the Lib Dems must project a positive, forward-looking vision about its future goals rather than tell voters what it had stopped the Tories doing since 2010. He will say: "People vote with their eyes fixed forward, not looking over their shoulders. They are not interested in the past, they are interested in the future. Their votes depend on what happens next, not what happened last. Looking back alone will not win us a single seat next May."
Reuse content