Liz Kendall has labelled a journalist "unbelievable" after he asked the Labour leader contender about her weight in an interview.
Simon Walters, the political editor of the Mail on Sunday, asked Kendall how much she weighs whilst interviewing her for the weekly paper.
Walters, noting she "looks about the same weight as the Duchess [of Cambridge] - about 8st," was told by Kendall to "f*** off," before supposedly adding quickly "don't print that".
Walters' hard hitting exposé also revealed the Labour leadership hopeful maintains her figure by jogging 20 miles a week, and she sometimes wears trousers from Reiss.
Speaking afterwards on BBC radio, Kendall, who has been the Member of Parliament for Leicester West since 2010, said she thinks it's "unbelievable" that she'd be asked about her weight during a professional interview about her campaign.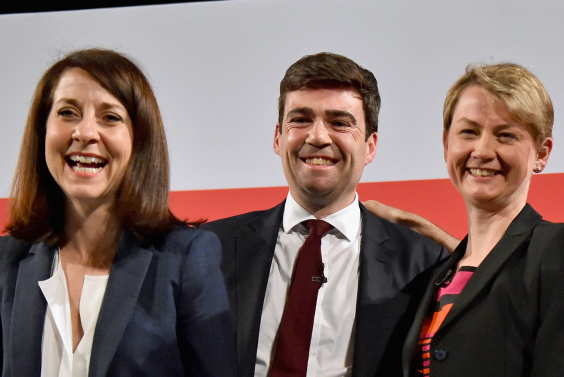 "I just think it's unbelievable that in the 21st Century women still get asked such very, very different questions from men," Kendall told the Radio 5 Live show, Pienaar's Politics.
"Can you imagine the Mail on Sunday asking the weight of the prime minister, George Osborne or any other leading politician?
"I cannot wait for a world when women are judged the same as men and not by those kinds of questions."
According to bookies, Kendall is currently the outsider in the leadership race, with odds of 10/1 offered by Ladbrookes. The odds put Andy Burnham as favourite to win the contest, with Cooper in second and Jeremy Corbyn coming in at number three.
Where do they stand? Labour's left-right battle
It's not only Kendall who has been subjected to this personal line of questioning from Walters. Back in 2014 the Mail on Sunday journalist broached the topic of body weight with the Chancellor, George Osborne.
The Chancellor revealed in the interview that he used the 5:2 diet to lose "a couple of stone," regularly eating "a bowl of cereal" with his children in the morning, after taking his dog out to the garden.
In the interests of balance, The Independent has sought to find out how much the other Labour leadership hopefuls weigh, and where they get their trousers from, but as of yet have received no responses.
Reuse content